Setting a High Renewable Energy Goal, Can Chicago Catch Up With Las Vegas?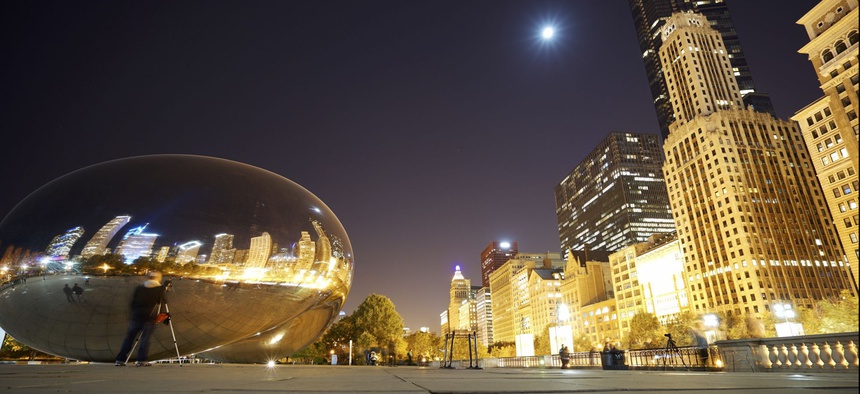 In the nation's third-largest city, municipal buildings accounted for 1.8 billion kilowatt hours of electricity in 2016.
Back in December, Las Vegas City Hall officials announced that 100 percent of the municipality's 140 public facilities, streetlights and other civic infrastructure was now being powered by renewable energy thanks to the nearby Boulder Solar 1 array coming into service.
About 1,300 miles to the east, the nation's third-largest city has a ways to go to catch up with Las Vegas and other places, like Aspen, Colorado, and Burlington, Vermont, which are both using 100 percent renewable energy for their public facilities.
But Chicago Mayor Rahm Emanuel has a plan accelerate a shift to a greener energy portfolio. On Sunday, the mayor announced a plan to have 100 percent of city-owned buildings powered by renewable energy by 2025.
That includes the Chicago's public schools, park district, housing authority plus the City Colleges of Chicago, which combined, according to the city's announcement, accounted for nearly 1.8 billion kilowatt hours of electricity in 2016. That's about 8 percent of electricity consumption in the entire city.
Starting in 2018, Chicago will seek renewable energy credits, on-site generation and utility-supplied renewable energy through Illinois' Renewable Portfolio Standard to meet Emanuel's goal.
"As the Trump administration pulls back on building a clean energy economy, Chicago is doubling down," Emanuel said in a statement. "By committing the energy used to power our public buildings to wind and solar energy, we are sending a clear signal that we remain committed to building a 21st century economy here in Chicago."
Chicago is in the middle of a demonstration project to upgrade streetlights to more reliable and more efficient LED fixtures in seven neighborhoods, which will start on the city's South and West sides this summer. The Chicago Smart Lighting Project aims to replace 270,000 light fixtures and manage them with a smart grid system.