A Spot to Appreciate Just How Far Detroit Has Come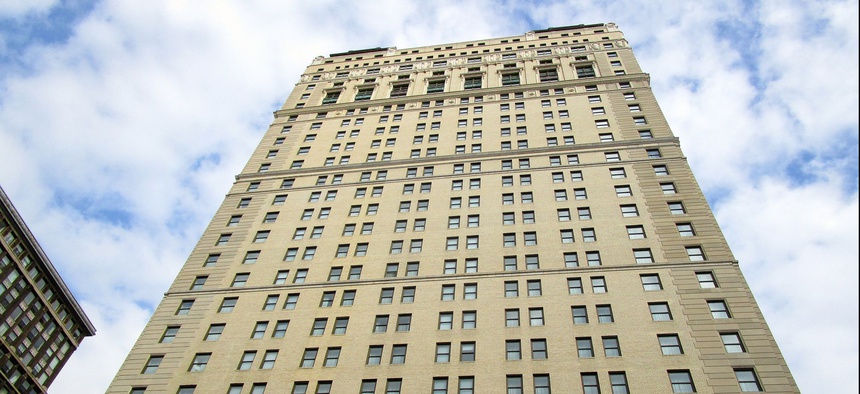 ELGL's annual conference in underway in the Motor City. Here's a location where attendees should look skyward.
Engaging Local Government Leaders is hosting its annual conference in Detroit this week and for some of the local government professionals from across the nation attending, it's their first trip to the Motor City.
ELGL's gathering in Detroit is happening as the city has been on an upswing in recent years, coming out of what was the nation's largest municipal bankruptcy. The conference is a great opportunity for civic stakeholders to showcase the innovation and bright ideas driving transformation in Michigan's largest city (check out the agenda ). The QLine , the new streetcar route along Woodward Avenue built as a public-private partnership, is kicking off service on Friday, which will be a sweet moment for both Detroit and ELGL.
Thursday's agenda will offer ELGL's conference attendees a great introduction to the city through a downtown walking tour and a bus tour of the city—concluding with an evening at the nation's oldest active bowling center , The Garden Bowl.
For all the bright moments in Detroit, it's important to appreciate just how far Detroit has recovered—and how far it still has to go.
Here's a suggestion for ELGL conference-goers while walking around the vicinity of Michigan Avenue and Washington Boulevard: Look up at the historic Book Cadillac Hotel , which is now a Westin.
In a city with 316 years of history, the building isn't necessarily one of the city's better-known landmarks, but for me it tells an important story about Detroit's history and ongoing revitalization.
At 33 stories, the Book Cadillac opened in 1924 as the world's tallest hotel. But around 15 years ago, the towering Italian Renaissance structure, then abandoned, was special for a very different reason: It had trees and bushes growing out its roof and peeking out some of its upper-story window casements.
I saw that with my own eyes back in 2001, when I interned for Crain's Detroit Business . Every week, I would go to 211 W. Fort St., a 27-story federal building home to the U.S. Bankruptcy Court for the Eastern District of Michigan. At the time, there weren't electronic copies of bankruptcy records available, so to review the latest filings—and I was specifically on the lookout for commercial filings where there were more than $1 million in liabilities—I had to rifle through a roomful of cabinets that held all the filings chronologically. In order to find the new commercial bankruptcies for a weekly report on notable Chapter 7 and Chapter 11 filings, I had to page through all the filings, including the ones for individuals who were seeking bankruptcy protection.
It was a somewhat depressing, laborious newsroom task that required an afternoon of reviewing hundreds of documents, one by one, at U.S. Bankruptcy Court. But the weekly field trip to 211 W. Fort St. offered an awesome view of a relatively dense—and architecturally rich—section of downtown Detroit, looking northeast toward Grand Circus Park from the southwest.
In addition to the abandoned Book Cadillac Hotel a few blocks to the north and the 38-story mostly vacant Book Building tower, you could see many more older commercial buildings, some that were vacant or abandoned.
Some of those buildings, including the Book Cadillac Hotel, had trees and bushes that had somehow found a home hundreds of feet above street level.
That year, the Detroit Free Press featured this unusual ecological feature downtown.
High above the streets of downtown Detroit, spring is bustin' out all over. From Grand Circus Park to the Detroit River, real trees are budding and growing—with no human help—from the rooftops of abandoned skyscrapers, warehouses and hotels. The Greening of Detroit, 2001-style, means that some of the biggest, oldest and most interesting buildings in the nation's 10th largest city are succumbing to nature. Literally.
The hotel closed in 1984 and was liquidated two years later. The building sat abandoned and like many of Detroit's old buildings, the Book-Cadillac's grand interiors, described as the " most richly decorated " of any hotel in the city, were vandalized, stripped and otherwise wrecked. Then-Mayor Coleman Young wanted to demolish the hotel, but the city couldn't afford to tear it down.
Stories documenting Detroit's decline are fewer and far between these days. There are better stories to tell, including the one of the Book-Cadillac's subsequent preservation and revitalization .
In the mid-2000s, the building was renovated and in 2008, it reopened as the Westin Book Cadillac Hotel. Sixty-seven condominiums were included in the overhauled building.
It's been 16 years since I had that view of downtown Detroit from U.S. Bankruptcy Court, but I can only assume that the physical conditions that allowed trees and bushes to grow from the stately and now-revitalized Book Cadillac are no more.
But since that time, there are now many more gaps in Detroit's downtown streetscape.
Where there's a parking lot, there was once, most likely, a building, and perhaps a really big one. When the 2.2-million square-foot J.L. Hudson Department Store building on Woodward Avenue was destroyed in a controlled demolition in 1998, it was the tallest steel structure ever imploded and the largest single building ever imploded.
That's something to remember while walking by the Compuware headquarters on Campus Martius Park, where the department building once stood.
A lot of what Detroit was no longer exists, lost to the city's economic decline, social upheaval and numerous wrecking balls and bulldozers—not just in downtown, but in neighborhoods across the city.
Detroit, which reached a peak population of nearly 2 million residents in the 1950s, was built to accommodate a far larger population. Today, the city's population has dipped below 700,000 residents who are sprawled out across 143 square miles.
ELGL members exploring the Motor City this week: Imagine how your local government would deal with losing a comparable portion of local tax revenue that Detroit has had to deal with in the past few decades.
Also, imagine if you had an abandoned 33-story building in your downtown area with trees growing out of it or imploding a 2.2 million square-foot department store. It's simply mindboggling.
Detroit is tough and resilient. And there's no other city like it.