Can Cities Actually Meet the Paris Commitments on Their Own?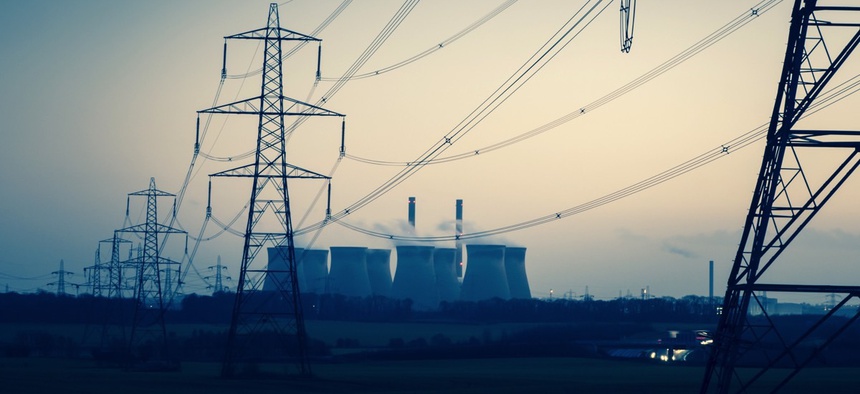 Nearly 250 U.S. mayors have pledged to uphold the country's greenhouse gas commitments. It might be a long shot. But Trump put politics on their side.
Think of the Paris climate accord as a delicate scale. Every nation works to meet carefully co-determined carbon cuts, holding one another accountable towards the utterly un-simple goal of limiting catastrophic global warming. By withdrawing the U.S., President Trump has lifted a critical weight from one end of this scale. How and whether it can right itself is an open question.
That is why now some 246 American mayors, under the mantle of the Mayors National Climate Action Agenda (or "U.S. Climate Mayors"), have formally pledged to "adopt, honor, and uphold the commitments to the goals enshrined in the Paris Agreement." Initially a collective of several dozen progressive, big-city mayors who've already taken publicly defiant stances against the Trump administration—among them, L.A.'s Eric Garcetti, New York City's Bill de Blasio, and Chicago's Rahm Emanuel—the consortium has now swollen to include plenty of names outside the usual suspects. "We cannot protect America's interests without a seat at the table, so San Diego will continue to lead on environmental protection," San Diego's Republican Mayor, Kevin Faulconer, stated last week.
Michael Bloomberg, former mayor of New York and climate envoy to the UN, is reportedly working on a plan wherein these cities, alongside three state governors, dozens of universities, and more than 100 corporations, can meet the United States' formal greenhouse gas (GHG) emissions targets under the Paris climate accord, to be counted alongside other nations' contributions.
"While the executive branch of the U.S. government speaks on behalf of our nation in matters of foreign affairs, it does not determine many aspects of whether and how the United States takes action on climate change," he wrote in a draft letter, according to The New York Times. "The bulk of the decisions which drive U.S. climate action in the aggregate are made by cities, states, businesses, and civil society. Collectively, these actors remain committed to the Paris accord."
The political outpouring is impressive: Essentially, we're looking at a kind of shadow-confederacy of local bodies trying to maneuver around the federal government on environmental action. This a David and Goliath tale for the ages. But can cities, by their own strength, push the U.S. to the shore of its climate commitments?
What the U.S. Promised, and Where It Stands
Through a series of stepped emissions targets, quinquennial stock-takes, and international investments, the Paris climate accord asks its 195 member nations to limit global warming to "well below" 2 degrees Celsius—ideally, to 1.5 degrees Celsius, which scientists regard as the threshold of catastrophic warming. Under Obama, the U.S. committed to reduce GHG emissions 17 percent below 2005 levels by 2020, and 26 to 28 percent by 2025, as its contribution to the goal.
The U.S. is already somewhere between one-third and one-half of the way towards its 2025 goals, largely thanks to the closure of dozens of coal plants as natural gas and renewables become more economically competitive. Getting the rest of the way was always going to be tough. Analyses by Climate Advisers, the Rhodium Group, and a widely cited paper in Nature Climate Change found that even if the U.S. put all current and proposed carbon-cutting federal policies into action—including those laid out by Obama's Clean Power Plan—the U.S. would still would miss its 2025 target by as much as 20 percent of the nation's total emissions.
The only probable route towards the 2025 targets would be to stack on new federal policies and mandates. That is not going to happen under Trump, who has begun the process of dismantling Obama's Clean Power Plan and rolling back tighter tailpipe standards. U.S. emissions could flatten, if not rise, under this administration.
But given that 86 percent of the U.S. population is urban, some climate specialists say that the accelerating pace at which cities and states are committing to GHG reductions offers hope. Just since Thursday, at least threenew cities have moved to join dozens of others in switching to 100 percent renewable energy in coming years; others have pledged to double down on efforts like taking gas-powered cars off the road, swapping out street lights, and tightening up building efficiency codes. "We've been cutting emissions year over year," says Carl Pope, the former executive director of the Sierra Club who recently co-authored with Michael Bloomberg a book on how cities can respond to urban climate change, "Climate of Hope." "We just have to keep moving at the pace we've been moving."
Even if the ultimate goal of 2025 is out of reach, drastic cuts in urban areas could get the U.S. pretty far.
Where Cities Can Fly Solo
In 2016, a report by the urban climate policy consortium C40 Cities analyzed the probable impact of thousands of carbon cuts by their 86 global member cities, which collectively influence about 20 percent of global carbon emissions. It's an inexact science, but using a carbon budgeting methodology developed by the Global Commons Institute, C40 also added up the emissions reductions made possible by thousands of discrete actions by the 12 U.S. member cities.
Extrapolating these findings, the report found that collectively, U.S. cities have the power to get about nearly 50 percent of the way towards the per-capita carbon emission reductions that would lead the world to 1.5 degrees, the report estimates. The report breaks down this 50 percent into two categories: unilateral actions, and collaborative actions. (The chart below represents the impact of global city action, so the numbers are a little different.)
What do unilateral actions look like? Anything that has to do with leveraging a publicly owned utility counts; so do big energy shifts. Austin's POU is sourcing about 23 percent of its energy from renewable sources; Washington, D.C., buys about 30 percent of the city government's electricity from a dedicated 46 megawatt wind farm. Many cities have unilateral control over their building codes; New York City's high-efficiency building retrofit program is expected to cut GHG emissions equal to removing more than half a million cars from the road. San Francisco, with the unusual position of wielding full power over its municipal transportation systems, has switched its bus fleets to renewable diesel fuel and converted half of the city's public transit fleet are zero emission vehicles.  
If all cities pushed to maximize their pilot-seat powers, and collectively took thousands of actions like these, urban America could single-handedly get us about 8 percent of the way to the nation's 1.5-degree trajectory, C40's researchers found. Picture the scale, teetering in the absence of the U.S. federal government; cities could get it about 8 percent of the way to balanced.    
Seth Schultz, the director of science and innovation at C40 Cities, says he's confident that this could happen. "Over the last five years C40 US cities have taken 2,238 climate related actions, [and] they need to take an additional 1,666 actions to continue on the correct trajectory," he writes via email. "But at the same time, these cities have also indicated that they intend to scale up 91 percent of the existing actions they have already started. And they are putting their money where their mouth is."
The Power of Cities That Learn From Each Other
That's pretty good, and it's not all. Cities that act together, and with the help of companies and investors, could deliver bigger bang. For example, governments might tap private partners to finance projects with big upfront costs, as Houston did to convert 165,000 municipal bulbs to LEDs in 2014, cutting street light energy use by half and slashing municipal emissions by 5 percent. They can also sell green bonds to underwrite carbon-efficient infrastructure projects, as the city of Portland has been doing since 2015, inspiring other cities to do the same.
Cities can also leverage collective purchasing agreements. Remember how Los Angeles, San Francisco, Seattle, and Portland sent a request for information to automakers for an order of 24,000 electric vehicles earlier this year? A dozen more cities have since latched on, increasing the request for 114,000 electric vehicles. "That has the potential to create a big market, and dramatically alter the production schedule of these vehicles," says Pope.
Cities can also inspire each other to act with urgency. Consortiums like C40, 100 Resilient Cities, and the U.S. Conference of Mayors offer a platform for cities to share ideas and best practices and quickly bring them to scale. "The ability of cities to learn from each other really can't be understated," says Schultz. He points to the rise of bike sharing: In 2011, six C40 cities had a system. By 2013, that number was 36. "Normally, it would take cities years to scope out a project like this, figure out how to plan it, manage it, price it," he says. "But we saw a 500 percent increase in two years, because cities were able to share that with one another."
On the climate front, such collaborative actions can push the U.S. a whopping 38 percent of the way toward the nation's 1.5-degree trajectory, according to C40. All told, if all U.S. cities took actions like these, they could get the wobbling scale about halfway to equilibrium.
Federal Help Will Be Required
These numbers require a big grain of salt. Even if the methodology is sound, measuring the urban carbon emissions is an imprecise science. For example: Since most places rely on grids that are regional and interconnected, the impact on carbon emissions is anything but clear when a city swaps out some coal-powered energy for wind and solar. David G. Victor, an expert on global climate policy and regulation at the University of California, San Diego, says that even if one customer declines to purchase non-renewably generated energy, that power can get sold off to someone else. So long as energy is fungible, and grids themselves remain largely reliant on heavy polluters, "we don't really know what 100 percent renewable looks like yet," he says.
Reaching the Paris accord goals requires a holistic transformation of the energy grid away from carbon. That means continued investment in renewable energy purchases and technology, particularly with regards to renewables' storage capacity. Only a coordinated national effort, with full-throated federal support, could pull that off.
"I don't think anyone is saying that we can accomplish the deep decarbonization that's necessary with only state and local action," says John Coequyt, the Sierra Club's policy director. "The idea here is that we have four years to do as much as we can to accomplish things that don't require presidential engagement. After that, there's going to have to be a broader push that includes federal help."
The Politics of Progressive Climate Action Just Got Easier
In terms of the level of support cities could expect from Trump on environmental matters, very little changed between May 31 and June 1. As a candidate, Trump campaigned on an offer of false hope to the coal industry; at critical moments, he has been an outright denier of climate science. As president, he has begun to roll back Obama's signature environmental policies, and his EPA chief is exploring legal measures to attack California's climate leadership. This administration was never going to be a reliable partner for states and cities working to save the planet, to say the least. Pulling out of this accord puts an exclamation point on that fact.
But something did change. Trump is clearly deepening the wound he already opened in the federal-urban relationship through executive orders on immigration and education, budget plans that implicate housing and transportation, and various threats to revoke local funding. Many mayors have voiced fierce opposition at various moments, but never with such unified force. "I haven't seen one event galvanize our cities quite as much as this," says Michael Berkowitz, the president of 100 Resilient Cities, the Rockefeller Foundation's urban climate consortium.
In fact, by taking an aggressively regressive stance on climate, Trump may have made the politics of progressive climate action much easier. That could count for a lot in terms of how cities, states, businesses, and universities organize themselves. These players could mobilize together to change, say, transportation and housing patterns across entire regions, rather than inside city limits. Or imagine if cities channelled their collective fury into a true urban climate treaty, with binding commitments on themselves and their energy suppliers—maybe more can be accomplished than seems possible now.
"There is a world of difference between cities signing a memorandum of understanding, doing what they can, and feeling emboldened, and a strictly organized coalition that can go off and make the necessary emissions cuts," says Victor. If what emerges from this maelstrom is the latter, than Trump will have done very little to advance his own goals.