Airbnb Activates Disaster Program in Advance of Hurricane Harvey's Landfall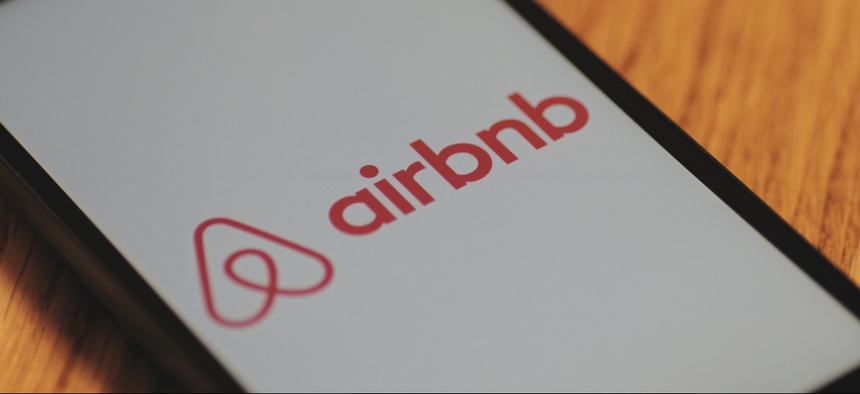 Prepping free housing for evacuees and relief workers, the company's network in the "cone of impact" includes more than 30,000 members and hosts.
As Hurricane Harvey churned in the Gulf of Mexico and barreled toward the Texas coast on Thursday, San Francisco-based Airbnb activated its Disaster Response Tool to provide urgent accommodations and to help facilitate crisis communications and coordination for thousands of evacuating area residents and any relief agency and emergency workers heading into the area.
"Airbnb sent preparedness messaging to over 30,000 of our guests and hosts in the projected cone of impact," Airbnb spokesperson Molly Weedn told Route Fifty. "We are in touch with our nonprofit and government partners to offer support."
The global short-term rental network launched its Disaster Response Program after Hurricane Sandy devastated New York and New Jersey in 2012. The program seeks to fill sudden gaps in housing that can arise amid crises.    
Once the program's Disaster Response Tool has been activated, as it was on Thursday, Airbnb hosts in impacted regions can choose to offer their rooms free of charge and the company waives all booking fees. A map posted at Airbnb's Hurricane Harvey page showed a region stretching from Alabama to New Mexico. Late Thursday afternoon, it included accommodations located in Austin and San Antonio, among other places in Texas.
According to the program website, the Airbnb Disaster Response Tool has been activated 65 times since it launched. Members of the network have donated lodging for 3,590 nights, according to the site.
The last "active incident" listed by the company is the Aug. 17 terrorist truck attack in Barcelona that killed 13 and injured some 130 people.
The first time the company activated its disaster program in advance of a storm came in October 2016, as Hurricane Matthew loomed off the Southeastern U.S. coast.
Airbnb reports that part of its disaster program includes partnering with local government agencies and relief organizations to provide training to Airbnb guests and hosts as well as to coordinate communications and housing and travel credits.
As of Thursday evening, Hurricane Harvey was forecasted to grow into a Category 3 storm by the time it hits land in the vicinity of Corpus Christi late Friday or early Saturday. Winds could reach up to 111 miles per hour. Ten-foot storm surges could produce 20-foot waves along coastal areas.
The storm is expected to stall onshore, dumping major rainfall on Texas and cause significant flooding.