These U.S. Regions Could Be First in Line for Hyperloop Expansion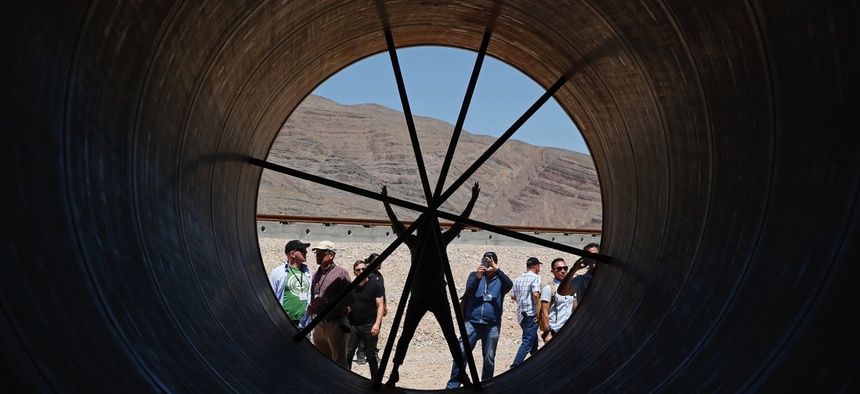 Hyperloop One is eyeing four routes in the Midwest, Colorado, Texas and Florida in addition to six more outside the country.
Chicago deep-dish pizza may someday be just a short hyperloop ride away for Pittsburgh-area residents, and Mayor Bill Peduto is already entertaining the possibility.
Los Angeles-based company Hyperloop One , which has been developing a high-speed, tube-based transportation system, announced on Thursday the winners of its global challenge to identify the best regions to pioneer its technology at scale.
One proposed route linking Chicago, Columbus and Pittsburgh called "Midwest Connect" made the cut.
Three other U.S. routes are finalists: the "Texas Triangle" connecting Dallas, Houston and Laredo on the U.S-Mexico border; the "Rocky Mountain Hyperloop" connecting Cheyenne, Wyoming with Denver and Pueblo in Colorado; and another connecting Miami and Orlando.
Six other proposals from Canada, India, Mexico and the United Kingdom also advanced.
Now Hyperloop One begins the process of determining each route's commercial viability, having already begun a feasibility study in Colorado in coordination with the Colorado Department of Transportation and engineering firm AECOM .
"Now that we've been named a winner and I'll put air quotes around that, we're setting up the model for a public-private partnership. There's a chance that this doesn't come to fruition. But I'm sure there were a lot of people who told the Wright brothers they would never fly. Or transcontinental railroads wouldn't work," Shailen Bhatt, CDOT's executive director, told The Denver Post . "We have significant challenges in both public safety, freight and congestion issues and if there's technology out there that can help us solve it, it's our [duty] to explore it."
Hyperloop One puts passengers and cargo into a pod, suspended with magnetic levitation, that accelerates to airline speeds gradually via electric propulsion through a low-pressure tube that significantly reduces drag. Colorado wants to know if the technology works, if the infrastructure should go above or below ground, if it can even afford it, and the environmental impacts.
Theoretically, a trip from Denver to Vail, Colorado would take 8.4 minutes instead of more than 2 hours by car. The Rocky Mountain Hyperloop would span 360 miles, reach 10 urban centers—the most of any proposed routes, except for the one connecting Mumbai and Chennai in India—and service 4.83 million people.
Hyperloop One's challenge launched in May 2016 and named 24 finalists out of more than 2,600 applications in April, two others being from Colorado.
"Like us, they believe that Hyperloop will not only solve transportation and urban development challenges within communities, it will unlock vast economic potential and transform how our cities operate and how we live," said Shervin Pishevar, Hyperloop One's cofounder and executive chairman, in the announcement .
The company plans to conduct ridership forecasts and technical analyses, holding workshops with each team and convening a global summit in 2018. Eleven other teams will continue refining proposals for future hyperloops.
Compelling business cases remain the chief selection criteria. Winning routes would connect 53 urban centers and 150 million people across 4,121 miles.
"The winning teams of the Hyperloop One Global Challenge represent the best innovation and creativity from government agencies, engineering firms, academics, infrastructure experts and more," said Josh Giegel, Hyperloop One's other cofounder and president of engineering, in a statement .
Elon Musk first proposed the idea of a hyperloop that could reach speeds of 600 to 760 mph in 2012, and his company SpaceX hosted a pod design competition that spawned Hyperloop One. Giegel was once SpaceX's lead engineer.
Musk tweeted in July he had "verbal govt approval" for a hyperloop between Washington D.C. and New York City that turned out not to be the case . Meanwhile, Hyperloop One has secured $141.1 million in venture capital.
"We are excited to work closely with Hyperloop One to explore this project's development and impact on Central Ohio and the Midwest," said William Murdock, the Mid-Ohio Regional Planning Commission's executive director, according to the Pittsburgh Post-Gazette . "Our Midwest Connect proposal fulfills a need for faster surface transportation options in the Midwest and strengthens connections and economic opportunities between the growing, tech-savvy regions of Columbus and Pittsburgh with the global power of Chicago."