City Leaders' Support for Uber and Its Fellow Disruptors Exceeds Actual Partnerships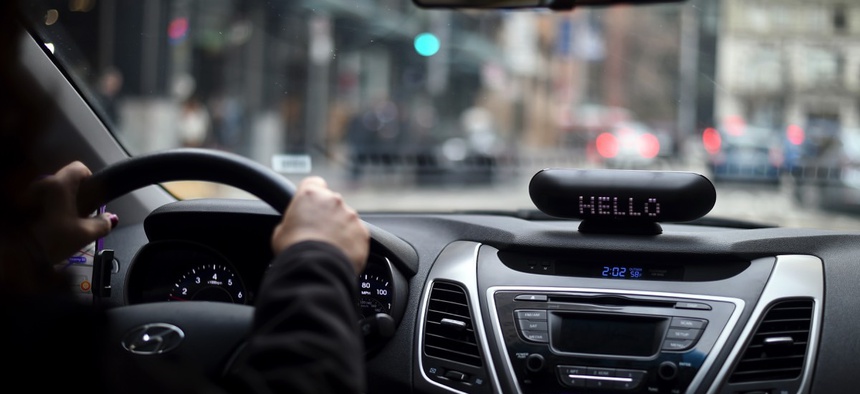 Lingering negative perceptions about the sharing economy, due to its tumultuous beginnings, are giving way with time and data, according to a new National League of Cities survey.
Fifty-one percent of local government officials characterized their city's relationship with sharing economy companies like Uber, Lyft and Airbnb as "good," according to a National League of Cities report released Thursday.
Only 4 percent of city leaders surveyed said their relations with the sharing economy were "very good," compared to 6 percent who said they were "neutral" and 40 percent who felt they were "tenuous" to "very poor."
Still, a resounding 84 percent of "Cities and the Innovation Economy: Perceptions of Local Leaders" participants had yet to enter into a partnership with a sharing economy company, despite 79 percent being open to the idea.
"We've seen relationships with the sharing economy have evolved over the last few years," Brooks Rainwater, NLC senior executive and director of its Center for City Solutions, told Route Fifty by phone. "The companies, with their disruptive methods early on, created consternation."
Pressed further, 62 percent of officials said they supported the overall sharing economy versus 22 percent who opposed it, while 15 percent solely supported ridesharing and 1 percent only homesharing.
The public-private partnership aspect of sharing economy companies is nascent, Rainwater said. Larger cities are paving the way partnering with Uber and Lyft to solve their first-mile and last-mile transit problems.
"City leaders understandably have concerns about ensuring these businesses and applications are deployed equitably and safely, but their aim is never to stifle innovation or efficiency," reads the report. "In most cases, city officials are working to bring these new technologies to their cities in response to constituent demands for improved services."
When it comes to investing in smart city technology, 66 percent of cities surveyed had, and 25 percent of those who hadn't were considering the possibility. A surprising 42 percent of cities used or are considering using drones for municipal operations.
Drone usage varies from the filming of public events to aerial mapping to public safety applications. That variety explains the rapid adoption of unmanned aerial vehicles, which will only increase as the industry matures and costs come down, Rainwater said.
Regulation of the sharing economy was a different story, with 53 percent of cities not regulating it at all and 30 percent enforcing light regulation or partial bans. Only 1 percent of city officials had implemented a complete ban on operations with the remainder unsure of their laws.
Areas of promise for the sharing economy included improved transportation and accessibility in the case of ridesharing and increased entrepreneurial activity in the case of homesharing.
Conversely public safety, noncompliance, lost tax revenue and protection of the taxi and hotel industries were common concerns across the sharing economy.
"Truthfully, I was actually somewhat surprised with the consistency of public safety being stuck as a top concern for cities two years into our research," Rainwater said.
That concern was voiced by around 60 percent of officials two years ago and held at about 60 percent for ridesharing and 57 percent for homesharing, when the two were split for this year's survey.
That would seem to indicate the nature of sharing economy companies when they entered urban environments has led to lingering perceptions, Rainwater said.
"Partnerships will grow as concerns alleviate," he added. "It would be great if these companies would share more data with cities for planning purposes."