The Interstate Corridors Most Primed for Autonomous Trucks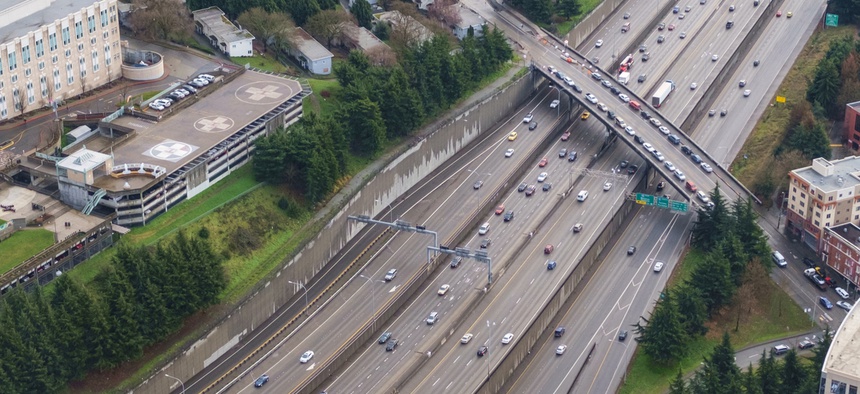 STATE AND LOCAL ROUNDUP | Massachusetts State Police indictments … Boise's renewable energy goal … and Vermont EMT apprenticeships.
Good morning, it's Friday, Sept. 21, 2018. Autonomous trucks lead Route Fifty's state and local government news roundup but scroll down for more stories from places like Sacramento, California; Boise, Idaho; and Tulsa, Oklahoma.
STATE GOVERNMENT | A newly released analysis has identified a handful of interstate highway corridors across the nation that are well positioned for the future deployment of autonomous trucks, with Interstate 5 in Washington and Oregon identified as the route with the best potential. The criteria for the rankings, developed by the INRIX data company, include the amount of freight moved by truck, levels of congestion, the length of the corridor and record of crashes. Other AV-primed freight corridors include I-70 in Colorado and Utah; I-85 between northeastern Georgia to Greensboro, North Carolina; and in Florida, I-75 and I-95. Last year, Seattle-based Madrona Ventures Group, released a report proposing that the I-5 corridor between Seattle and Vancouver, British Columbia be exclusively devoted to autonomous vehicles by 2040 after a three-phase introduction. [The Seattle Times; INRIX; GeekWire]
LOCAL GOVERNMENT | A Romanian national pleaded guilty on Thursday to two federal charges where she was accused of assisting a 2017 ransomware attack on the Metropolitan Police Department in Washington, D.C., an incident "that briefly disabled many of the city's surveillance cameras just days before the presidential inauguration." [StateScoop; Department of Justice]