Big Differences in Life Expectancy, City by City, Neighborhood by Neighborhood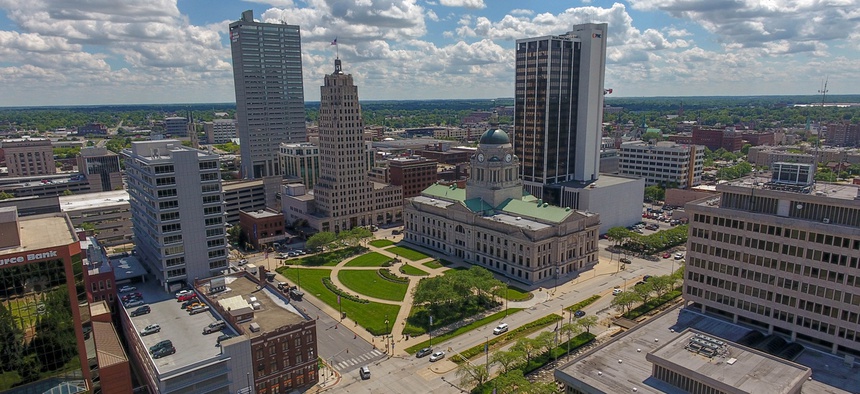 STATE AND LOCAL ROUNDUP | Another police "swatting" call … Florida red tide spreads … San Francisco's new seismic list ... and remembering the Taj Mahal of municipal pools.
Good morning, its Friday, Oct. 4, 2018. Leading our state and local government news roundup is a treasure trove of city health data, but scroll down for state and local news about law enforcement, seismic hazards, transportation and parks and recreation in places like Austin, Texas; Trenton, New Jersey; and Long Beach, California. Have a great weekend.
HEALTH DATA | A look around the City Health Dashboard, a health data project from NYU Langone Health and the Robert Wood Johnson Foundation that looks at the nation's 500 largest cities, can show big differences in various "social and environmental factors that influence health," 35 categories in all. That includes life expectancy. In Indiana, 11 cities were examined: Bloomington, Carmel, Evansville, Fishers, Fort Wayne, Gary, Hammond, Indianapolis, Lafayette, Muncie and South Bend. Although the average life expectancy in Carmel is 83-years-old, in Gary, it's 72. Next door in Illinois, there's a stark difference between two neighborhoods in the city of Decatur—"people who live in Decatur's South Shores neighborhood have a life expectancy of 88 years, while people living in the neighborhood near Decatur Memorial Hospital have a life expectancy of 68 years." [City Health Dashboard; WBOI; WAND]
LAW ENFORCEMENT | Police in Stafford County, Virginia responded on Wednesday to a suspected "swatting" incident where a "male subject called 911 demanding money for two hostages." Out of "an abundance of caution," law enforcement "treated the event as real" though it ended up as a prank. The Seattle Police Department recently asked video gamers, who are often the target of swatting incidents, to register their address in a database. [WTVR; GeekWire]
ENVIRONMENT | Florida Gov. Rick Scott has offered up $3 million in state funding to counties on the state's Atlantic coast now dealing with red tide algae blooms, which have closed many beaches. While the state's Gulf coast has been dealing with red tide conditions for many months, it's now impacting the east coast in Broward, Martin, Miami-Dade, Palm Beach and St. Lucie counties. [Orlando Sentinel]
SANITATION | In Texas, the Austin City Council has approved a contract extension with Blue Chem Inc. to continue operations of a portable toilet for the next five years. The portable toilet, which is brought into service for certain special events, was originally envisioned to be a stop-gap measure until a permanent facility could be built. [KUT]
SEISMIC HAZARDS | San Francisco officials on Thursday released "an unprecedented list of more than 150 of its tallest buildings, which includes data about buildings constructed before modern seismic codes." With ongoing concerns over the ability of the city's skyscrapers to withstand a major earthquake, the move is "a prelude to an assessment of whether they need retrofitting to better withstand an epic temblor." [Los Angeles Times]
FINANCE | Trenton, New Jersey Mayor Reed Gusciora, who was elected in June, has asked the state government for a forensic audit of the capital city's finances after finding a "lack of stringent bookkeeping" and "budget inconsistencies." [NJ.com]
AGRICULTURE | Soybean farmers in Louisiana are having an especially tough time—"a perfect storm of trade tariffs and wet weather have left them on the brink of a disaster." [WWL]
MARIJUANA | In Massachusetts, the Cannabis Control Commission has approved its first retail pot shop, one license to a store in Northampton and three licenses in Leicester. [The Boston Globe]
TRANSPORTATION | Thursday was a big day for transportation project news: New York Gov. Andrew Cuomo announced a $13 billion plan to rebuild John F. Kennedy International Airport in Queens and make it "one of the finest airports in the world"—while noting that fixing the subway comes "next." In Pennsylvania, Gov. Tom Wolf announced that $49 million in multimodal funding will be used for 42 projects across the state. Fourteen of the 42 grants will be used for local bridges. [Gothamist / WYNC; Transport Topics]
PARKS AND RECREATION | Long Beach, California was once home to the "Taj Mahal" of municipal swimming pools, a "mid-century modern masterpiece acting as ode to the Modern-Greco design, with white pillars typical of Greek architecture mixed with the clean, straight-line style of mid-century modern design." But it was also seismically unsound and was demolished many years ago. While there's been a long local saga over replacing the pool, it's a place "deeply missed amongst swimming athletes across the globe." [@BrianAddisonLB; Long Beach Post / LongBeachize]