Here's What's Holding Up Florida's Shift to Year-Round Daylight Saving Time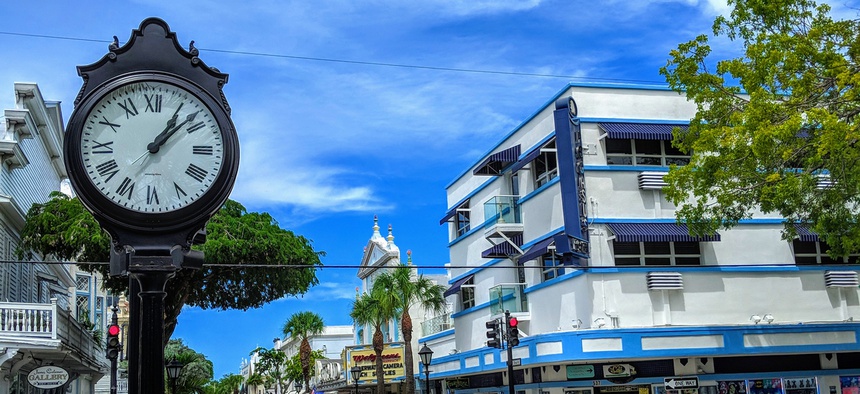 STATE AND LOCAL ROUNDUP | Food pantries see more demand … San Antonio short-term rental vote ... dairy woes … and Colo. governor's final state budget.
Good morning, it's Friday, Nov. 2, 2018. Daylight saving time politics leads Route Fifty's state and local government news roundup. Scroll down for more news from places like Chicago, Illinois; San Antonio, Texas; and Bakersfield, California.
DAYLIGHT SAVING TIME | After Florida lawmakers and Gov. Rick Scott gave their thumbs up to legislation earlier this year that would shift the Sunshine State to year-round daylight saving time, this weekend's "fall-back" clock-changing ritual will continue. What's holding up Florida's daylight saving time change? Congress. A bill that would allow Florida to not change its clocks has "languished in the Senate Commerce Committee" but if it dies before the end of the current congressional session, U.S. Sen. Marco Rubio pledges to refile it in the next session. Currently, Arizona, Hawaii and Indiana don't change their clocks for daylight saving time. California voters are currently considering Proposition 7, a statewide ballot initiative that calls on the state to pursue year-round daylight-saving time. [Sun Sentinel; WABC; KTLA]
SOCIAL SERVICES | Three state lawmakers in Illinois on Thursday called for an independent investigation into a Chicago psychiatric facilities following a ProPublica Illinois investigation into "allegations of sexual assault and abuse of children, as well as safety violations related to suicidal patients." [ProPublica Illinois] … As states like Ohio change rules for eligibility for public assistances, local food pantries are "scrambling to cater to an ever-growing clientele." Adding insult to injury: Earlier this year, a group of rural Ohio mayors "discovered that more than $500 million of federal money sent to the state for anti-poverty efforts had yet to be used." [The Washington Post] … In North Carolina, there are currently "49 recovery courts in 22 counties" that are "designed to work with people in the criminal justice system who have a substance use." [NC Policy Watch]
BUDGET PLANNING | Colorado Gov. John Hickenlooper on Thursday released his final state budget, one the comes with more spending on education, including funding that  is "enough to freeze tuition at the state's public universities and make a $77 million dent in the $672 million the state owes its K-12 schools for recession-era cuts." But Hickenlooper's fiscal framework will likely change when the Colorado state legislature reconvenes and the new governor takes office in the new year. [Colorado Public Radio]
STRONG MAYORS vs. WEAK MAYORS | There's a lot of money being poured into the local ballot initiative in Miami that would give Mayor Francis Suarez more executive "strong mayor" powers by "moneyed interests in real estate, architecture and construction." [Miami Herald]
SHORT-TERM RENTALS | The San Antonio City Council on Thursday voted 8-2 to approve new rules for short-term rentals in the city, which would apply to more than 2,000 short-term rentals across the city and "set permit requirements and installed fees for people who put homes, apartments, rooms, or other property up for rent on platforms such as Airbnb, VRBO, and HomeAway." [Rivard Report]
LAW ENFORCEMENT | Minneapolis Mayor Jacob Frey is planning to reappoint Police Chief Medaria Arradondo for "at least another three years." [Star Tribune; KSTP] … Former Allentown, Pennsylvania Mayor Ed Pawlowski has been transferred to a federal detention center in Philadelphia. [The Morning Call]
AGRICULTURE | Iowa's dairy farmers are feeling a lot of financial pain in recent years due to low milk prices. So far this year, 80 dairy farms have shuttered in Iowa. Next door in Wisconsin, the nation's second-largest dairy producer, 1,100 dairy farms have shuttered in the past two years. [The Des Moines Register]
ECONOMIC DEVELOPMENT | Next week, the Kern County Board of Supervisors will be voting on a proposal that would give Amazon.com, Inc. $3 million in tax incentives if it employs 1,000 county residents at its new 2.6 million square foot distribution facility near Bakersfield, California. [The Californian]