Philly Mayor Deleted Years of Text Messages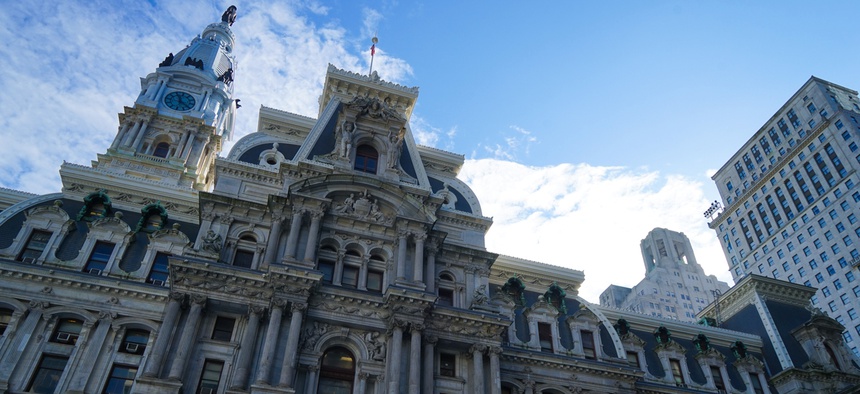 STATE AND LOCAL ROUNDUP | W.Va. teachers strike … Alaska cold case leads to arrest in Maine using genetic genealogy … and the Cincinnati City Council's attendance record.
Good morning, it's Tuesday, Feb. 19, 2019. Public records lead Route Fifty's state and local government news roundup but scroll down for more from places like Buffalo, New York; Little Rock, Arkansas; and Boise, Idaho … ALSO ON ROUTE FIFTY … Town Can Prohibit Union's Inflatable Rat Display, Appeals Court Rules … Invasive Species Have Some States Seeking Increased Federal Partnership … Economic Boom Hasn't Led to Economic Prosperity for All ...
Let's get to it …
TRANSPARENCY | According to a spokeswoman, Philadelphia Mayor Jim Kenney "wasn't aware" that deleting texts on his personal cell phone, which he uses to conduct official business for the city, may run afoul of state open records laws in Pennsylvania. But it's something that's he's been doing for three years to save space on his phone. Daniel Bevarly, executive director of the National Freedom of Information Coalition, said public officials are increasingly using private cell phones as a way to circumvent open records laws, recently told The Inquirer. "They will say, 'Well, I didn't know.' Well, they need to be better trained in open records laws." The mayor's staff wasn't aware of Kenney's text deletion practices until a records request last August. [The Inquirer / Philly.com]
PUBLIC EDUCATION | Teacher unions in West Virginia called a statewide strike starting Tuesday in response to a bill moving through the state legislature that would allow for charter schools, along with other measures. [WOWK-TV; WVNews] ... Arkansas Gov. Asa Hutchinson signed a bill on Monday that will raise the minimum salary for teachers in the state. [AP via ArkansasOnline] … Meanwhile in Idaho, Gov. Brad Little is planning to raise the minimum salary for teachers in his state over the course of two years instead of just one. [Idaho State Journal]
GOVERNORS | New York Gov. Andrew Cuomo is facing some pushback from lawmakers over his recently announced cost-saving plan to shutter three state prisons. [WWNY] … Wisconsin Gov. Tony Evers' budget plan includes proposals to legalize medical marijuana and decriminalize possession of small amounts of marijuana. [WITI] … Rhode Island Gov. Gina Raimondo joined Department of Environmental Management officials and representatives for state environmental groups on Monday at a press conference at Lincoln Woods State Park to make the case for more investment in the state park system, including modest increases in fees at state parks and beaches. [Providence Journal]
CITY HALLS | The Cincinnati City Council is facing an odd challenge: Getting its members to show up for meetings. David Mann, the council's "elder statesman" who has a perfect attendance record: "I don't know how you can participate. There are two purposes of committee and council meetings. Number one is to be informed and number two is fulfilling your public duty. Both are about the ultimate obligation, which is to represent citizens with a vote." [Enquirer / Cincinnati.com] … The New York City Commission on Human Rights says that it is unlawful to target people "based on their hair or hairstyle, at work, school or in public spaces," a practice that will be considered racial discrimination. [The New York Times] … Local leaders in Danville, Virginia are interested in creating a land bank to help support the revitalization of abandoned buildings. [WSET]
LAW ENFORCEMENT | A man living in Auburn, Maine was arrested without incident on Friday after cold-case investigators in Alaska used genetic genealogy to link DNA collected from a 1993 rape and murder at the University of Alaska-Fairbanks to 44-year-old Steven Downs, a registered nurse. [Maine Public] … While police in Buffalo, New York have already deprioritized low-level marijuana offenses, Mayor Byron Brown late last week made that practice official. [WKBW] … The Arizona Department of Public Safety is planning to close its Northern Communication Center, which covers all of northern Arizona, and shift its responsibility to a dispatch center in the Phoenix area. [Arizona Daily Sun] … In Springfield, Massachusetts, contract negotiations broke down over the weekend between the city government and the Springfield Police Supervisor's Association. [WWLP]
PUBLIC HEALTH | With the news of a Los Angeles City Hall employee contracting typhus shining a spotlight on the disease spread by rodents, digging into the health statistics, the number of cases in California has jumped considerably over the past decade. In 2008, 13 people were diagnosed with typhus; in 2018, there were 167 cases, 95 percent in Los Angeles and Orange counties. [Los Angeles Times] … There is now a suspected measles case in Ector County, Texas, where Odessa is located. [Midland Pediatric Associates / Facebook via KOSA]
HOUSING | The San Francisco Bay Area's acute housing pressures is changing the definition of what constitutes the Bay Area as people move farther out. What was once a nine-county metropolitan area is now "a vast 21-county megaregion." [Mercury News] … As local workers along North Carolina's Outer Banks struggle to afford the cost of living on the barrier islands, the local Chamber of Commerce says that tiny houses are "at least worth a look as less expensive alternatives," despite concerns they could easily blow away during strong storms. [The Virginian-Pilot]