Author Archive
Katherine Barrett & Richard Greene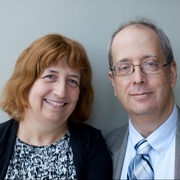 Over the course of nearly 30 years, Katherine Barrett and Richard Greene, principals of Barrett and Greene, Inc. have done much-praised analysis, research and writing about state and local governments. Described by Peter Harkness, founder of Governing Magazine as "by far the most experienced journalists in the country covering public performance," they pioneered "grading the cities, counties and states" in management. Related to that work, they founded the Government Performance Project. They are columnists and senior advisors at Route Fifty, special project consultants to the Volcker Alliance, senior advisors at the Government Finance Research Center at the University of Illinois in Chicago and fellows in the National Academy of Public Administration. Greene has been named chair of The Center for Accountability and Performance at the American Society for Public Administration (ASPA). In addition, they are columnists for IPMA-HR and consultants to the National Association of State Personnel Executives.
Management
COMMENTARY | From initiatives that allow new parents to bring their babies to work to upgraded facilities, state and local government leaders are aiming to compete with the private sector.
By

Katherine Barrett & Richard Greene
Management
COMMENTARY | Many millennials or members of Generation Z are interested in meaningful work that can help improve people's lives, but they don't necessarily see government jobs in that light.
By

Katherine Barrett & Richard Greene
Health & Human Services
COMMENTARY | Unlike other states, Massachusetts leaders relied on data—crucial in developing policies, but too often not available—to guide their decision to begin allowing medication-assisted treatment for drug addiction in jails.
By

Katherine Barrett & Richard Greene
---
Finance
COMMENTARY | The economy continues to grow, yet cities anticipate revenue problems. How can both be true?
By

Katherine Barrett & Richard Greene
Public Safety
COMMENTARY | What can governments do to recruit and keep the "first" first responders?
By

Katherine Barrett & Richard Greene
Finance
COMMENTARY | Sometimes, state and local governments don't end up seeing the results they hoped for. Then what happens?
By

Katherine Barrett & Richard Greene