Vacant Walmart Sites Create Giant Big-Box Stumbling Blocks for Local Governments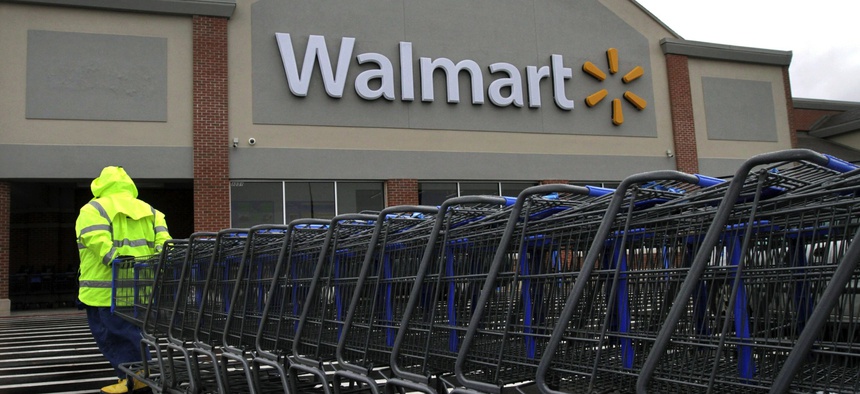 As the global retail giant shutters 154 U.S. stores, some communities are facing huge economic redevelopment hurdles. But there are some outside-the-box ideas for filling these hard-to-fill footprints.
Walmart delivered a major corporate announcement last month: 154 stores around the United States, including all of its Walmart Express concept stores, would be shuttered. In some communities where Walmart can play a make-or-break role in a local economy, the news has been devastating.
The Washington Post recently examined the geography of the the Walmart closures around the nation and featured a particularly poverty-stricken part of Appalachia: McDowell County in southern West Virginia.
In McDowell County, there are immediate and longer-term impacts of Walmart's closure for local officials to address.
First, there's increased economic hardship facing the 140 local employees whose jobs were cut at Walmart.
"That's a lot of jobs for even the county to absorb," Kimball's mayor, Eddie Patrick, told The Post.
Another immediate impact: Walmart contributed 90,000 pounds of food last year to a local food pantry, Five Loaves and Two Fish, donations that will be difficult to replace.
The Charleston Gazette-Mail reported on Jan. 16:
It had been a tough 24 hours. The day before, they found out their local Walmart, the only major store within 20 miles, was going to close, costing the community 140 jobs.

Despite the uncertainty, Hazel Cooper, 56, was at the food pantry at 11:00 last night, the first in line. She was chased away by Welch police officers, but came right back.

She slept in her car, bundled up under layers of clothing, only turning on the car to warm their feet in the middle of the night.

"Most people don't have the gas to let their car run all night," Cooper said. "People will do that to put food on the table."
Beyond those immediate impacts on local unemployment, poverty and hunger, McDowell County officials also have to think of ways to generate new economic development at the site of the Walmart.
Shuttered Big Box stores can have significant impacts on local tax revenue, depending where you are. In Fairfield, Alabama, a struggling steel town near Birmingham that saw major layoffs in 2015, the departure of Walmart will hurt municipal finances. The mayor estimates that Walmart was responsible for 33 to 40 percent of Fairfield's total sales tax receipts, according to WBRC-TV.
What's the current thinking for how McDowell County might be able to revitalize its now-vacant Walmart location?
According to The Post's report:
At the moment, the county commission is trying to persuade Walmart to donate its old building, which might be used for multiple tenants. Asked if that might be in the cards, Walmart — which has a whole website for disposing of its excess realty — gave no concrete answers.
Figuring out how to repurpose a Big Box site can be a huge challenge. And that's assuming the local government wants to play an active role in courting a new tenant.
In September 2014, the Star Tribune in Minneapolis examined what some Twin Cities area municipalities were doing to help reel in new tenants for empty Big Box stores. Local officials can't simply snap their fingers and summon a new business to their jurisdiction.
"There is a misunderstanding on the part of the general public on what role the city plays in filling big, empty buildings," Barry Stock, the city administrator in Savage, Minnesota, told the Star Tribune. "Market forces are what drives business locations. It's location, location, location."
Some local governments take a more active role in finding a new tenant because a vacant site can drag down the rest of the community.
"Nobody wants to look at a vacant big-box store," Joe Hogeboom, a community development director in Columbia Heights, told the Star Tribune in its 2014 report. "It's a community pride thing, especially when the economy is doing well."
Beyond traditional economic development efforts like helping attract new retail tenants for Big Box stores, other communities provide have provided interesting case studies of some non-traditional approaches to give vacant Big Box stores a new life.
When a Walmart location closed its doors in McAllen a few years ago, the city purchased the site and converted it into an award-winning new public library with 123,000 square feet of space, making it the largest single-level library in the United States.
In Wisconsin Rapids, Wisconsin, a former 120,000 square foot Walmart location was turned into a senior center.
Julia Christensen's book "Big Box Reuse" (2008, MIT Press) provides a roadmap how Big Box stores can be adapted and reused. A former K-Mart location in Lebanon, Missouri, was transformed into a Route 66 Museum, public library and cafe, for instance.
But not all reuses don't end up working out for the long haul.
One of the locations featured in Christensen's book was in Austin, Minnesota, a city near the Iowa border. Hormel Foods' Spam Museum had moved into a vacant K-Mart location. But in 2014, the Spam Museum closed its doors there.
Civic leaders in Austin urged Hormel to move its museum downtown to a location in the heart of Main Street, to help draw visitors to the city's commercial core. The Spam Museum is supposed to reopen in the new spot this year.
Unfortunately, figuring out a reuse strategy can be extremely difficult for local governments, especially those with limited economic development assets.
So in the meantime, in many small communities where Walmart is pulling out, life has been upended and locals are angry and disappointed. That includes the small city of Waskom, Texas, located near the Louisiana border.
KSLA-TV in Shreveport interviewed local resident Billie Collins:
"They built that building instead of using a vacant building already built in town even though they were here short term. Now they closed it. So it's another vacant building, and they leave us with no food, and no opportunity to buy food except for outside of Waskom," explained Collins.

There was a long-standing grocery store called Hall's Superstore, but it was forced to close after losing business to the Walmart. Now three quarters of it is a fitness center, and the other quarter is a convenience store.

"We had them. At least we had a grocery store. Now we don't," said Charlotte Kellie.