Fire Chiefs Want Exclusion Under Trump Order Blocking Grants to 'Sanctuary Cities'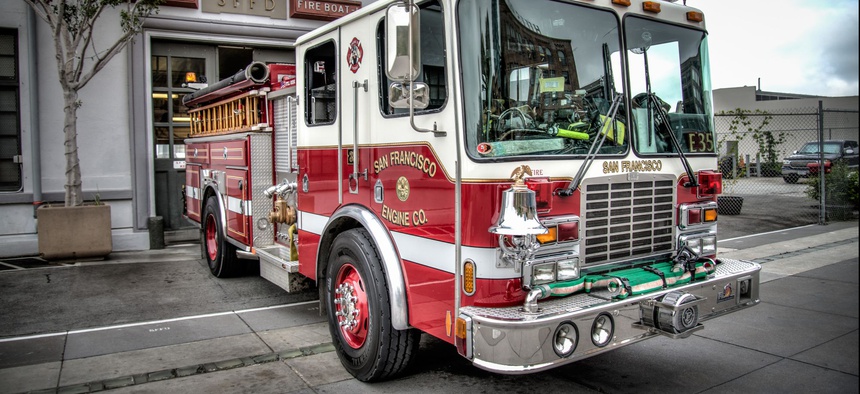 During subcommittee testimony, a GOP congressman told the president of the International Association of Fire Chiefs the group should warn local governments about the risks of not cooperating.
WASHINGTON — Fire chiefs are worried grant funding for their agencies could be jeopardized by executive action President Trump has taken to toughen the enforcement of immigration laws.
John Sinclair, president and chairman of the board for the International Association of Fire Chiefs raised the issue during testimony before a congressional subcommittee on Tuesday. An executive order Trump signed last month seeks to block federal grants to so-called sanctuary cities—jurisdictions that limit their cooperation with federal immigration authorities.
The executive order includes an exception for grants the U.S. attorney general or secretary of Homeland Security deem necessary for law enforcement. Sinclair said the association of fire chiefs would like to see that carve-out expanded to include all public safety agencies.
"We are concerned that major metropolitan fire and EMS departments might lose eligibility for FEMA grants," he said, referring to the Federal Emergency Management Agency.
Sinclair said no one with Trump's administration had contacted the International Association of Fire Chiefs about the implications the executive order could have for public safety grants. The association's board, he noted, has not adopted a position on sanctuary cities.
U.S. Rep. Thomas Garrett, Jr., a Virginia Republican, pressed Sinclair on whether the chiefs had done enough to inform sanctuary jurisdictions that their public safety funding could be at risk. "But you have come here and asked us not to act to enforce federal law," he said.
"Perhaps if you're going to suggest to us that we broaden the exemption," Garrett added, "you might also go back to those localities and warn them of the potential impact on them."
Sinclair is also chief of Kittitas Valley Fire and Rescue, an agency that serves an area in central Washington state.
He was among the witnesses who testified Tuesday at a hearing of the House Homeland Security Committee's subcommittee on Emergency Preparedness, Response, and Communications. The panel's meeting was focused on developing recommendations for the next administrator of the Federal Emergency Management Agency.
As of Tuesday afternoon, Trump had not announced his pick to lead the agency.
Bill Lucia is a Senior Reporter for Government Executive's Route Fifty and is based in Washington, D.C.
NEXT STORY Are Refugees Dangerous?