Oregon Bill Proposing 'Coffee Tax' Seeks to Perk Up State Revenues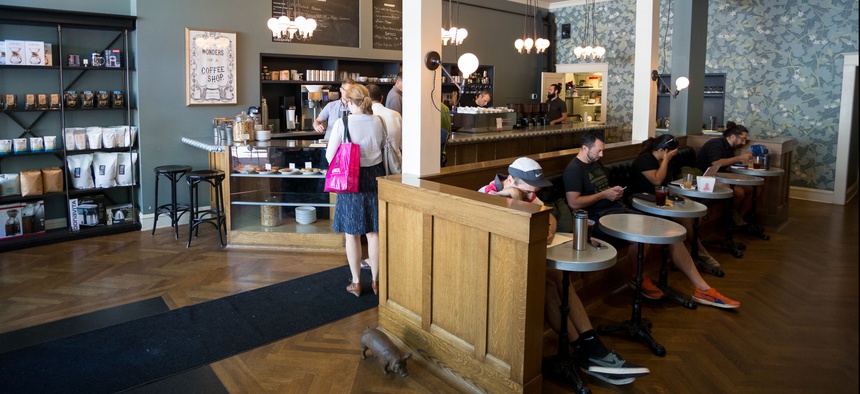 The five cent per pound excise tax would be imposed on coffee beans sold wholesale.
Whole and ground coffee beans sold in Oregon would be subject to a new tax under a bill introduced in the state's Legislature this week.
The legislation would impose an excise tax of five cents per pound for coffee sold at the wholesale level in the state. Revenue from the measure would be used to establish a pool of money that would go to a National Guard youth education program and to schools.
House Bill 2875 was sponsored by the Committee on Revenue. No individual lawmakers attached their names to the measure.
Republicans did not hesitate to knock the legislation.
"There are a lot of things Oregonians like with their coffee—a tax is not one of them," House GOP Leader Mike McLane said in an emailed statement. "This proposal is regressive, it is poor public policy, and it deserves to be shelved just as quickly as it was introduced."
Democrats control the Oregon House.
The Oregon Coffee Board, which represents the state's coffee industry, was also wary of the bill. They, too, characterized the bill as regressive, meaning it would disproportionately affect people with lower incomes. And they said it would disadvantage coffee sales compared to other drinks.
"Most states and countries have rejected this structure of taxation because it is unfair and burdensome," Christopher Alspach, marketing chair and spokesperson for the Coffee Board said in an email Friday. He added: "The last time a tax on tea was tried, it caused a revolution."
The bill would establish an "Alternative Education Sustainability Fund" where the revenue from the coffee tax would be deposited.
About half the money from the fund would go to the Oregon National Guard Youth Challenge Program, a statewide alternative high school similar to a military academy.
The rest would go to the state's Department of Education to make grants to primary schools and school districts that operate alternative high school programs.
Oregon faces a projected shortfall of about $1.8 billion in the upcoming two-year fiscal cycle, according to a budget framework the chairs of the Joint Committee on Ways and Means released earlier this year.
Analyses indicating how much money the bill imposing the tax on coffee beans might raise had not been posted online with the legislation as of Friday afternoon. The legislation had been referred to the House Committee on Revenue.