PTI and NACo-NLC Today: 'An Innovative Outpost for New Things to Come'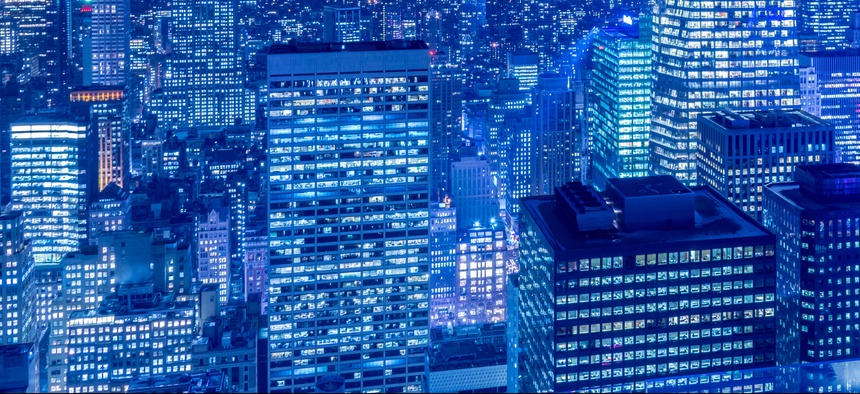 As forces continue to shape shared governance and collaboration in the tech ecosystem, the Public Technology Institute's new partnership is ready to propel local governments forward.
The Public Technology Institute was formed in 1971 when the idea of using technology for government service delivery was a mystery to many public administrators. At the time the U.S. was deeply involved in the space program, deploying technology to send men to the moon. The idea of interest to many local elected leaders and city and county managers was "couldn't we deploy similar technologies on earth to better serve our communities?"
Over these past four decades, the mysteries of technology have evolved into wonderment, and then towards implementation schemes, to mastery and finally to leadership.
Now, working more closely with NACo and NLC, PTI will have the opportunity to leverage its resources and the ability to work with and through a much wider audience of CIOs, technologists, public managers and elected leaders.
The timing for this new and exciting partnership could not be better. Technology is no longer something that operates out of a stand-alone IT department as it was once was. Indeed, technology has become granular and permeates into almost everything we do personally and professionally. Certainly, the CIO continues to play a critically important role in leading the organization's digital strategy and maintaining the overall information and communications network. However, there is a growing recognition of shared governance and partnership where other major players (agencies, departments, other governments, the community) must participate and collaborate as never before.
There are at least 6 forces that contribute to this growing trend of shared governance and collaboration in the technology ecosystem.   
Interconnectedness. Everything has become more interconnected (which now includes the Internet of Everything (IoE)). There are now billions of data points that transverse the Internet every second of every day. Interconnectedness also covers our growing desire to be mobile and yet instantaneously connected to our multiple devices and our networks of choice across the globe.  People have different requirements and preferences and a one-size-fits-all approach is no longer adequate. Active communication and planning is essential for an organization to thrive. 
Security. The need for secure systems and the protection of government data, transactions, and citizen information has never been greater. Security in today's environment requires an all-hands holistic approach to help educate and develop enforceable policies, guidelines and advanced systems.
Purchasing. Because so much is interconnected, purchasing decisions must consider just how a new product or service will impact the overall network—from a security, compatibility, resource management perspective. Today's product offerings have shorter life cycles, and require more careful collaboration when considering capital projects (CAPEX) vs. operating fund projects (OPEX). Cloud and managed services are driving much of this change and decision-rights must be carefully managed in both dynamic policy-making as well as implementation, training and implementation.      
Open and Big Data. From politicians of all parties representing all levels of government there is a continuous cry for greater transparency in government. Most often "open data" is cited as a principal means for publishing data and information. While open and big data are often mentioned together – they are related but different. While open data is data and information made available to the public, big data is a discipline unto itself. With everything we are collecting in regards to raw as well as structured and unstructured data, the discussion should not be how and where to store the data as it is should be how to interpret and make better data-driven decisions.
Cloud-based services. Perhaps the most significant trend to occur in the past two decades is cloud-based services in all its many forms. This movement continues to gain strength as state and local governments wrestle with declining budgets and the ability to attract and maintain the required workforce. When implemented correctly, cloud-based services can save time and money, provide more modern infrastructure platforms, provide greater access and the potential for greater collaboration and take pressure away from owning expensive data systems to be able to focus on information management  
The Growth of Apps and Social Media. Thanks to the cloud and the abundance of broadband and mobile devices, government apps have become an accepted way for reaching out to the public for many informational and transactional applications. Apps and social media have quickly been adopted to create a better citizen engagement experience. By their very nature, apps and social media can be managed on different platforms and by different people thus creating the need for more coordination and cooperation among the main players. 
These are but a few examples of how technology governance has been evolving and will continue for years to come. This requires a shared governance model from the inception of an idea through its execution and finally a periodic evaluation that measures performance. PTI welcomes the challenge—and opportunity!—to serve as the hub for greater collaboration, coordination and planning with regards to technology at the local level. Of course, there is still one charge that dates to PTI's beginning in 1971: To serve as an innovative outpost for new things to come! What might we learn from going to Mars?