Trump's Plan to Zero Out Funding for Agency Aiding Appalachia Isn't Playing Well in Congress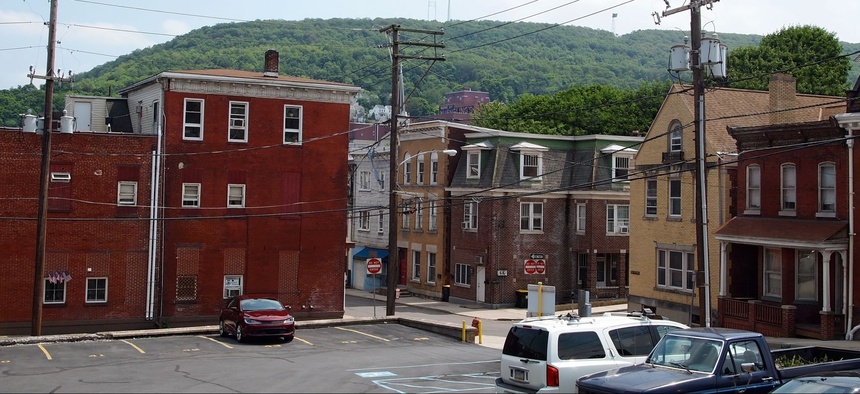 "If the president were to say let's quadruple funding for the Appalachian Regional Commission, I'd vote for it," said U.S. Rep. Ro Khanna, a California Democrat.
WASHINGTON — President Trump's plan to defund an agency that focuses on economic development in Appalachian states encountered bipartisan pushback in Congress on Wednesday.
Trump has called for eliminating funding for the Appalachian Regional Commission in his fiscal year 2018 budget proposal.
But a California Democrat and an Ohio Republican both raised concerns about that cut as White House Budget Director Mick Mulvaney testified Wednesday about the president's spending plan before the Budget Committee in the U.S. House.
In the current budget cycle, the commission was allotted $152 million.
Trump's plan would provide $27 million for the agency in fiscal year 2018, which begins on Oct. 1. But this money would be intended to pay for closing down the commission's operations.
During Wednesday's hearing, U.S. Rep. Ro Khanna, a Democrat who represents a district in California's Silicon Valley region, a hotbed for the tech sector, highlighted ARC-supported programs he observed during a visit earlier this year to eastern Kentucky.
"What I saw there were coal miners' kids getting apprenticeship programs, jobs learning iOS software for Apple, learning Android software," he said. "The Appalachian Regional Commission funded this program."
Khanna described the commission's work as well aligned with Trump's campaign promises to spur job growth in places struggling with economic declines.
Parts of Appalachia have suffered economically as industries like coal mining and steelmaking have eroded in the U.S.
"If the president were to say let's quadruple funding for the Appalachian Regional Commission, I'd vote for it." added Khanna, who is a freshman member of Congress. "But that's zeroed out."
Mulvaney acknowledged "anecdotes of success" with the ARC.
"It's just when we sat down to look at it," he said in response to Khanna's remarks, "we had a very difficult time confirming that it was regularly as successful as you mentioned."
Mulvaney has said previously he personally made a case to Trump that funding for the commission should be chopped.
The budget director told the House lawmakers that money had been moved around to other parts of the budget to assist Appalachia.
These sums included an additional $80 million for a U.S. Department of Agriculture rural infrastructure grant program and an added $66 million for job training and employment services through the Department of Labor, according to Mulvaney.
U.S. Rep. Bill Johnson, a Republican who hails from a district in eastern Ohio, said he was optimistic about the budget overall but was "concerned with the rationale" for the ARC cuts.
The agency, he said, distributed about $175 million last year for roughly 660 projects in 93 counties. That money, according to Johnson, was combined with matching funds from lower levels of government and $443 million in private investment for a total of $866 million.
The White House budget plan, he noted, cites a Government Accountability Office report that is about 20 years old—it was published in 1996—when calling into question the ARC's effectiveness.
Johnson urged Mulvaney to seek out updated information about the commission.
The congressman also said he understood moving money around in the federal budget to give states and governors greater flexibility.
But he added: "I live in Appalachia. And I can tell you that governors are concerned about the regions where the voters are, the big metropolitan areas."
Senate Majority Leader Mitch McConnell, a Kentucky Republican, recently voiced opposition to slashing the ARC's funding.
"We are not going to allow any cuts to the Appalachian Regional Commission," he said in March, according to WYMT-TV, a television station based in Hazard, Kentucky.
Khanna said the programs he learned about in Kentucky were in the district of Republican U.S. Rep. Hal Rogers. Rogers chaired the House Appropriations committee from 2011 to 2016 and still sits on the panel.
Johnson underscored that Trump's plan was just an initial step in the budget process.
"We all know that this is a proposal," he said. "Ultimately, the final say will come from Congress."
PREVIOUSLY on Route Fifty: