Embattled Mayor's Exit Forces Seattle to Dust Off Succession Plans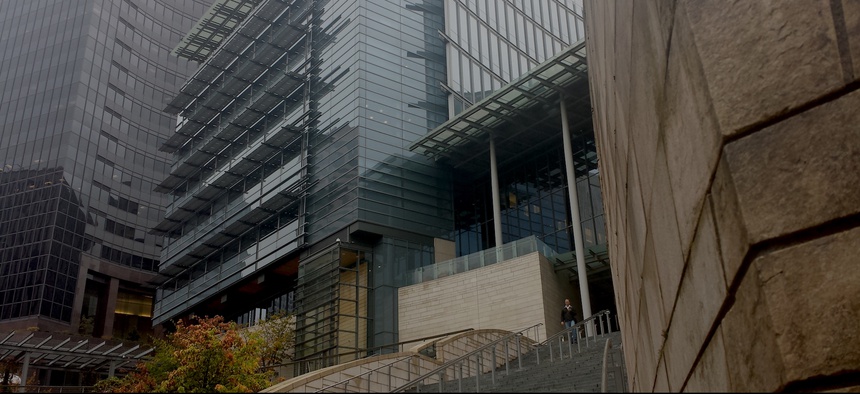 STATE AND LOCAL NEWS ROUNDUP | Hurricane recovery continues in Florida; N.Y. volunteer firefighters press Gov. Cuomo on health bill; and Detroit Homecoming fills vacant train station.
Our State and Local News Roundup is compiled by Route Fifty's staff and is edited by Michael Grass. THURSDAY: Tune in at 2 p.m. ET / 11 a.m. PT for a special digital broadcast of last week's Navigator Awards "Spotlight on Innovation in California" event in Sacramento.  
Leading the news …
CITY HALL SHAKEUPS | The resignation of Seattle Mayor Ed Murray, effective Wednesday night, has made City Council President Bruce Harrell the city's 54th mayor, at least temporarily, according to Crosscut: "Harrell will not be mayor for long, that much is sure. But exactly how short his term will be is still unclear: As Council President, his swearing in Wednesday was inevitable, per the city charter. But now he must decide within five days whether he will serve as mayor through Nov. 28, when either Jenny Durkan or Cary Moon will be sworn in. That would mean giving up his seat on the City Council, cutting his term short; his term ends in 2019." Durkan and Moon are candidates in the mayoral race that was already underway. On Tuesday, Murray announced he would resign after a fifth allegation of sexual abuse involving minors emerged from his past. [Crosscut; The Seattle Times]
DISASTER RECOVERY | The Hollywood, Florida nursing home where eight elderly residents died in sweltering conditions following Hurricane Irma has a history of poor inspections and is affiliated with a troubled South Miami hospital. Gov. Rick Scott pledged Wednesday that the state would "aggressively demand answers on how this tragic event took place." [Miami Herald]
Lee County, Florida manager Roger Desjarlais was taken to a local hospital on Wednesday morning after many exhausting days leading local emergency response efforts to Hurricane Irma. Desjarlais "fell ill, showing signs of exhaustion and dehydration." [News Press]
Three pumps were temporarily brought from Palm Beach County to a canal in Collier County where officials are hoping to drain Irma's floodwaters that are isolating some communities. Local gauges recorded 12 to 15 inches of rain in inland areas of Collier County from Irma. [Naples Daily News]
In Georgia, residents of Brunswick, Glynn County and St. Simon Island will be allowed to return home on Thursday, but officials warned that electricity, water and sewer service was extremely limited due to flooding and storm damage. The Glynn County-Brunswick Joint Water and Sewer Commission reported that 75 percent of the pumps that move sewage through pipes were not operable. [Florida Times-Union]
In Texas, the chief resilience officer in Houston says that more than half of the homes that have flooded in recent years weren't in a designated flood plain and that after Hurricane Harvey's flooding, development rules in the city will have to change for the city be able to adapt to disaster risks. [Texas Tribune]
Raleigh, North Carolina: A state audit has found that several high-ranking State Highway Patrol members were living up to 187 miles away from their assigned post, a violation of the law enforcement agency's policies. The residency rules are meant to keep fuel and maintenance costs down for taxpayers. [@NCCapitol / WRAL-TV]
Sacramento, California: Public workers and retirees from the Trinity County Waterworks District No. 1 near Redding and the Niland Sanitary District in Imperial County will see their pensions cut due to the districts not paying enough into the California Public Employees Retirement System. [The Sacramento Bee]
Richmond, Virginia: A tax amnesty program has started in Virginia, which "provides delinquent taxpayers with a great opportunity to pay off their outstanding tax bills easily at a reduced cost, while at the same time increasing the collection of certain revenues that are owed to the Commonwealth and fund critical services," according to Gov. Terry McAuliffe. [WVIR-TV]
Mount Pleasant, New York: In the Empire State, volunteer firefighters are urging Gov. Andrew Cuomo to approve legislation that would improve their medical coverage. Due to their work, firefighters face cancer risks, but volunteer firefighters don't get the same type of medical coverage that paid firefighters get. [LoHud]
Hood River County, Oregon: As firefighters continue to fight the Eagle Creek Fire in the Columbia River Gorge east of Portland, this county's public schools have been engaged in a monumental effort to keep students in school while shuttling them from area shelters and hotels to classroom sites, some of which had to be relocated to safer locations. Air quality from the smoke has been very poor, too. [Oregon Public Broadcasting]
San Diego, California: A proposal from Mayor Kevin Faulconer would house hundreds of unsheltered people in three large industrial tents with beds, showers, restrooms and hand-washing stations. "We are in a crisis that calls for action," the mayor said on Wednesday. [San Diego Union Tribune]
Detroit, Michigan: The historic Michigan Central Depot, a towering building west of downtown that's long been a symbol of the Motor City's decay and decline, was the site of Detroit Homecoming IV, an event designed to bring former Detroit-area residents back to the city and bring new outside investment to the city. Through the Friday, the front of the building will be lit up in red and white flashing the words "Reinvest" and "Reimagine." [The Detroit News]
Omaha, Nebraska: The mayor of Omaha, Jean Stothert, said that annexing the neighboring town of Waterloo might be something that's on the horizon. Nebraska law allows the state's largest city to gobble up adjacent cities in Douglas County with fewer than 10,000 people "with or without their approval. And there's precedent for Omaha taking over towns against their will." [Omaha World Herald]