From Skeptic to True Believer, An Arizona Mayor Embraces Light Rail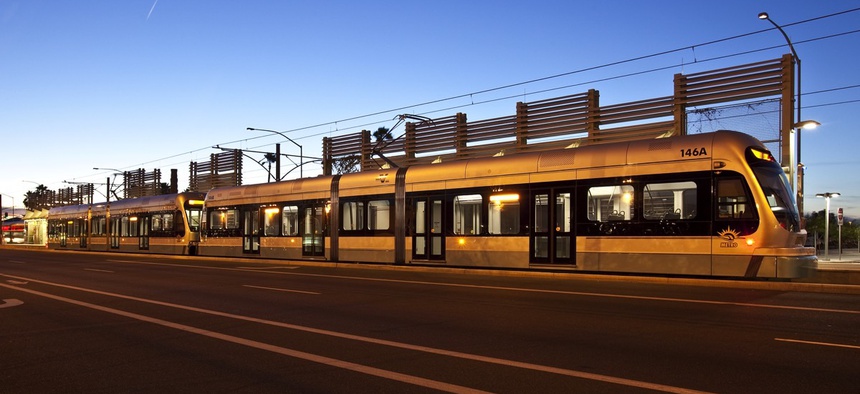 Mesa Mayor John Giles: "[I]t was easy to be skeptical that light rail was a good idea for a western city that was rather spread out."
When John Giles, the mayor of Mesa, Arizona, was a councilman there back in the 1990s, he wasn't so sure that light rail made sense for the city. Since then, his views have changed.
"Back then it was easy to be skeptical that light rail was a good idea for a western city that was rather spread out," Giles said at an event in Washington, D.C. on Tuesday. "I was skeptical." But he added: "I can't be more delighted about being wrong about something."
Later this year, a 3.1 mile light rail extension through central Mesa is slated for completion. It will be tacked on to existing Valley Metro light rail service that runs from Phoenix to Mesa's western edge. An additional segment, known as the Gilbert Road Extension, would continue another 1.9 miles eastward into the city and is currently scheduled to come online in 2018.
"It will be a five-mile stretch, right through the heart of our community when we're done," Giles explained. He sees the light rail not only as a critical component in reviving Mesa's downtown area, but also as a tool to meet growing demand for communities that require less driving.
"Frankly, that's what people want nowadays," he said. "People are more interested in an urban environment. They want to live, work and play, and either not have a car, or park the car, and be able to do all of those things within walking distance."
Born and raised in Mesa, Giles can remember a time when parts of the city more closely resembled this sort of place. "Our downtown Mesa was really kind of an economic hub when I was a kid," he said. "That's where I would go do my school shopping, you know, back a long time ago, and then slowly as shopping malls and freeways came into town, it just siphoned the life out of this very genuine, cool, old, Mayberry-esque downtown area."
In the 1990s, he said the city council would "throw money at downtown hoping to get some sort of a pulse."
"I became very pessimistic that that would ever happen," Giles said. "But it's not a question now of whether it's going to happen, it is happening." The mayor added that it was "blatantly obvious" that significant development had happened along light rail corridors in neighboring Phoenix and Tempe. "It's been a huge success," he said.
The event where Giles spoke was co-hosted by the McGraw Hill Financial Global Institute and the Bipartisan Policy Center as part of Infrastructure Week.
According to Valley Metro, the light rail extension through Mesa that is scheduled for completion this year is being paid for with a mix of regional transportation dollars that come from a voter-approved one-half cent sales tax, as well as federal grants. Mesa is responsible for operating costs on the line. A city council budget report from last month estimated those costs at $3.6 million annually, with $5 million in new expenses and $1.4 million in new revenues each year.
If there were more money available for light rail projects in the city, Giles would welcome it. "We would love to double down on light rail," he said.