A Way to Make Heavy Duty Equipment Sharing Within Big State Agencies Easier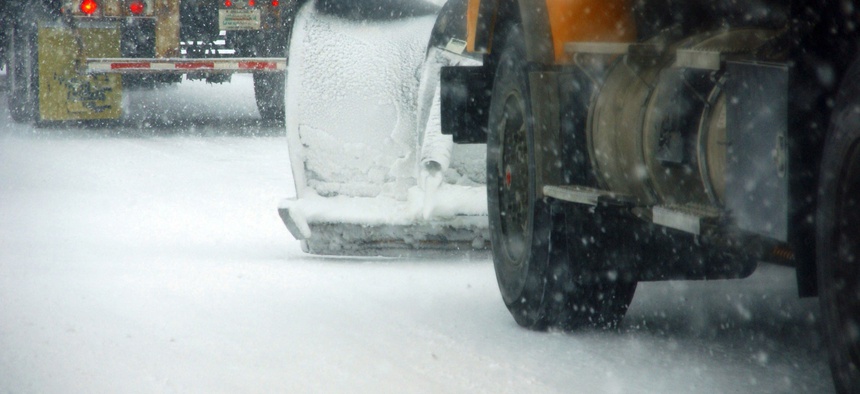 MuniRent was initially focused on helping local governments rent machinery to one another. But a pilot program with Oregon DOT has highlighted other uses for its platform.
Alan Mond was walking to a meeting in Ann Arbor, Michigan, with Julien Vanier, when a city truck passed in front of them. It was hauling an excavator, a tracked piece of construction machinery with a bucket on a crane-like arm, which is used for digging holes or trenches.
That's when the idea hit him.
"I looked at my co-founder, Julien, and I said: 'I wonder if the government might have a lot of underutilized equipment," Mond recalled during a phone interview with Route Fifty in early October. At the time, Mond and Vanier—both engineers who did automotive-related work at Bosch—were looking to pin down a solid concept for a startup that involved the sharing economy.
So they began talking to people like city managers and public works directors, asking how government construction machinery was used, and if it was typically owned or rented.
"What we found out is that most municipalities, even tiny municipalities, owned a lot of equipment, and a lot of very expensive equipment, that just sat there," Mond said.
This discovery prompted Mond and Vanier to launch MuniRent.
Founded last year, MuniRent's initial aim was to help local governments take advantage of idle machinery by enabling them to rent it to neighboring jurisdictions. To do this, Mond and Vanier came up with an online platform that is designed to make this rental process go smoothly.
Available machinery is organized on the system by category—dump trucks, or backhoes for instance. Rental prices and equipment specifications are listed for each machine. Prospective renters log on, and if a piece of equipment is available, they can make a reservation for it.
The company started out working with 23 municipalities in Michigan.
The 'Sweet Spot': Big State Agencies
But in the course of cultivating the start-up, another opportunity emerged, one that Mond believes might have even more promise than government-to-government equipment rentals.
"Someone called us from Oregon DOT," he explained. This was last year.
This person said that Oregon's Department of Transportation had a large amount of machinery stationed throughout the state, and that it was often difficult for the various crews within the agency to track down the equipment they wanted to use, which others crews possessed.
According to Mond, Oregon DOT was looking for "an equipment scheduling, or an equipment sharing platform." In effect, what MuniRent provided.
Rather than renting-out equipment, the state transportation department wanted to use the MuniRent system internally, for crews within the agency.
"That kind of threw us, we weren't expecting that," Mond said.
But after initiating a two-year pilot program with Oregon last fall, "we realized this is something that is missing."
Since then, other large agencies, including ones dealing with transportation, natural resources and parks have gotten in touch with MuniRent, Mond said. And he believes that by providing a system that can be accessed online, which helps people within an agency find and reserve machinery scattered around at different locations, MuniRent has found a "sweet spot."
How is the platform performing from Oregon DOT's perspective?
"So far, so good," said Carla Phelps, who is the systems administrator for the MuniRent pilot program.
"We had systems in place before MuniRent, which basically meant that neighboring crews would know what they had in their yards." she said. "The biggest benefit from this has been the across-state awareness as to who has what pieces of equipment and when it is available."
"Underutilization is always a concern with the specialty equipment," Phelps added, "because it is such high dollar stuff."
Snow-plowing machinery was one category of equipment where Oregon DOT was looking to increase usage by implementing MuniRent. Because the state had a light winter last year, Phelps said it's hard to know whether the platform was helping achieve that specific goal.
But she did point out that "some of the pieces of equipment that do get used regardless of the season have seen a significant increase in usage."
Two of the most popular machines that get shared on the system are front-end loaders and graders. A grader is typically a three-axle machine with a large blade, which is used to level surfaces such as road beds.
Depending on the size, the cost of a new grader can run between $250,000 to $300,000.
Other items that frequently get shared include dump trucks and large lawnmowers.
An Estimated $447,993 Saved
Sharing those big-ticket pieces of equipment more often between crews means Oregon DOT has had to rent less machinery.
According to Mond, the agency saved an estimated $447,993 in equipment rental costs between September 2014 and September 2015 using MuniRent.
As for costs, user fees for the MuniRent platform vary based on fleet-size, with plans starting around $6,000 per year.
Mond said he typically advises clients do a pilot program for at least one year.
Oregon paid $10,000, to use the platform for its two-year pilot, according to Mond. But, in an email this week, he stressed that "Since ODOT was our first customer and it was a pilot we gave them a great deal since the product was not finalized. It doesn't really reflect our current pricing."
Within Oregon's transportation department, crews in the bridge, electrical and maintenance divisions are using MuniRent.
Each crew lists only the machinery that they want to share, and can deny any requests. Crews can also specify if they want to only lend gear out nearby to where they are based, and they can insist that highly specialized machines be accompanied by one of their own operators.
"It is extremely user friendly," Phelps said. "For the most part I've done very little training."
Right now, budget dollars are not transferred between divisions or crews within Oregon DOT when equipment is borrowed. As for getting the equipment back in the same condition it went out in, Phelps said that verbal agreements are commonly made that "if you wreck it, you fix it."
MuniRent was selected last July to be part of the 2014 Code for America Accelerator program.
The four-month program provides startups $25,000 of funding, along with mentorship, training, and ways to connect with investors and government officials. MuniRent was one of five companies selected from 112 Accelerator program applicants.
As of early October, Mond said the company was in the contracting phase with four other large agencies and that between 10 and 15 others were "waiting in line."
At the local government level, Mond said MuniRent is working on a "large project" to grow the number of municipal clients the company has in Michigan by a "big factor."
From Phelps' perspective, there's value in what MuniRent is trying to help agencies accomplish.
"Some of the big pieces sit an awful lot," she said. "Anything we can look at to get our dollars-worth out of them, the better."