New York's Other Costly and Long-Delayed Transportation Megaproject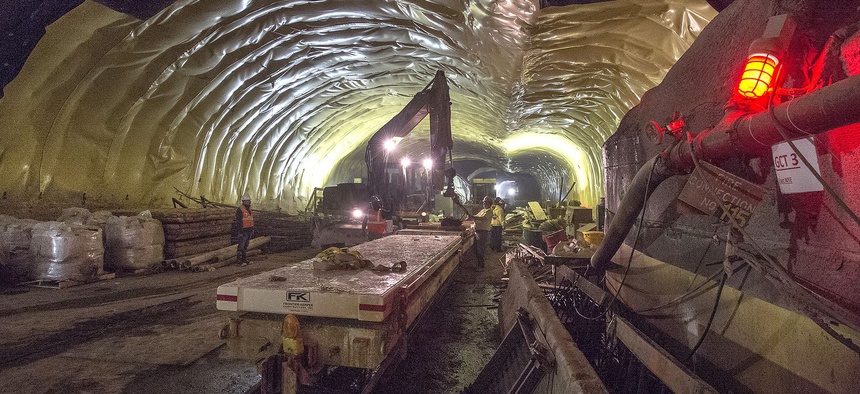 Huzzah! The first phase of the expensive Second Avenue subway is open for business after a tortured 100-year history. But don't overlook the even-more-expensive and delayed East Side Access project.
New York's Metropolitan Transportation Authority, the state agency that operates New York City's subway system, plus the Long Island and Metro-North commuter railroads, has checked a major megaproject off its long-term capital construction list: the first phase of the long-awaited Second Avenue subway line in Manhattan, which Gov. Andrew Cuomo opened for business after a festive New Year's Eve ribbon-cutting event.
After first being proposed nearly a century ago and partially built before New York City's 1970s fiscal crisis scuttled additional construction, a new iteration of the Second Avenue subway project got underway in 2007.
The first phase, a three-station extension of the Q line to 96th Street on the Upper East Side, was originally scheduled to open in 2013.
But construction and other delays prompted the MTA to move the anticipated opening of the now-$4.4 billion subway line to 2016.
As time was running out to meet the end-of-the-year deadline, Cuomo took a "personal, hands-on approach" to ensure the MTA and its contractors were able to finish the job, which isn't quite done yet. (Full 24-hour subway service along the Second Avenue extension won't be ready until Jan. 9.)
The glitzy New Year's Eve ribbon-cutting ceremony follows the long-delayed opening of the $2.4 billion extension of the No. 7 subway line on Manhattan's West Side in 2015 and the completion of $1.4 billion in improvements to the Fulton Street station complex in Lower Manhattan in 2014.  
While New Yorkers are rightfully celebrating the completion of the new Second Avenue subway line, they shouldn't forget about the other long-delayed MTA megaproject that's been slowly taking shape beneath the streets of Manhattan: East Side Access.
That MTA megaproject, which has been plagued by years of delays and escalating costs—the current price tag is $10.2 billion—will, eventually, allow Long Island Rail Road commuter trains, which currently operate out of Penn Station in Manhattan, to serve a new eight-track station deep under Grand Central Terminal via new tunneled connections to LIRR's Main Line in Queens.
Like the costly Second Avenue subway, which one analysis considers to be the most expensive in the world on a per-kilometer basis, the East Side Access project has given plenty of agency officials heartburn over its years of planning difficulties, escalating costs and ongoing construction delays.
East Side Access is now at least $6.5 billion more than originally budgeted and will now likely end up opening in 2022 or 2023, roughly 13 years after its initial target completion date.
The current obstacles involve construction coordination issues with Amtrak, which controls the Harold Interlocking in Queens, a busy track chokepoint that funnels Amtrak and Long Island Rail Road service through the massive Sunnyside Yards and in and out of tunnels serving Penn Station in Manhattan.
While infrastructure wonks are rightfully concerned about the high costs of the Second Avenue subway—and should continue to press Cuomo and the MTA to better manage costs when work starts on the second phase to 125th Street in Harlem—the ongoing troubles of East Side Access should not be overlooked.
Back in November 2015, Benjamin Kabak of Second Avenue Sagas, the authoritative New York City transit blog, got a chance to check on in progress of the massive station cavern taking shape deep under Grand Central Terminal, and pondered many of the same questions that are again being asked with the opening of the new subway line that essentially boils down to this: Why does it cost so much more to build new infrastructure in America's largest city compared to peer cities around the world?
Kabak wrote at the time:
It's hard when you're underground to look past the grandiose nature of the work. The concourses and platforms will stretch to 50th St., and the space is enormous. Plus, as the MTA has completed 60% of the work and is set to issue contracts by the end of January to cover up to 80%, there is no going back. The agency would have to pay the feds nearly as much in refunds as it would cost to simply finish this seemingly never-ending project. And yet, it's throwing good money after bad.

Maybe in ten years we'll look back on the East Side Access project and its Penn Station Access partner and wonder how we lived without the ability to send the LIRR to the East Side and Metro-North to the west. But today, it's hard to see this as the MTA's answer to London, Shanghai or Paris, and it's much, much easier to see this as the MTA's answer to a lack of inter-agency cooperation, costs run amok and planning in bad need in reform. This is a project that New York City ultimately needs but not at this cost.
That last line, emphasis mine, is important and could be repeated when looking at some other infrastructure megaprojects in New York, most notably the Port Authority of New York and New Jersey's $4 billion World Trade Center "Oculus" that opened last year as a new gateway to the PATH rail system, which connects Manhattan with New Jersey.
It's certainly a stunning piece of architecture, but does nothing to expand the capacity of rail service under the Hudson River, something that New York and New Jersey desperately need. Could the $4 billion that was spent on what's essentially trophy architecture been better utilized for other transportation needs?  
Similarly, will the $10.2 billion being spent on East Side Access be worth it?
Michael Horodniceanu, the president of MTA Capital Construction, has said that it would require "a dissertation" to explain why New York megaprojects like East Side Access cost so much, as Kabak noted in 2015.
Those costly complexities are tough challenges for a governor with major infrastructure ambitions.
Cuomo seems to relish the role of being New York's biggest builder since Robert Moses and has grand plans for a new Penn Station and a rail line to completely rebuilt LaGuardia Airport and is busy building a new Tappan Zee Bridge.
But if the governor wants to "welcome a new era in New York where there is no challenge too great, no project too grand, and all is possible once again," as he announced with the Second Avenue subway's opening, he's going to have to figure out a way to pay for it all. And that may prove to be a far more difficult task than digging tunnels, pouring concrete and building new architecturally stunning stations.
Michael Grass is Executive Editor of Government Executive's Route Fifty and is based in Seattle.