As Uber Teams Up With Public Sector, Tensions Over Trade Secrets and Transparency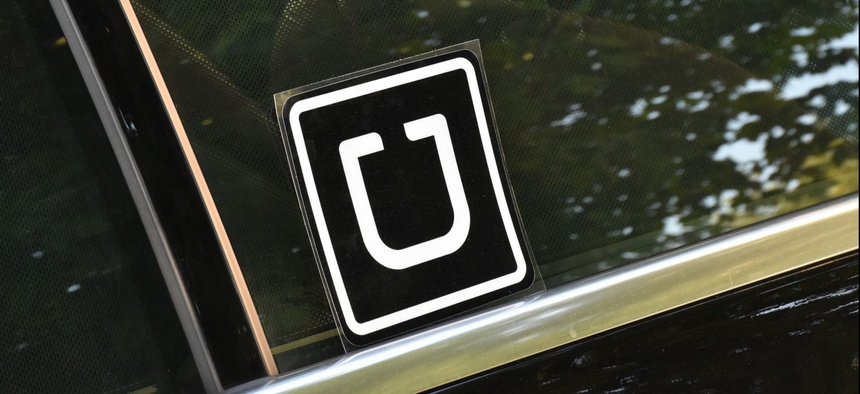 "The Legislature really needs to clarify what the public policy is going to be," according to the city manager of Altamonte Springs, Florida.
Demands for transparency are bumping up against laws that enable companies to keep sensitive information secret, as local governments in Florida forge partnerships with ride-booking giant Uber Technologies, Inc.
Officials say the partnerships are saving taxpayer dollars and benefitting residents. But guidelines are blurry for what local governments can reveal about services provided through the programs—even when it comes to basic metrics like costs and the number of users.
At least one agency in Florida, the Pinellas Suncoast Transit Authority, said it would require a review by their legal staff, and consulting with Uber, to decide whether invoices showing how much the agency pays the company each month could be shared with the public.
"You can make a public records request for the document but as per our contract, we have to send it to Uber first and they can redact out the information that falls under their trade secret," Ashlie Handy, a spokesperson for the authority, said by email last week.
"The invoices all say 'trade secret' right on them," she added.
Waiting for Legal Clarity
Frank Martz, is the city manager in Altamonte Springs, Florida, where a local government program subsidizing Uber rides is in place. His jurisdiction, located north of Orlando, takes the position that bills from the company can be shared with taxpayers and others.
"We believe the invoices are public record," he said.
But the same is not true for data reports the company sends to the city. Information like the number of rides provided through the subsidized program remains under wraps. Martz said a records request for the reports would return mostly redacted documents.
He stressed that Altamonte Springs is not opposed to releasing information in the reports. But the city would not do so, he said, until there is a court ruling, or a state statute, which makes clear it would not be a violation of Florida laws protecting commercial trade secrets.
"The data will be released as soon as the Legislature, or a judge, clarifies that we can release it," he said.
For now, it's not known exactly how much the city's partnership with Uber is costing, because the company does not plan to submit an invoice until the pilot program ends in July.
If the program were to become permanent, Martz said, the city would switch to monthly or quarterly billing cycles, meaning cost information would be available on a more regular basis.
The Orlando Sentinel reported last week on questions over the ability of Altamonte Springs and other nearby cities to disclose publicly how much they are paying Uber.
'Unheard Of'
Elsewhere in Florida, a taxicab company has been waging a court battle to get records from Broward County, showing fees Uber pays to the county, and the number of pickups drivers using the app-based service make at Fort Lauderdale-Hollywood International Airport.
For-hire transportation companies must pay the county a $4.50 per-ride fee in order to pick up passengers at the airport.
Last May, Broward County circuit court Judge Sandra Perlman ruled against the cab company, B&L Service, Inc.
But, after a rehearing, she issued a second ruling in August saying the number of Uber pickups at the airport, and how much the company paid the county, is a matter of public record.
Uber appealed.
The case is now in Florida's 4th District Court of Appeal, where Uber filed an initial brief last week, according to Mark Stempler, an attorney for B&L Service.
"As far as I know it's unheard of to shield from public disclosure monetary transactions like this," Stempler said by phone on Friday. "I'm not aware of any other industry, or private company doing business with a public agency where information is shielded like that."
Uber did not respond to emailed questions about the case.
Matthew Wing, a spokesperson for the company who focuses on programs in New Jersey, said he was not familiar the Florida court case, or Uber's public-private partnerships in the Sunshine State.
But he did offer some insight into why Uber closely guards its data.
"We're very sensitive in general on protecting the privacy of our riders and drivers," he said.
"When cities want our data for a specific purpose," he added, the company tries to "collaborate and work with them to achieve that purpose, while protecting privacy. As opposed to just handing over data that could reveal where individual riders are going."
'Happening More and More'
Professor Elizabeth Rowe is director of the intellectual property law program at the University of Florida Levin College of Law, and an expert on trade secret law. She explained that with public-private partnerships, what constitutes a trade secret can be a gray area.
"When you have these partnerships, it's not just someone going to Uber and saying: 'give me your records,'" she said. "This is Uber in connection with the government. Or Uber providing a service."
"You've got all these transparency questions about whether or not it's in our public interest to be using trade secrets as a way to shield information from taxpayers," Rowe added. "It's happening more and more, as more public infrastructure is being provided through private companies."
And Florida is not an outlier in terms of its trade secret statutes, according to Rowe.
"Its laws are actually quite similar to most other states," she said.
What does it take for information to qualify as a trade secret?
Rowe said it's typically presumed that the material is "not generally known or readily ascertainable." Beyond that, it can be any information useful for a business, that has value, and that a firm tried to keep hidden.
Conflicts similar to the one involving Uber have come up in the past in other contexts.
One example Rowe mentioned centered on private companies that own voting machines, but do not want to explain how they work, claiming that the information is a trade secret.
"The legitimacy and validity of knowing that these machines are working correctly is kind of an important thing," she said. "But the trade secret argument, often, can win the day."
'That's All Going to Be Public Information'
Jurisdictions outside of Florida have also entered into partnerships with Uber.
Summit, New Jersey, for instance, is working with the company to provide rides for commuters who would otherwise park near the city's train station.
City residents participating in the pilot program pay $4 dollars per day total for rides to and from the station on weekdays. That's equivalent to what it would cost them to park for the day. The purpose of the program is to free up parking spaces. If the cost of a person's Uber fares for the day goes above $4, then the city government picks up the difference.
The city estimates the subsidies for the six-month pilot program, which runs through the end of March, will cost around $167,000 or $170,000.
"Which is a lot less than the tens of million of dollars that go into building a parking structure," notes Amy Cairns, the city's chief communications officer.
In contrast to the Florida jurisdictions, Cairns voiced confidence the city would be able to publicly share information such as the number of rides, how often participants used the program, and the monthly cost of subsidies. "That's all going to be public information that's released to our Common Council, our governing body, and then on our website," she said.
Asked if there was anything in Uber's agreements with the local governments it has partnered with in New Jersey that blocked those places from sharing information about how much they pay the company, Wing said: "Definitely not."
But he couldn't immediately confirm whether all of the localities working with Uber in the state could make public how frequently people took rides covered by public-private partnership programs.
"There are some things that we do ask them not to share," he said. "It just depends agreement to agreement."
Savings and Other Benefits
Despite tension over trade secrets, the appeal of partnering with companies such as Uber remains strong for some local governments.
Altamonte Springs is one of five cities north of Orlando offering discounts for Uber rides, under pilot initiatives that began last year and will continue until July.
In a nutshell, according to Martz, the deal works like this: If a person books an Uber trip that begins and ends inside a city's limits, the city covers a 20 percent discount for the ride. If the ride begins or ends at a local SunRail train station, the discount goes up to 25 percent.
Martz characterized the program as a bargain. There had been talk beginning back in the late 1990s of creating an on-demand bus system that would have served Altamonte Springs. People could have used kiosks, or personal computers to request a pickup.
This program, dubbed FlexBus, would have cost about $1.5 million per year to operate, he said. 
Martz estimates that the price tag for the pilot program with Uber will be between $50,000 and $100,000.
"Public transit is very, very expensive," he said. "It's not practical for local government budgets to continue funding higher cost per trip, or non-efficient, or lesser efficient modes of transportation."
The Pinellas Suncoast Transit Authority public-private partnership is called Direct Connect.
Its service area will expand later this week.
At that point, anyone in Pinellas County can take a vehicle dispatched by Uber, Lyft, United Taxi or Wheelchair Transport Service to or from eight different locations with transit connections. The authority will pay the first $5 of eligible trips.
"People can get a ride starting at 99 cents pretty much," said Handy, the agency spokesperson.
The agency is paying for this program using money from a $140,000 pot of savings that came from eliminating bus service on two lines. To start, the program covered half of a person's fare up to $3 per trip, in two areas affected by the bus cuts. It had a budget of $40,000.
Of that money, the authority has paid a combined total of less than $10,000 to Uber, United Taxi, and Care Ride, a company that provides rides for people in wheelchairs, Handy said.
To cover the cost of the expanded initiative, the authority will use $100,000 of the original savings from the bus service cuts.
'Can't Have Different Rules'
Martz sees benefits from partnering with companies like Uber that go beyond cost savings.
"The problem we're in is that traditional transit solutions are not as mobile, are not as flexible and are not as convenient as the new economy wants," he said.
"We spend so much money and so much time in America, and certainly in Florida, planning and building infrastructure that is designed for the generation that emerged 40 years ago," Martz added. "Instead of the generation that's going to be adults 40 years from now."
But nontraditional transportation programs can create the need for updated laws, in order to take issues like trade secrets into account.
"The Legislature really needs to clarify what the public policy is going to be on how to deal with this type of emerging technology," Martz said. "You can't have different rules from city to city."