1st Month Shows Strong Start for 2nd Ave. Subway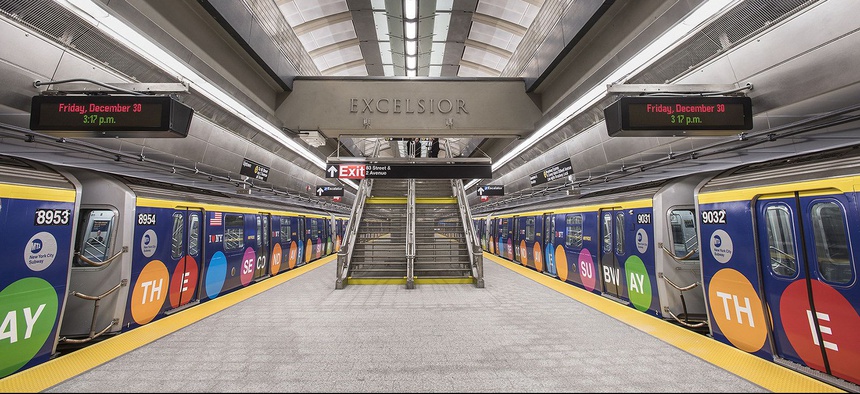 While New York's long-awaited subway expansion didn't quite hit its projected daily ridership in January, its larger impacts are already being felt.
Last year was a big year for transit openings in the U.S., including major light-rail expansions in Los Angeles and Seattle, new commuter rail routes in Denver and streetcar lines in Cincinnati and Kansas City.
Capping off 2016 was a special New Year's Eve ceremony in New York City to jumpstart regular service on the initial phase of the long-awaited Second Avenue Subway, first proposed nearly a century ago.
If there's ever a case that demonstrates the power of building high-capacity transit in a dense urban environment, the extension of the Q line to 96th Street on Manhattan's Upper East Side is it—just ignore, for a moment, the Second Avenue Subway's high construction costs and instead look at January's ridership numbers.
According to an announcement from New York state's Metropolitan Transportation Authority, ridership has grown by about 8,000 riders per week since regular service kicked off on the Second Avenue Subway on Jan. 1 and hit 155,000 daily weekday riders on Jan. 27.
For comparison, those 155,000 riders on the new three-station subway extension is a little more than the combined daily weekday ridership of the Los Angeles Metro Rail system's Red and Purple subway lines.
"The Second Avenue Subway has already become an integral part of the Upper East Side and these ridership figures show just how important this expansion project is to the neighborhood and our economy," New York Gov. Andrew Cuomo said in a statement.
That 155,000 rider mark, however, fell short of the MTA's projection of 200,000 daily riders for the new extension, WNYC reported.
Still, the $4.4 billion project has had other impacts on New York's subway system. The Second Avenue Subway was designed to alleviate long-term crowding conditions on the nearby Lexington Avenue Subway, the nation's busiest, which carries the Nos. 4, 5 and 6 lines through Manhattan and into the Bronx.
"I've actually had a seat three or four times," one Upper East Side straphanger told WNYC. "I don't remember when that happened last."
The MTA reports:
According to new ridership figures, the number of daily riders entering and exiting the four Upper East Side Lexington Avenue Line Stations declined by an average of 27 percent on weekdays and as much as 46 percent during peak morning rush hours of 8-9 a.m., as compared to the same period last year.

Overall, the subway system has seen its average weekday daily ridership climb from around 5.1 million riders in 2010 to nearly 5.7 million riders in 2015, levels not seen since 1948.
Now that the first phase of the Second Avenue Subway is completed and in revenue service, attention has turned to building the second phase northward to 125th Street in Harlem, and additional extensions southward that will, eventually, create a new north-south trunk line along Manhattan's East Side.
Current estimates put the second phase's price tag around $6 billion and there are worries that the high costs of construction in New York City will make financing such major infrastructure investments cost prohibitive. (The Trump administration has reportedly made the Second Avenue Subway's future extensions a likely federal funding priority.)
Cuomo, a Democrat who has been New York's governor since 2011, has made major state infrastructure investments a centerpiece of his policy agenda. In addition to the Second Avenue Subway, Cuomo's administration has unveiled plans to rebuild Pennsylvania Station, John F. Kennedy International and LaGuardia airports in New York City, plus bridge replacements and other infrastructure projects across the state.
In all Cuomo's infrastructure plans have been estimated by his administration to total around $100 billion, "the largest development in New York since Robert Moses."