How Many Hate Groups Does Your State Have?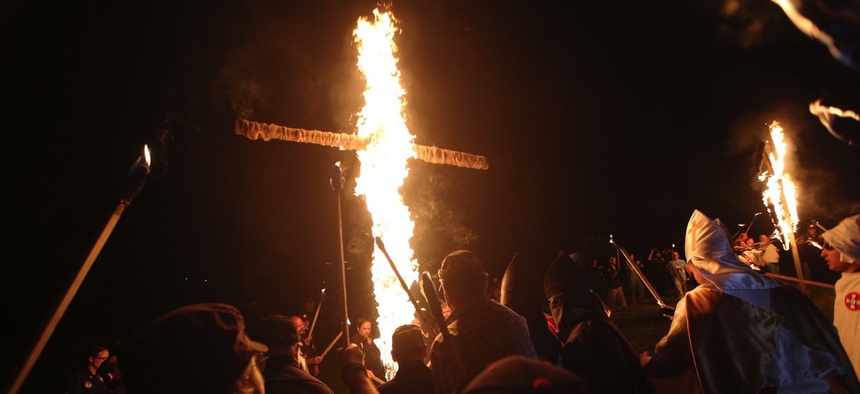 "2016 was an unprecedented year for hate," according to the Southern Poverty Law Center.
California had the most hate groups of any U.S. state with 79 in 2016, according to the Southern Poverty Law Center's annual census of extremist organizations.
The Montgomery, Alabama-based nonprofit defines hate groups as those with "beliefs or practices that attack or malign an entire class of people."
For the second year straight the number of extremist organizations—particularly those holding anti-Muslim sentiments—increased from 892 to 917, nearing the all-time high of 1,018 in 2011.
"2016 was an unprecedented year for hate," Mark Potok, senior fellow and editor of SPLC's Intelligence Report, said in a statement. "The country saw a resurgence of white nationalism that imperils the racial progress we've made, along with the rise of a president whose policies reflect the values of white nationalists. In Steve Bannon, these extremists think they finally have an ally who has the president's ear."
California topping SPLC's list is perhaps unsurprising because it's the most populous U.S. state, and it's followed by Florida with 63 hate groups, Texas with 55, New York with 47, and Pennsylvania with 40.
At the bottom of the list are Alaska and Hawaii with no extremist organizations and North Dakota, Rhode Island and Vermont all with one.
A complete ranking can be found below, and here is SPLC's "Hate Map".
Anti-Muslim hate groups saw the most dramatic increase between 2015 and 2016, 197 percent, from 34 to 101. A mass shooting at a gay nightclub in Orlando, Florida, in June, coupled with President Trump's calls to restrict Muslim immigration and create a Muslim registry are to blame for the rise in Islamophobia nationally, according to the report.
California had the most anti-Muslim hate groups with 10.
Right-wing populism fostered by Trump has allowed the radical right to enter the political mainstream, white supremacists even adopting the intentionally misleading "Alt-Right" label, according to the report:
There are very large numbers of Americans who agree with its views, as sanitized under the deceptive Alt-Right label, although many of them may be less visible than before because they are not affiliated with actual groups. Whether or not the movement grows in coming years, it seems indisputable that its views have a better chance to actually affect policy now than in decades.
Make no mistake, the Alt-Right shares most of the ideals of its progenitor, the Ku Klux Klan, but has rebranded itself and avoided white robes in favor of a suit-and-tie approach to aligning with the Trump administration. That also makes it harder to track their numbers.
Virginia had the most white nationalist groups with eight, followed by California and Indiana both with seven.