Chicago's Pension Fix Might Involve Marijuana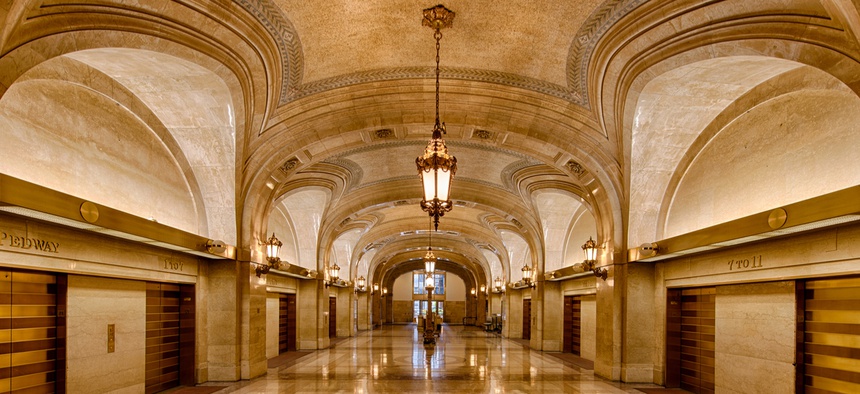 STATE AND LOCAL ROUNDUP | California proposal calls for text messaging fees … Philly mayor's office to pay interns … and Anchorage quake damage data.
Good morning, it's Thursday, Dec. 13, 2018. Chicago pensions lead Route Fifty's state and local government news roundup, but scroll down for more news from places like Little Rock, Arkansas; Ocoee, Florida; and Portland, Oregon.
Let's get to it …
PENSIONS | Chicago Mayor Rahm Emanuel on Wednesday outlined his proposal to "offset potentially financially crippling future public pension payments" by tapping revenue from casinos and recreational marijuana sales while also "backing a constitutional amendment that would allow for a change in public employees' retirement benefits." [Chicago Tribune]
MARIJUANA | Although marijuana is illegal in the state of North Carolina, the city of Asheville is preparing for the day if and when cannabis becomes legal in the Tar Heel State. "There is a national trend to legalize cannabis. And we will probably oversee the sales and distribution because we are already a part of that control structure," Asheville Alcoholic Beverage Control Board Chairman Lewis Isaac told the City Council on Tuesday. [Citizen Times]
WORKFORCE | After 12 years in office, Little Rock, Arkansas Mayor Mark Stadola has accrued 2,200 hours of unused vacation time, which amounts to nearly $175,000. "What has happened here is for, I think, accounting reasons, I'm not sure, they have just carried over the mayor's vacation, and it's now up to around 2,200 hours," city attorney Tom Carpenter said during a City Council meeting on Tuesday. [KATV] … Interns working in the office Philadelphia Mayor Jim Kenney will start being paid $12.25 an hour this coming summer. [Billy Penn; Philly Voice]
REVENUE | A proposal from the California Public Utilities Commission under consideration would charge fees for text messaging to help make phones accessible to the poor. [The Mercury News]
PUBLIC SAFETY | The Portland, Oregon school board is facing some public heat for voting on Tuesday to pay for police in schools while failing "to properly talk to students and teachers about a decision that will directly affect them." [Oregonian / OregonLive.com]
INFRASTRUCTURE | With a 30-percent rate increase on water that's up for a vote next month, the Baltimore Department of Public Works could have a $215 million surplus, which has raised questions because that rate hike "far exceeds debt-service requirements." [Baltimore Brew] … An Ocoee, Florida couple is suing the city and a contractor for damages after sewage flooded their home "after a malfunction at a nearby lift station." [Orlando Sentinel]
DISASTER RECOVERY | Although Anchorage weathered the recent magnitude 7.0 earthquake relatively well, "public and private inspections are unearthing a wide range of structural damage, including shifting earth, cracked foundations and collapsed roofs." The Anchorage Daily News has compiled damage data and mapped it. [Anchorage Daily News]