Candidate Pitches Plan for Chicago to Annex Its Suburbs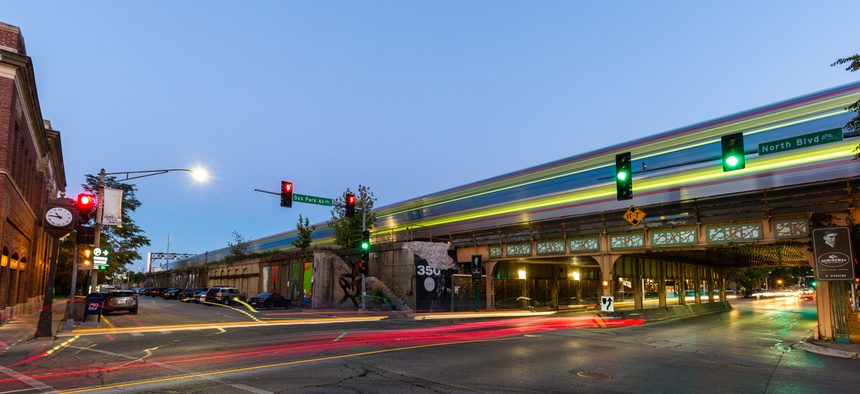 STATE AND LOCAL ROUNDUP | Texas now has a measles outbreak … San José mayor interested in Musk tunnel … and a N.C. city suspends drug testing.
Good morning, it's Wednesday, Feb. 6, 2019. Leading Route Fifty's state and local government news roundup is municipal annexation but scroll down for more from places like Philipsburg, Pennsylvania; Denver, Colorado; and Sheffield, Alabama. … ALSO IN ROUTE FIFTY … Teachers Union Raises Red Flags Over Pension Investments in Private Prisons … Entrepreneurs May Yet Save Us From Climate Change … Trump Short on Infrastructure Details in State of the Union … What the Mayor of Youngstown Wants From Trump ...
Let's get to it …
CITY HALLS | Chicago mayoral candidate Garry McCarthy told the Sun-Times editorial board that he envisions the nation's third-largest city, which has been losing population, annexing some of its suburban neighbors, like Norridge, Oak Lawn and Oak Park. "Annexation will give us the ability to combine municipal services, which will be cost savings, and at the same time expand our tax base" by scooping up "160,000 people in a heartbeat," McCarthy said. [Chicago Sun-Times] … In Austin, Texas, City Council member Greg Cesar introduced a resolution on Tuesday that would ease certain restrictions to encourage the construction of more affordable housing. [KXAN] … Steve Ellis, the mayor of Philipsburg, Pennsylvania looks likely to "dodge another recall attempt" by a group of residents. [LehighValleyLive.com]
GOVERNORS | The union that represents teachers in the Denver Public Schools is frustrated by the intervention by Colorado Gov. Jared Polis into a looming strike in the state's largest school district by summoning representatives from the Denver Classroom Teachers Association and the public schools administration for meetings "to discuss a path forward." [Westword] … Following Pennsylvania Gov. Tom Wolf's budget address on Tuesday, legislators said that the governor's proposal is mostly "bipartisan," "moderate," "plain vanilla" and something that should "pass on time." [WNEP] … Florida Gov. Ron DeSantis is proposing to eliminate the Agency for State Technology and assigning its duties to the Department of Management Services, the third time the state's IT agency has been dissolved since 2005. [StateScoop]
PUBLIC HEALTH | An effort to replace a smoking ban ordinance in Sheffield, Alabama—pushed by restaurants that have complained that their business has suffered since its implementation in recent months—failed in a 3-3 City Council vote on Monday evening. [Times Daily; WAAY] … The number of confirmed measles cases in connected to the Clark County, Washington outbreak stands at 49 as of Tuesday, according to public health officials, with 11 suspected case. Meanwhile in the greater Houston area, five measles cases have been confirmed in Galveston, Harris and Montgomery counties. [Clark County Public Health; KTRK] … The California Future Health Workforce Commission has released a report that "outlines a $3-billion plan for ensuring the state has enough doctors, nurses and home care workers to meet the needs of Californians at a time when Gov. Gavin Newsom wants to dramatically expand healthcare access for lower-income and immigrant communities. [California Future Health Workforce Commission; Los Angeles Times]
TRANSPORTATION & MOBILITY | Michigan Gov. Gretchen Whitmer's designated pick to lead the Michigan Department of Transportation, Paul Ajegba, told a State Senate committee on Tuesday that the department needs $1.5 billion in additional funding for road repairs and maintenance, citing an estimate from former Gov. Rick Snyder's administration. [Detroit Free Press] … San José Mayor Sam Liccardo is in talks with Elon Musk's Boring Company to potentially create a tunnel linking Mineta International Airport to Diridon Station, the city's main transit hub. It would feature a stop along California's high-speed rail line and the terminus of a future BART extension to downtown San José. [The Mercury News] … In Houston, the Bayou Greenways 2020 initiative that's currently underway will connect 150 contiguous miles of trails and linear parks along eight bayous. [Bayou Greenways 2020; Houstonia]
LAW ENFORCEMENT | Local authorities in Conway, New Hampshire are working with the state attorney general's office to investigate exactly how "deceased human remains" ended up in the town's wastewater treatment plant but the "most likely explanation is that the body was transported through the sewer system." [Manchester Ink Link] … In Wilmington, North Carolina, Police Chief Ralph Evangelous told City Council members on Tuesday that after the firing a forensic chemist late last month, the department has suspended all drug testing as a county prosecutor reviews three years of drug-related cases. [WECT] … In Grandview, Missouri, south of Kansas City, every police officer now has a body-worn camera. [KSHB]