A Skeptical N.Y.C. Mayor Casts Doubts on Governor's Congestion-Pricing Proposal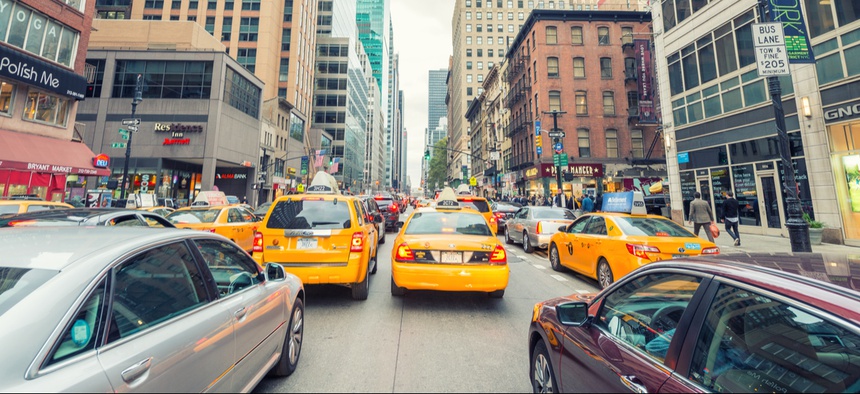 STATE AND LOCAL NEWS ROUNDUP | A Conn. city may prohibit pedestrian cellphone use in crosswalks; Colo. new autonomous vehicle pilot for construction zones; and Wyo. governor applauds Trump executive order on environmental review.
Our daily roundup of state and local government news is compiled by Route Fifty's staff and edited by Michael Grass. Help us crowdsource link gathering: Flag state and local government news using the Twitter hashtags #localgovwire and #stategovwire.
Here's news that shouldn't be eclipsed by Monday's cross-country astronomical spectacle …
MOBILITY | The politics of introducing congestion pricing to Manhattan are pitting New York City Mayor Bill de Blasio against Gov. Andrew Cuomo, who has put his full support behind the plan as a way to raise badly-needed revenue for the Metropolitan Transportation Authority's aging and increasingly unreliable subway system. For his part, de Blasio has said he "does not believe" that a congestion-pricing scheme—an idea first pushed by then-Mayor Michael Bloomberg—could work effectively in the nation's largest city: "I've never been in favor of this strategy. I've never seen an example of it that I thought was fair." Mayor de Blasio has pitched a plan increasing taxes on the city's high-income earners to raise more money for the subway system. The governor's administration has not released many details about his congestion-charge proposal. [The New York Times; New York Daily News]
Across Seattle, Washington, it's hard to miss the new legions of brightly colored bicycles that have been deployed recently as part of a municipal pilot project to reboot bikeshare services in the Emerald City after the public-private partnership that operated the previous system, Pronto, failed for various reasons and pulled the plug earlier this year. This time, competing private operators, including one from China, are testing out their dockless bikeshare systems, meaning that bicyclists armed with a smartphone app can pick up and drop of bikes in public rights-of-way instead of at a physical docking system. Currently, there are about 3,000 bikeshare bikes across Seattle. It's a pilot project that other cities that either currently operate their own bikeshare systems or are looking to introduce one will be watching. Thus far, it's proving "very successful." Evenmore, the "number of rides alone is proof enough that neither the King County helmet law nor bikeshare as a whole was the impediment to getting people on bikes" with the old system. It was Pronto's limited ability to provide last-mile connections, something that the privately-run dockless systems now allow. [The Urbanist via @typewriteralley]
App-based ride-booking services, like Uber, are having a hard time in rural areas of Upstate New York, where there hasn't been much demand for rides. Said one driver in Olean, a Southern Tier municipality off Interstate 86 with around 14,000 residents: "When I turned it on during the week, I thought maybe one or two drives. … I didn't think I'd have none." [Olean Times-Herald]
#STATEGOVWIRE
Providence, Rhode Island: Cue the ominous state budget music: There's more fiscal trouble ahead in the Ocean State. Top aides have warned Democratic Gov. Gina Raimondo that there are "items of concern" in the recently signed $9.2 billion state budget thanks to lackluster revenue and higher spending. [WPRI-TV]
Helena, Montana: A drought disaster has been declared by Gov. Steve Bullock for 31 counties and six American Indian reservations in Big Sky Country. "High temperatures, extreme drought, and worsening fire conditions are affecting Montanans in many corners of our state," the Democratic governor said. "We're doing everything we can to minimize the economic impact of these hot and dry conditions and help folks get back on their feet using all resources available." [KPAX-TV]
Denver, Colorado: The Colorado Department of Transportation has launched a pilot project to use autonomous work vehicles in construction zones. But don't expect fully autonomous equipment building bridges or throwing down new asphalt. The autonomous vehicles will follow behind workers or other equipment in a construction zone, acting as a crash cushion or "buffer trucks." [ForConstructionPros.com]
Cheyenne, Wyoming: Republican Gov. Matt Mead applauded President Trump's recent executive order directing federal agencies to finish environmental reviews and permitting within a two-year timeframe. "We have a president that appears to me to be more friendly to the minerals industry now than President Obama but that doesn't allow us to just sit back," Mead said. "There may be another president who doesn't like minerals." [Casper Star Tribune]
Des Moines, Iowa: Looking at the evolution of license plates in the Hawkeye State, a theme of "town and country" that depicts a rural landscape with a city in the distance, has shifted to what's been christened as a "city and country" theme which features urban skyscrapers more prominently and "shows two outlines taking up equal space near the top of the plate." [NextCity via @MartinLindLA)
#LOCALGOVWIRE
Stamford, Connecticut: The Nutmeg State's third-largest city may become the second U.S. city this year after Honolulu to ban cellphone use in crosswalks. A $30 fine per violation has been floated, which some residents consider an overreach. Opponents further worry aggressive drivers could take advantage of the situation to blame pedestrians for traffic collisions. "The point is, if you're on the street and not paying attention, it's dangerous," said Mayor David Martin. [Bloomberg News via TIME]
Ferndale, Michigan: Is your local government struggling when it comes to its social media strategy? If you're "looking to better tell your story and engage with your audiences," check out these top four tips from Kara Sokol, director of communications for the Detroit suburb of Ferndale. [ELGL]
Boise, Idaho: Two city council members visited an Air Force base in Utah earlier this month and listened to the sound of F-35 fighter planes taking off and landing nearby. "They're jets," Boise City Council President Elaine Clegg said. "They're loud." Gowen Field, an Idaho Air National Guard base that shares the Boise Airport's runways, is one of five National Guard finalists for a wing of F-35s. Gov. Butch Otter, the state's congressional delegation and the Boise Metro Chamber of Commerce are among those in favor of locating the airplanes there. But neighbors to the airport are concerned about noise. [Idaho Statesman]
San Francisco, California: The Bay Area Rapid Transit system, which serves the San Francisco Bay area, is considered cash-strapped. But the agency provided free annual passes to 4,013 police officers, district attorney's investigators and probation officers from San Francisco, Contra Costa, Alameda and San Mateo counties. California Highway Patrol officers, state parole and Department of Justice agents, and federal customs and Border Protection inspectors were also given free rides for a year. [San Francisco Chronicle]
Sioux City, Iowa: City council members may agree to a $195,000 settlement with resident Joyce Downing, whose yard has been the site of three sinkholes. Downing eventually moved, after the city failed to respond to her request for assistance, related to a faulty storm sewer that proved the cause of her troubles. [Sioux City Journal]