Chicago Mayor Looks to Give City's 'Mothballed White Elephant' a Possible New Life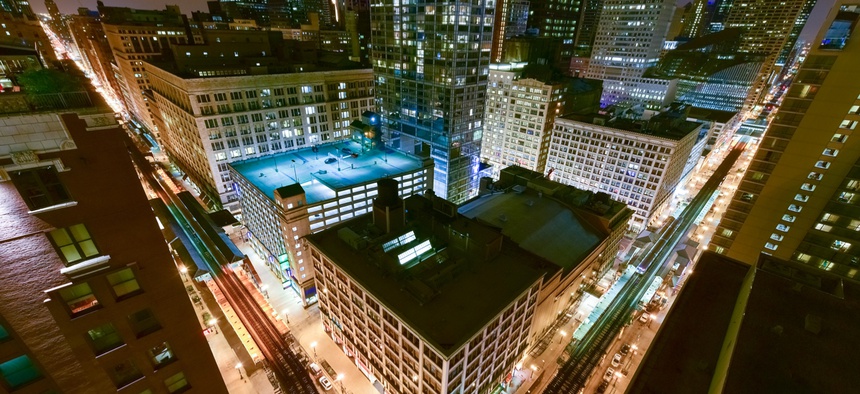 An unused train station that cost hundreds of millions of dollars to build currently sits empty. But a potential public-private partnership could eventually change that.
CHICAGO — For better or worse, O'Hare International Airport is the global gateway to the nation's third-largest city. It's among North America's busiest transportation facilities and an air hub that is known to give some travelers major headaches. That also includes those trying to reach downtown from the airport and vice versa.
From O'Hare, you can take a taxi or book a ride with Uber or Lyft and press your luck and patience with traffic on the Kennedy Expressway. Or you can, like Route Fifty did late Wednesday night, take a Chicago Transit Authority Blue Line train, which will take you into the city from the airport in approximately 40 minutes. It's a journey that features more than 15 station stops along the way.
Chicago Mayor Rahm Emanuel wants to speed up the trip to and from O'Hare.
Emanuel and other civic leaders want to make it easier for business travelers and tourists to go between O'Hare and the Loop, the city's central business district, cutting the trip down to about 20 minutes. On Wednesday, the mayor announced a new effort that could eventually lead to such an express service, one that could possibly use the so-called "Block 37 CTA superstation," a partially constructed but unused transit facility under the heart of the city. The request for qualifications the mayor announced seeks proposals from potential private-sector partners who think they could build an express line.
According to Emanuel's announcement:
Goals of the project include travel times of 20 minutes or less with a reliable service frequency of at least every 15 minutes for the majority of the day with reasonable premium service fares less than the cost of current taxi and ride-share services. Any proposal must also address how potential conflicts or impacts on existing transportation systems and the environment would be avoided or minimized.

Although cost estimates for the project are not yet known, the RFQ stipulates that the O'Hare Express Service will be funded solely by project-specific revenues (like fares or advertising) and financed entirely by the concessionaire. There will be no taxpayer funding for the project.
Emanuel isn't the first Chicago mayor to advocate for an O'Hare express service. Then-Mayor Richard M. Daley pursued such a plan but didn't get too far, though spent hundreds of millions of dollars in the process. By some estimates, the city invested between $250 million and $400 million building a cavernous partially-completed train station under the Loop. The plan was ultimately scuttled due to increasing costs and dismal economic conditions during the Great Recession.
The history of Block 37, which includes a mixed-use retail development and connects to the Loop's extensive underground walkway network and two CTA subway lines, is a twisted and tortured one.
"They began construction of a project before they knew how they would pay for it in full, or what it would really look like," Laurence Msall, president of the Civic Association, told a WMAQ-TV investigation in 2015. "It's hard, looking back, to remember what the urgency of building a superstation was."
The Daley administration's original plan was to have CTA service to and from O'Hare and Midway airports originate and terminate at the downtown superstation, using existing rail corridors for the express service.
Emanuel's Wednesday announcement signals that a new potential chapter for the "mothballed white elephant," as the Chicago Tribune has described the cavernous, multi-level facility near State and Randolph streets, may be starting.
If an express rail line is eventually built between O'Hare and the Loop, its downtown terminus could be sited in different locations, but Block 37, the mayor said, is certainly under consideration.
"Obviously this was built with the vision for that, it speaks to that, but there's no specificity as it relates to—there's a lot of different places," Emanuel said Wednesday during a press conference inside the would-be station at Block 37, according to the Tribune. "Obviously this has a prime target or a prime idea for it."
Last year, Emanuel's administration started to study the feasibility of how an express train could be built between the airport and the Loop, the Tribune reported. The mayor has also previously expressed interest in Elon Musk and his Boring Company building a high-speed passenger transport tube to the airport.  
The big obstacle with Mayor Daley's past vision for an O'Hare express train is very much the same as the one Mayor Emanuel faces: money.
But, as the Chicago Sun-Times reported, Emanuel said financing is not as big of an issue as it once was since there are more private investors these days who would be interested in financing construction:
"A lot of the questions in the past … were about the funding. Today, the world has a lot of resources going toward infrastructure. Funding isn't the issue. Engineering is. … [And] there's new technology that gives you a lot of different options," the mayor said.

"Whether it's in Asia, the Mideast and also Europe, there are many, many sovereign wealth funds, other types of funds pouring millions upon billions of dollars into funds to invest in infrastructure."
A privately funded express service would necessitate operators recouping their investment through high ticket prices that, in theory, business travelers, tourists and ordinary Chicago residents would be willing to pay.
Some airport express rail lines in other cities, including Toronto, haven't met ridership forecasts, forcing the rail operator there, Metrolinx, to cut fares. An O'Hare express line would face competition from the CTA's existing Blue Line to and from the airport, which while slower, is a far cheaper option.
Time will tell whether the unused superstation under the Chicago Loop will see express train service. In the meantime, Chicagoans and visitors going to and from O'Hare will have to settle for the Kennedy Expressway or the Blue Line.