'Consultants Often Manage Consultants, Who Manage Other Consultants'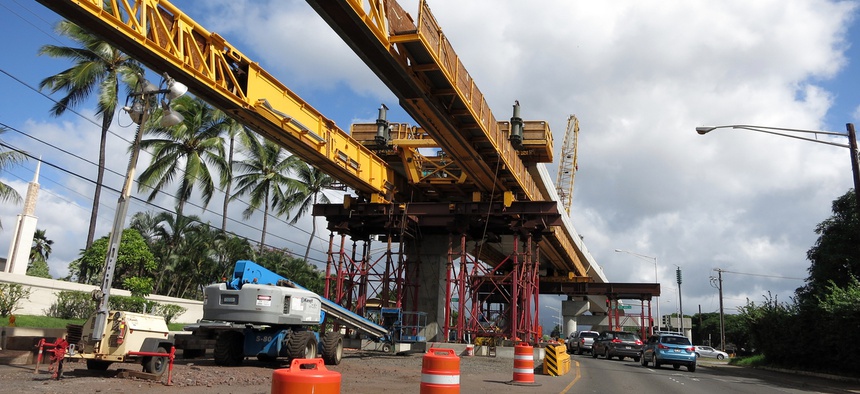 STATE AND LOCAL ROUNDUP | Historic city hall burns to the ground … 'Rays of hope' in Pennsylvania … and Virginia state senators approve Equal Rights Amendment.
Good morning, it's Wednesday, Jan. 16, 2019. Leading our state and local government news roundup is something at the intersection of infrastructure and project management, but scroll down for more from places like Harrisburg, Pennsylvania; Augusta, Maine; and Portland, Oregon. ... ALSO IN ROUTE FIFTY … Will the FCC's Small Cell OrderHinder 5G Deployment? … Denver Offers $5,000 in Mortgage Aid for Eligible Federal Workers Hit by Shutdown … Federal Judge Rules Against Trump Administration's Citizenship Question on Census ...
Let's get to it ...
INFRASTRUCTURE | A Hawaii state audit of the Honolulu Authority for Rapid Transportation faulted the agency, which is constructing an elevated rail line on Oahu, for its reliance on consultants. "Consultants often manage consultants, who manage other consultants." The Federal Transit Administration has previously pointed out that HART should take "more ownership" of its massive construction project. [Honolulu Civil Beat]
GOVERNORS | Pennsylvania Gov. Tom Wolf was sworn into his second term in office on Tuesday, and in a speech "offered rays of hope the state is undergoing a financial and economic rebirth." [The Morning Call] … Next door in New Jersey, Gov. Phil Murphy delivered a 53-minute State of the State address where he "renewed his call to raise the state's minimum wage and legalize marijuana" and "pushed for new restrictions on how much money the state gives out in tax breaks to corporations." [NJ.com] … Arkansas Gov. Asa Hutchinson delivered his State of the State address to the legislature on Tuesday. [Arkansas Times] … South Dakota Gov. Kristi Noem issued an order on Monday that shifts the reporting structure for state offices. Some are moving away from the state Department of Agriculture to the oversight of the Governor's Office of Economic Development, including the South Dakota Certified Beef Program, the Value Added Finance Authority and the Farm Link program. [KELO]
STATE LEGISLATURES | The Virginia Senate on Tuesday approved the long proposed Equal Rights Amendment to the U.S. Constitution. [Richmond Times-Dispatch] … The New York State Senate has passed legislation that would add gender identity to state anti-discrimination protections. [The Daily Beast] … Republican leaders in the Wisconsin Legislature on Tuesday vowed to find "common ground" with Democratic Gov. Tony Evers during a meeting at the State Capitol. [Wisconsin Public Radio]
CITY HALLS | In Augusta, Maine, city councilors are considering rules that would impose fines for improper use of recycling bins. [Kennebec Journal / CentralMaine.com] … In Portland, Oregon, new rules being implemented are designed to save victims of car theft towing fees. [Willamette Week] … Marble falling from the exterior of City Hall in Memphis, Tennessee has prompted the construction of a protective fence. [WREG] … The historic City Hall building in Ellsworth, Minnesota burned to the ground on Tuesday morning but "firefighters were able to get inside the building to save important documents, files and the computer system from the city clerk's office before the flames spread." [Forum News Service via TwinCities.com]
LAW ENFORCEMENT | At a federal courthouse in Hammond, Indiana, prosecutors and defense attorneys gave very contrasting portrayals of James Snyder, the mayor of Portage, who is on trial for public corruption. He's "either a consummate schemer or the victim of revenge and an overreaching government." [The Times of Northwest Indiana]
PUBLIC SAFETY | Areas impacted by the Woolsey Fire northwest of Los Angeles, including canyon communities in Malibu, were evacuated ahead of heavy rain expected to roll in from Pacific storms that could cause debris flows and landslides in the burn area. [Los Angeles Times] … The number of pedestrians killed or injured after being struck by motorists spiked last year in San Diego. [The San Diego Union-Tribune] … In his 2019 executive budget, New York Gov. Andrew Cuomo has proposed a slate of transportation safety reforms, including a ban on stretch limousines and rules requiring use of seatbelts in taxicabs and school buses. [Jalopnik]