Group Reveals Planned Route For Coast-to-Coast Bicycle and Pedestrian Trail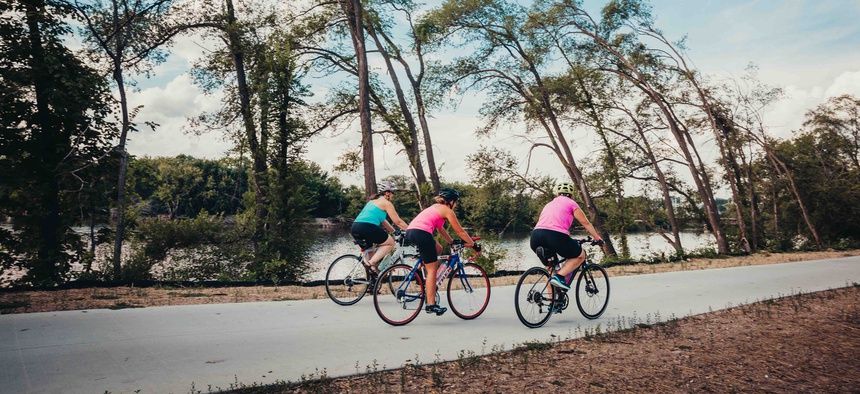 It crosses 12 states and about half of it relies on trails that are already built.
A coast-to-coast bicycle and pedestrian path that a nonprofit group is pushing to complete would stretch about 3,700 miles, across a dozen states, and incorporate about 130 existing segments of trail.
The route would run between Washington, D.C. and Washington state, based on a route plan the group revealed on Wednesday. The biggest gaps along it are currently in Wyoming, where only about eight of 508 miles of proposed trail exist today.
How much the pathway could ultimately cost and where exactly all the money would come from to pay for it are still open questions. And the Rails-to-Trails Conservancy, the group advocating for the trail, acknowledges that it could take decades to fully complete.
But conservancy staff members maintain that the "Great American Rail-Trail" is a feasible project and emphasize that about half of the proposed route is already built.
Advocates also say that beyond providing a travel route for those interested in cycling across the country and other long-distance excursions, the trail would provide a spine for local trail networks that would be used on a regular basis by millions of people living nearby.
And the conservancy notes that the trail could spur business opportunities and economic development, particularly in rural areas.
"There's a chance for this to really be America's trail," said Kevin Mills, the group's senior vice president of policy, "something that kind of brings the country together."
"It's accessible to all ages and abilities," he added. "It could be a new iconic landmark, maybe a bit like Route 66 was for the 20th century."
The Rails-to-Trails Conservancy has entertained the idea of a transcontinental trail since the group's early days in the 1980s. But in recent years, as more sections of trail across the U.S. were completed, the conservancy began considering the idea more seriously.
To come up with the "preferred route" released this week, the group undertook a year-long assessment of route options, using a database of more than 34,000 miles of existing trails nationwide and upwards of 300 state and local trail plans that identified pending trail projects.
The group says it also met with more than 50 state agencies along the route corridor.
Some of the criteria the conservancy used to select the route included finding a contiguous path that is initially more than 80 percent, and ultimately entirely, off-street and separated from motor vehicle traffic. They also sought to use existing trails where possible.
What the group came up with is a plan that would rely on about 1,960 miles of existing trails,  while closing 1,782 miles of gaps in places where the trail would need to be developed.
One of the most complete stretches of the proposed trail to date is on its eastern end.
It runs along Washington, D.C.'s Capital Crescent Trail and the Chesapeake and Ohio Canal National Historical Park towpath, which passes through Maryland.
The C&O path connects with the Great Allegheny Passage, a 150-mile route between Cumberland, Maryland and Pittsburgh.       
From there the planned route goes along a generally east-west trajectory (with some zigs and zags) through West Virginia, Ohio, Indiana, Illinois, Iowa, Nebraska and Wyoming.
It incorporates Nebraska's Cowboy Recreation and Nature Trail, one of the nation's longest trails to be built along old railroad corridor. The Cowboy Trail stretches about 190 miles between the towns of Valentine and Norfolk, according to the route plan for the cross country project.
In Wyoming, there are plans for the nationwide route to tack sharply north, passing through the Wind River Canyon, the town of Thermopolis, and Yellowstone National Park.
The path would then continue northwest into Montana, the Idaho panhandle and Washington state, where its final segment would run along the northern fringe of the Olympic Peninsula, approaching the Pacific coast, using the Olympic Discovery Trail.
Mills said the route through Wyoming was selected in part because it aligns with the state's rural economic development goals for communities in the proposed corridor.
Rails-to-Trails Conservancy is now working with states and local partners to determine how much it will cost to close gaps in the planned route, and to identify and secure funding.
The group will also be lobbying at the federal level for programs that could support the trail. That federal advocacy is already underway and centers on programs that fall under a broad surface transportation bill that is set to expire in 2020 and will need to be reauthorized.
Mills noted that there have been some recent developments at the state level that could help with completing more segments of the project. For instance, Montana lawmakers last month approved a bill increasing an optional vehicle registration fee to $9 from $6, with some of the proceeds slated to go toward trail projects.
With a blueprint for the trail complete, Mills said, more details have come into focus about where the biggest obstacles to completing it lie.
"But none of them," he said, change the conservancy's overall "sense of optimism that this is a project that's worth prioritizing or that we can't move forward and ultimately get done."