'Charging Bull' Artist Doesn't Like 'Fearless Girl' Staring Down His N.Y.C. Masterwork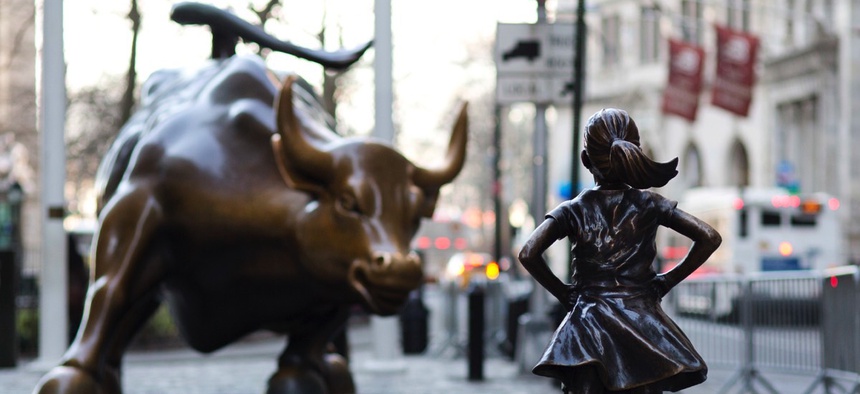 Mayor Bill de Blasio responds to the sculptor's outrage.
The artist who sculpted Wall Street's "Charging Bull" is arguing that New York City violated his rights, when it permitted the "Fearless Girl" statue staring down his work, by changing the meaning of his piece.
Italian-born sculptor Arturo Di Modica's 7,000-pound bronze bull has been in place since 1989, two years after the stock market crash, as a symbol of resilience.
But when artist Kristen Visbal's 4-foot girl was placed facing off against the 11-foot bovine behemoth on the eve of International Women's Day, by Boston-based investment firm State Street Global Advisors and New York-based advertiser McCANN, all Di Modica saw was a marketing stunt.
"We're all for gender equality," Di Modica's lawyer Norman Siegel, former director of the New York Civil Liberties Union, told The Washington Post. "But the questions are because there are other issues."
Di Modica isn't suing the city just yet but seeking documentation on how permitting of "Fearless Girl" was handled. That's a bit of a double standard considering he himself deposited "Charging Bull" in front of the New York Stock Exchange one night and worried about getting the city's permission later.
The debut of "Fearless Girl" coincided with the one-year anniversary of the Gender Diversity Index SHE, SSGA's effort to quantify the distinct lack of women on major corporate boards.
At her feet, a plaque reads: "Know the power of women in leadership. SHE makes a difference." It's also the strongest evidence she might be as much advertising as activism.
Mayor Bill de Blasio recently extended the permit for "Fearless Girl"—which Visbal would like to see become a permanent fixture—through February 2018, after receiving a wave of public support for the statue. The mayor wasn't buying Di Modica's outrage based on this tweet Wednesday: