How State Preemption Became a 'Serious Problem' for Local Governments in Florida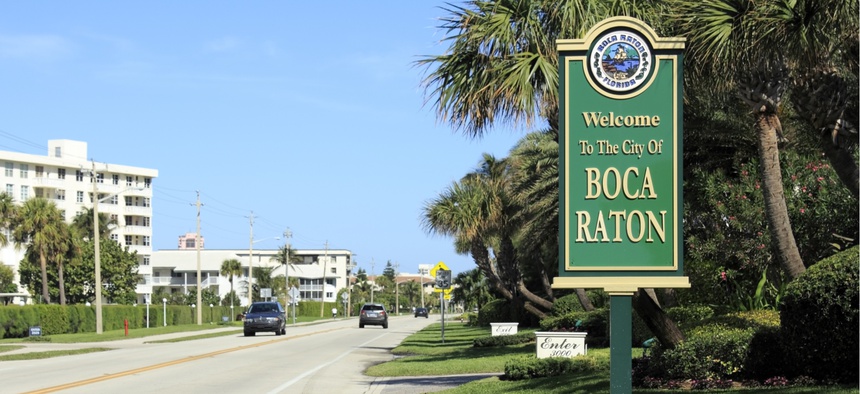 "The legislature has shown disregard, even hostility, to the fundamental principle of home rule," Boca Raton Mayor Susan Haynie said at last week's Florida League of Cities annual conference.
Editor's Note: This is the first in a semi-regular series of Route Fifty features on the impacts of moves by state government to preempt local government rules and regulations.
ORLANDO — At a standing-room-only meeting at the Florida League of Cities annual conference last week, dozens of local officials from around the state commiserated over how vacation home rentals are impacting their residential neighborhoods and their inability to do much about it.
"We have five and six bedroom homes being advertised as 'sleeps 40,'" Destin Councilwoman Prebble Ramswell told other Florida League of Cities members. "We have developers coming in and they are taking single-family residential homes and converting them into mini-hotels. We have six on one block. Each has five bedrooms, sleeps up to 40 and this is a permanent residential neighborhood."
Ramswell and others say the short-term rentals—which have proliferated thanks to popular websites like Airbnb, HomeAway and Vacation Rental By Owner (VRBO)—are causing noise, parking, trash and safety issues in their communities, but because of the state legislature, they're limited in how they can address the situation.
In 2011, state lawmakers completely stripped cities of their power to regulate short-term rentals, but allowed the few with existing regulations to keep them in place. The Republican-controlled legislature dialed back that exemption in 2014 to allow Florida's cities to adopt ordinances to address specific issues like noise, parking and trash—but local governments still have no say-so over how often or how long a property can be rented and they can't outright ban the practice or regulate the rentals through zoning.
It's not enough, local officials say. "We have people calling saying 'We're moving. We've lived here 20 years. We can't deal with this. You can't do anything,'" said Ramswell, who worries that any action her city, located on the Gulf Coast 45 miles east of Pensacola, might take against the rental owners could provoke a lawsuit. "This has become a serious problem. It's a nightmare and something has to be done."
It's a similar story along Florida's Atlantic coast. Riviera Beach Councilwoman Dawn Pardo said half the houses on the block where she lives on Singer Island are now vacation rentals. Complaint calls to the police over rowdy renters are commonplace and many of her neighbors are packing up and leaving the exclusive beachfront neighborhood for gated communities elsewhere in Palm Beach County.
But Pardo, who's also contemplating selling the home she's lived in for 25 years, said her hands are essentially tied. "The only thing we can do is go after them to make sure that they are paying for a license and paying bed tax — but again, the majority of the investors that own the homes, they aren't getting a license or anything." The city of Riviera Beach simply doesn't have the teeth or the manpower to ensure compliance with those basic requirements, she laments.
Efforts by other cities to crack down on the rentals have been met with fierce opposition. After Holmes Beach enacted an ordinance in 2015 that included a two-person per bedroom limit on short-term rentals, the small Gulf Coast city at the southern end of Anna Maria Island was hit by a slew of so-called "Bert Harris Act" lawsuits filed by vacation rental owners who claim the short-term occupancy rules have unfairly diminished the market value of their properties.
Meanwhile, some state legislators are pushing for a return to the 2011 status quo that preempted any municipal regulation of vacation rentals.
The hot button issue isn't the only topic that state and local leaders have clashed over in recent months. Earlier this year, state lawmakers passed laws limiting local authority to regulate wireless antennas, drone aircraft, local building codes, commercial signs, ride-hailing services and charter school placements. And municipal leaders are still fuming over House Bill 17, which would have barred cities and counties from creating any new regulations on businesses. It also would have nullified any local business regulations not authorized by Florida state law in 2020.
"What Tallahassee was trying to do in this last legislative session with House Bill 17 was the epitome of arrogance," Robert Shalhoub, president pro tem for the town of Lake Clarke Shores in Palm Beach County, told Route Fifty in an interview. "It's been touted that they know better than we do. Wrong. Absolutely wrong. We know what's best for our neighborhoods. We know what's best for our constituency. We live it every day."
State Rep. Randy Fine, a Republican gaming industry consultant from Brevard County who wrote H.B. 17, has said he penned the legislation to reduce the number of "burdensome regulations" imposed on businesses by a "patchwork" of local laws. A number of powerful Florida business groups including the Florida Chamber, Associated Industries of Florida, the Florida Restaurant and Lodging Association and the Associated Builders and Contractors of Florida backed the effort.
But the Florida League of Cities said the vague and far-reaching "super preemption" would have left local communities with few tools to address the health, safety, welfare and property rights concerns of their residents. The bill failed after numerous Florida newspapers editorialized against the measure, which they said could have effectively nullified everything from local noise ordinances to local minimum wage requirements to non-discrimination protections for LGBTQ and minority workers.
Preemption battles aren't just a Florida phenomenon. State level preemption of local governments is on the rise around the country, particularly as conservative-led state legislatures attempt to limit the authority of more progressive local governments on everything from gun control to sanctuary cities to fracking to paid sick leave.
But according to a February report from the National League of Cities, Florida ranks as one of the top five "preempter" states in the nation along with North Carolina, Tennessee, Wisconsin, Michigan and Louisiana—and it's a trend that's likely to continue.
Rebecca O'Hara, assistant general counsel for the Florida League of Cities, told a packed room at last week's conference that they'll "get mowed down in the next legislative session" unless they actively fight ongoing preemption efforts.
Her advice? Engage with their state lawmakers on the issue, enlighten citizens on the topic and try to avoid using the words "home rule," because it's been co-opted by opponents and now has almost a negative connotation equating it with runaway regulations. Depending on the audience, "local self government" and "local control" might be better choices, she said.
She also advised city leaders to avoid hyperbole and partisanship when fighting preemption battles and cautioned cities to be sure that any lobbyists they have on retainer aren't working against their interests on behalf of other clients as some did last legislative session.
Over the weekend, Gil Ziffer, Tallahassee mayor pro tem and the newly elected president of the Florida League of Cities, unveiled a new "Let Cities Work" initiative and said defending local autonomy will be his primary focus over the next year.
"Cities continue to lead Florida in population and economic growth by delivering services only local government can provide," Ziffer said in a statement issued Saturday. "We are the government closest to the people and are therefore able to respond to our residents' needs more efficiently and timely."