Mayor Emanuel: 'Chicago Will Not Be Blackmailed' by Trump Administration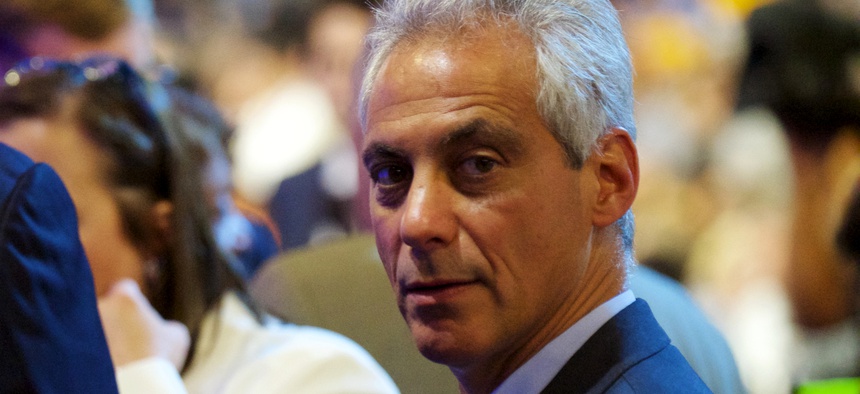 The Windy City plans to sue the federal government and "will continue to stand up to President Trump and his Justice Department."
Lawyers for the nation's third-largest city are heading to federal court on Monday to challenge new requirements handed down by U.S. Attorney General Jeff Sessions that would tie certain federal funding grants for local law enforcement agencies to their jurisdiction's compliance with immigration enforcement actions.
"Chicago will not be blackmailed into changing our values, and we are and will remain a welcoming City," Mayor Rahm Emanuel said in a statement released Sunday. "The federal government should be working with cities to provide necessary resources to improve public safety, not concocting new schemes to reduce our crime fighting resources. The City of Chicago will continue to stand up to President Trump and his Justice Department to ensure that their misguided policies do not threaten the safety of our residents."
At question are new eligibility requirements for cities when it comes to the Edward Byrne Memorial Justice Assistance Grant program, which Chicago has used previously for purchasing SWAT equipment, police vehicles, radios and tasers. Last year, the Justice Department, which administers the program through the Bureau of Justice Assistance, gave Chicago $2.3 million in Byrne JAG funding, according to the city.
The new requirements include giving personnel from Immigration and Customs Enforcement access to local law enforcement facilities; not placing local restrictions on sharing immigration information with federal authorities; and giving ICE a 48-hour notice of when inmates are going to be released.
That last requirement is problematic, according to the city, because it requires that local jurisdictions detain inmates longer than is permissible under the U.S. Constitution's Fourth Amendment.
In its lawsuit, Chicago will ask that the new grant-funding requirements are unlawful and that its Welcoming City ordinance is in compliance with applicable federal laws.
On Thursday, the Justice Department sent letters to four cities—Albuquerque, Baltimore, Stockton and San Bernardino—asking them for more information regarding how they've cooperated with federal immigration authorities.
That was, as Route Fifty reported on Thursday, the latest episode in an ongoing intergovernmental saga where the Trump administration and some Republican-controlled state governments have quarreled with local jurisdictions over their "sanctuary city" policies.
"These policies are driven by politics and do not protect their citizens. We will fight them with every lawful tool available," U.S. Attorney General Jeff Sessions said in a statement last week.
The forthcoming legal action by Chicago, and potentially other state and local jurisdictions, opens up a new front in the nation's immigration policy and enforcement battles.
California's state government, working with county and city attorneys, is poised to sue the Justice Department over the new eligibility rules for the Byrne JAG funding.
Gov. Jerry Brown, who has sparred with the Trump administration on other matters, including climate policy, has endorsed a lawsuit against the Justice Department over the funding requirements.
"The cities and states affected by these provisions have strong arguments to make in court that these conditions are illegal," a former Justice Department official familiar with California officials' thinking told McClatchy's Washington, D.C., bureau. "If Congress wanted these requirements to be part of the grant funding decision, they would have written it into the law."
A final decision on whether to proceed with a lawsuit will be up to California Attorney General Xavier Becerra.