U.S. Mayors Push for Dream Act by Year's End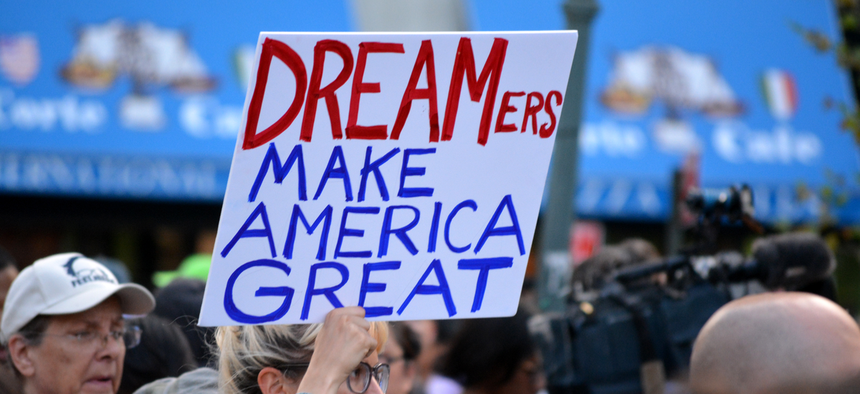 Democratic senators signaled they're willing to increase border security to get a deal done, so long as a "pathway to citizenship" is assured and additional immigration enforcement provisions tabled.
WASHINGTON — Democratic senators are prepared to include a dozen Republican-proposed border security provisions in the bipartisan Dream Act, Senate Minority Whip Dick Durbin said Thursday during a U.S. Conference of Mayors conference call.
By year's end, the Democratic caucus and a coalition of 176 mayors from 39 states and the District of Columbia want to ensure lawful permanent residence and a pathway to citizenship for undocumented immigrants brought to the U.S. as children.
President Trump ended the Deferred Action for Childhood Arrivals program on Sept. 5, and in that time more than 10,000 Dreamers' once-renewable protections have expired—making them eligible for deportation March 5, 2018.
"This is a serious offer to enhance border security, which the Democrats will support," the Illinois senator said.
Democrats rejected comprehensive immigration reform being pushed by Republican Sens. Chuck Grassley of Iowa and John Cornyn of Texas, who Durbin accused of trying to derail the Dream Act.
The opposing legislation would only extend DACA protections three years, in exchange for withholding funding from sanctuary cities, strengthening the e-verify employment verification program, and changing standards for asylum seekers established by international treaty.
"Coming from a border state, I would tell you my focus has not been on one particular piece of the solution but rather on a comprehensive, border-wide solution," Cornyn said on Capitol Hill Wednesday. "And in talking to border patrol, they tell me that there are really three components of border security: one is infrastructure—walls, fences if you will—the other is technology, and the other is personel."
"To me, on the DACA issue, that broad border security bill is essential," Cornyn added.
Durbin and company would concede to "dramatic investments at the border," like biometric scanners; expanding use of Z Portal drive-through inspection systems for trucks and buses from the San Ysidro Port of Entry in San Diego to all border crossings; and more spectrometers to catch the smuggling of the dangerous opioid fentanyl. He stopped short of saying Democrats would vote against a Republican spending bill that failed to address DACA but said the caucus includes it on a list of non-defense priorities along with renewing the Children's Health Insurance Program.
Trump met with Democratic leaders on Thursday afternoon. Seventy-six percent of voters think Dreamers, as DACA recipients are often called, should stay as either citizens or permanent legal residents, according to a Politico / Morning Consult poll conducted as DACA ended, including two-thirds of the president's base.
Passing the Dream Act would further add at least $281 billion to the U.S. gross domestic product in the next decade with Dreamers in the workforce, according to the Center for American Progress, and even more if they earned associate's or bachelor's degrees. Hundreds of Dreamers work in medical fields, thousands serve in the military and tens of thousands are teachers.
"Diversity is one of our greatest strengths and can never be looked on as a weakness," New Orleans Mayor Mitch Landrieu, a Democrat and outgoing USCM president, said during the conference call.
DACA currently allows about 2,000 Dreamers to live and work in his state of Louisiana, who were critical to the reconstruction of New Orleans in the aftermath of Hurricane Katrina and elsewhere after hurricanes Harvey, Irma and Maria.
Tom Tait, the Republican mayor of Anaheim, California who co-chairs USCM's Immigration Reform Task Force, said local officials, being closest to the people, understand best the social capital and resiliency Dreamers provide.
"When you have such a large group living in the shadows … that erodes at the social infrastructure of the city," Tait said.
Republican Sen. Lindsey Graham of South Carolina, put forth the Dream Act, which is co-sponsored by fellow GOP Sens. Jeff Flake of Arizona, Cory Gardner of Colorado and Lisa Murkowski of Alaska.
"We have a bipartisan start," Durbin said. "We've got to get to the finish line."