Urbanists Push 'Non-Aggression Pact' for Amazon HQ2 Finalist Cities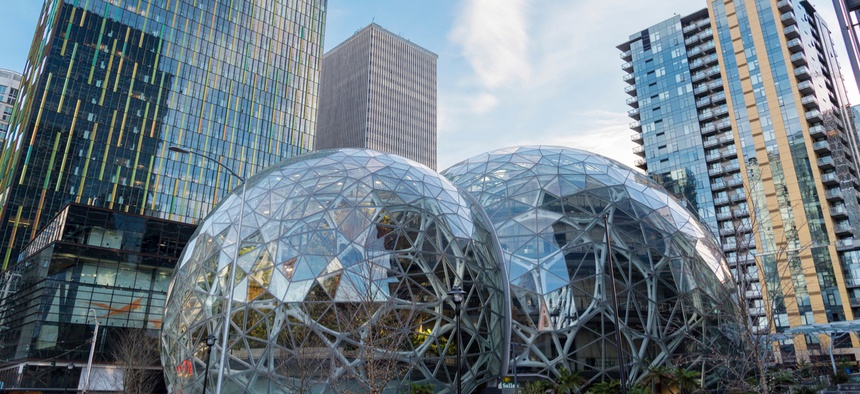 STATE & LOCAL ROUNDUP | Calatrava-designed bridge causes headache in Dallas; a sarcastic standing ovation for Illinois' governor; and Missouri's lieutenant governor wants a personal driver.
AMAZON HQ2 | Nearly 100 scholars and urbanists have gotten behind a petition calling on all of the cities named finalists in Amazon.com, Inc.'s search for a homebase for the company's second headquarters campus to join a "non-aggression pact" when it comes to offering tax incentives.
According to Change.org petition organized by Richard Florida of the University of Toronto:
Tax giveaways and business location incentives offered by local governments are often wasteful and counterproductive, according to a broad body of research. Such incentives do not alter business location decisions as much as is often claimed, and are less important than more fundamental location factors. Worse, they divert funds that could be put to better use underwriting public services such as schools, housing programs, job training, and transportation, which are more effective ways to spur economic development.
Florida is also the co-founder and editor at large at CityLab, which like Route Fifty, is part of the Atlantic Media family of publications. Other signatories include Bruce Katz of the Brookings Institution; Edward Glaeser and Robert Putnam of Harvard University; and former Labor Secretary Robert Reich, now of the University of California at Berkeley. "What's also troubling is that it opens up a Pandora's box. If Amazon does it, Apple will want to do it," Florida said. [Change.org; GeekWire; BizPhilly / PhillyMag]
INFRASTRUCTURE | The works of Spanish architect Santiago Calatrava are no strangers to design and construction headaches. Costs for the opulent Oculus headhouse for the World Trade Center PATH station in New York City, for instance, soared along with its soaring white steel structural ribs. Delays also mounted for the "glorious boondoggle" and the "world's most expensive train station." Meanwhile in Texas, a much smaller Calatrava project, the arched Margaret McDermott Bridge over the Trinity River in Dallas has been experiencing some troubles of its own. The issue "centers around problems with the cables—and their resistance to heavy winds." Although officials have stated the bridge is not in danger of failure, the crossing remains closed until concerns regarding broken cable anchor rods are resolved. But the behind-the-scenes fingerpointing sounds somewhat familiar: "City officials played down the problem, but it has produced a year-and-a-half long dispute and voluminous correspondence between Calatrava, city officials and the Texas Department of Transportation."  [New York; Dallas Morning News]
STATE GOVERNMENT | After a months-long goodbye and waiting for his nomination to go through, Sam Brownback has resigned the Kansas governorship to take a diplomatic post in the Trump administration. The Sunflower State has a new chief executive, Republican Gov. Jeff Colyer, who in his inaugural address Wednesday said his administration will "set a tone and insist on an environment of openness, honesty and respect." Colyer will face several challengers seeking the Republican nomination for governor in the August primary. [The Wichita Eagle / Kansas.com]
At Illinois State Capitol in Springfield, Republican Gov. Bruce Rauner delivered his State of the State address on Wednesday with bipartisan overtures, but underscoring the ongoing political acrimony in the Land of Lincoln, the governor's remarks promising to deliver a balanced budget in February were greeted by Democrats with laughter followed by a "sarcastic standing ovation." [Chicago Tribune]
CITY HALLS | Baltimore City Solicitor Andre Davis announced Wednesday that his office is filing a lawsuit against manufacturers and distributors of opioid medication. Baltimore joins a growing list of state and local governments that have challenged the pharmaceutical industry in court seeking damages for the costs of the opioid abuse epidemic in their jurisdictions. "They were reckless, they were intentional, it was marketing, it was greed," Davis said during a news conference. [The Baltimore Sun]
During an event in Atlantic City, New Jersey on Wednesday afternoon to sign an executive order on offshore wind energy, Democratic Gov. Phil Murphy told reporters that the fiscally troubled city "needs a partner" in the state, saying he was "never a fan of the over-the-top big footing" that came from the administration of then-Gov. Chris Christie in the state's takeover of Atlantic City in 2016. The governor's visit included a meeting with Mayor Frank Gilliam, the first the two have had since Murphy took office. The future of the state's takeover of Atlantic City's finances has been a question since the governor's election. [The Press of Atlantic City]
San Francisco's interim mayor, Mark Farrell, has appointed the County Clerk Catherine Stefani as his successor for his 2nd district seat on the Board of Supervisors. Farrell, a venture capitalist who was elected as a supervisor in, said that his short tenure as mayor will his final foray into politics, saying that he will have "the luxury of being unshackled" from city hall politics until a special election to fill the seat of Ed Lee, who died unexpectedly late last year.  [SF Weekly; San Francisco Chronicle]
In Olmsted Falls, Ohio, the recently elected mayor, James Graven, has laid off five city employees due to budget cuts in the Cleveland suburb. "Unfortunately, four years ago the general fund had $2 million, and the city has been deficit spending the last four years to the point we currently have a little under $700,000," Graven said. [Cleveland.com]
In Arizona, the Tucson City Council is facing "rather anemic" revenue forecasts, prompting questions about raising taxes in the coming years to keep up with rising expenses, including pension and health care costs for city employees. [Arizona Daily Star / Tucson.com]
AIR QUALITY | Local burn bans and federal and borough restrictions on wood stoves in the Fairbanks, Alaska area are causing some local residents to fume. Many residents packed a local library on Tuesday for a public meeting on air quality rules. Many have purchased wood-burning stoves certified by the federal Environmental Protection Agency only to find themselves not in compliance with borough rules on stoves. "There is no way out for those of us who have invested our own money, our own time, and there has to be a recourse," one North Pole resident said. [Fairbanks Daily News-Miner]
LIEUTENANT GOVERNORS | During testimony in Jefferson City on Tuesday, Missouri Lt. Gov. Mike Parson asked for a $50,000 increase to his office budget so he can hire a personal driver. "The state of Missouri is a big state. It takes a lot to travel," the lieutenant governor said, noting that he traveled to 150 destinations in his first year in his position. [St. Louis Post Dispatch]
FISCAL HEALTH | The Nevada Local Government Finance Committee voted to place the state's largest school district under "fiscal watch" after the Taxation Department recommended that because the Clark County School District's "unassigned ending-fund balance—essentially a reserve pot of money—has declined for three years and is less than 4 percent of actual expenditures from its general fund." [The Nevada Independent]
ECONOMIC DEVELOPMENT | Local officials in San Diego are looking at leveraging 43 acres of city-owned property around the Valley View Casino Center for redevelopment and are taking the early steps to prepare the site, including not extending leases for current businesses on the property beyond 2020. The property is home to a former sports arena. Planners envision that the Midway District that will take shape on the site, about four miles northwest of downtown San Diego, will increase the local neighborhood's current population by six times. [Voice of San Diego]
This article has been updated to add additional details about the current situation involving the Margaret McDermott Bridge in Dallas, which is currently closed until an issue involving cable anchor bolts can be resolved.