Intergovernmental Fights 'Deeply Rooted in the Flaws' of New York's Governor and Mayor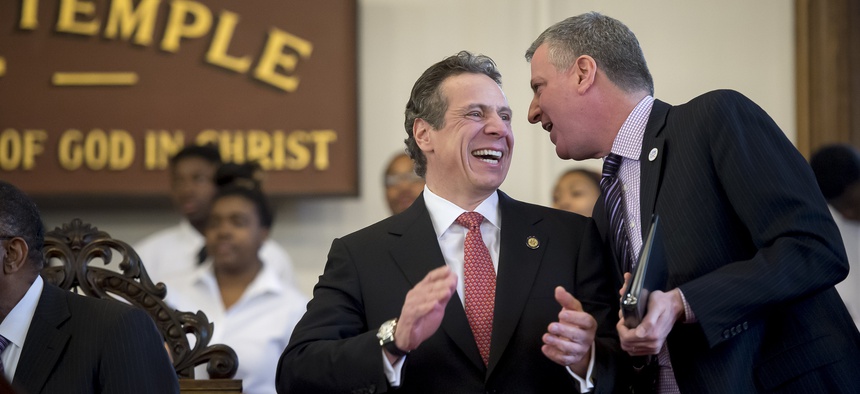 STATE AND LOCAL ROUNDUP | Michigan ends Flint's bottled water shipments … California sheriff department's K-9 shot in neck … and scofflaw golf cart drivers in "Florida's Friendliest Hometown."
Here are some state and local government news stories that caught Route Fifty's attention this weekend ...
CITY AND STATE RELATIONS | There's a deep history of intergovernmental tensions between New York state's governor and New York City's mayor. And then there's Andrew Cuomo and Bill de Blasio, who regularly trade barbs on a variety of city-state governance issues that has created a toxic landscape for their ongoing interpersonal political circus. After recent squabbles over subway funding, the latest flashpoint has involved challenges facing New York City's public housing system, which Gov. Cuomo has visited on recent tours, aggravating Mayor de Blasio, who views the governor's tours as grandstanding. "I'll work with the governor when he actually tries to help New York City, which I'd like him to do a lot more often," de Blasio said during a news conference on Thursday. "And when he does something that hurts New York City, I'll take him on. That's my job." According to Crain's New York Business columnist Greg David:
Today New Yorkers are the victims of an all-out war encompassing virtually all our most pressing problems, including the transit crisis, the poor state of public housing, the shortage of affordable housing, the Rikers Island jail complex and homelessness. Cuomo and de Blasio aides fight each other just as their bosses do. The personal animosity is far greater than ever before.
Is there hope for New York's Democratic governor and mayor? According to David, "the fight is too deeply rooted in the flaws of the two men." [Crain's New York Business; WCBS-TV]
WASTE MANAGEMENT | The mayor of Parrish, Alabama, along with many of the residents in the small town northwest of Birmingham, are annoyed with the several trainloads of human waste from New York and New Jersey currently sitting on tracks her community thanks to the nearby town of West Jefferson seeking and obtaining an injunction filed against a private landfill operator, Big Sky Environmental, from accepting the out-of-state waste. "The railroad decided: Well, if we can't go to West Jefferson, the next closest rail stop to Big Sky would be the town of Parrish. They have a really large train yard so we're just going to bring it there," Parrish Mayor Heather Hall told the CBC's "As It Happens" radio program. "And that's what they did. And it kept coming and coming and coming." [CBC]
LAW ENFORCEMENT | The Massachusetts State Police's Troop E, currently under scrutiny amid a massive overtime pay scandal and is set to be dismantled as part of Gov. Charlie Baker's recent state police reform measures, was also at the center of a 2016 inspector general's investigation of "irregularities in the awarding of tow contracts along the Massachusetts Turnpike." Troop E has been assigned to patrol the turnpike and Boston-area tunnels. [The Boston Globe]
About 300 gun-rights activists with the group Open Carry Texas held a recent protest in Olmos Park, a small San Antonio-area city, upset with the municipality's police chief, Rene Valenciano, who had previously arrested the leader of the group. "The city is going to allow the rally to occur, even if they're in violation of local ordinances," City Attorney Frank Garza said before the protest started. [San Antonio Express-News]
Following a pursuit across parts of Yuba County, California early Friday morning, a drunk-driving suspect shot a sheriff's department K-9 in the neck. The police dog, named Glock, is expected to survive through. The drunk-driving suspect was shot and killed by law enforcement officers. [The Sacramento Bee]
ELSEWHERE …
Flint, Michigan: Declaring an end to the Flint water crisis, the Michigan Department of Environmental Quality has stopped shipments of bottled water to the city because Flint's water quality was "below federal action levels for lead for two years." [The Flint Journal / MLive.com]
 
Stinson Beach, California: Heavy rainfall flooded a creek and undermined a parking lot at this popular beach town north of San Francisco washing 40 parking spaces out into the Pacific Ocean. [KGO-TV / ABC7]
Raleigh, North Carolina: New security checks will be instituted for visitors looking to enter the North Carolina Legislative Building, which is home to the state House and Senate. [@NCCapitol / WRAL-TV]
Toledo, Ohio: An investigation by The Blade newspaper found that the city government has "consistently" spent more federal dollars coming through community development block grants on city staff salaries than on community programs. "Looking at the CDBG numbers that we have inherited makes it clear to me that the city's priorities have been upside-down for the last several years," Mayor Wade Kapszukiewicz said. [The Blade]
The Villages, Florida: This massive retirement community northwest of Orlando is well known for being "Florida's Friendliest Hometown" and its abundance of local retirees driving golf carts to get from Point A to Point B. But that doesn't mean those driving golf carts are always friendly or courteous. [The Villages News; YouTube]
Salt Lake City, Utah: Resort operators and economic development officials in Utah are pleasantly surprised how well the ski season went in terms of revenue despite "less-than-stellar snow conditions." [The Salt Lake Tribune]