Florida Snakes Remain Hungry as Hunters Capture 1,000th Python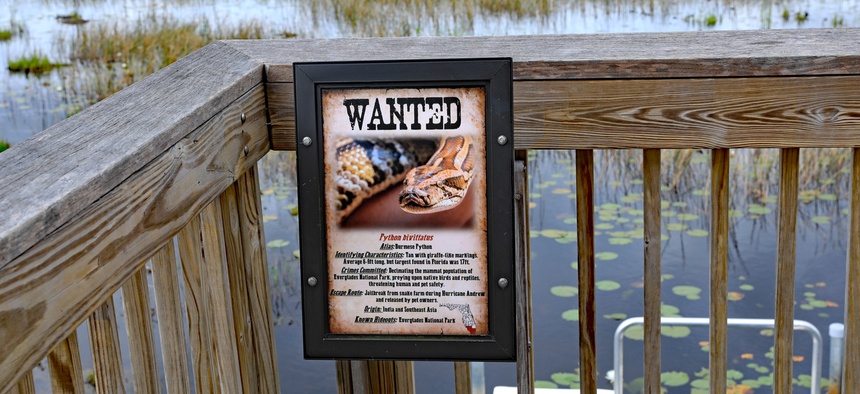 STATE AND LOCAL ROUNDUP | Wisconsin localities turn to "wheel taxes" ... Sacramento plans massive tents for the homeless ... N.Y.C. rent-controlled housing at risk … and Toledo's lead-safe property deadline.
Here are state and local government stories that caught Route Fifty's attention ...
Homestead, Florida: The South Florida Water Management District announced Tuesday that its snake-hunting efforts have bagged their 1,000th python. The problem: there are thousands more, though there's no official estimate. Wildlife officials in Florida have struggled to control the invasive species over the years, which have taken over the Everglades and "gobbling up nearly all the small mammals" there. And the pythons may move north. "The prey base is decimated down here," according to South Florida Water Management District scientist Michael Kirkland. "So it's only a matter of time before they start branching out." [Miami Herald; AP via Herald Tribune]
Madison, Wisconsin: According to new report from the nonpartisan Wisconsin Policy Forum, more localities in the Badger State are turning to so-called "wheel taxes" to raise revenue for transportation and road improvements. In 2011, there were only four local governments in Wisconsin that had the taxes. Today, 27 localities, including Dane County, have local vehicle registration fees. [Wisconsin State Journal]
Sacramento, California: City officials plan to erect three large tent-like "fabric-tension structures" on vacant, city-owned land that will be used as shelters for homeless individuals. According to Mayor Darrell Steinberg, the first structure will open by September and house 200 people. [The Sacramento Bee]
Toledo, Ohio: Local landlords have until June 30 to have their properties certified as lead-safe or risk facing fines. According to the Toledo-Lucas County Health Department, "to date, 1,487 properties have been certified lead-safe. Of those, 1,050 fall under zone one—meaning just 8.4 percent of an estimated 12,500 properties in that area have met the deadline thus far." [Toledo Blade]
New York City, New York: The nation's largest city "has the nation's largest rent-regulation system" and  "[o]n paper at least, it still has some of the most robust tenant protections, bolstered by new city laws designed to fight tenant harassment and give poor tenants free legal representation in housing court." But those rent protected units "are in danger of vanishing, one by one." [The New York Times]
 
Seattle, Washington: Firefighters everywhere face elevated cancer risks due to the nature of their dangerous work. But there's one fire house in Seattle, Station 31, that has long been feared due to the very high number of firefighters based at the station who have been diagnosed with cancer over the years, despite environmental assessments that haven't found any red flag hazards on site that might explain the elevated cancer rates. [Crosscut]
Boston, Massachusetts: A plan being pursued by Boston officials to replace the structurally unsound and now-demolished Long Island Bridge is the source of major tension in neighboring Quincy, where some local officials are so opposed to a new bridge that there's a proposal to ban construction trucks from streets leading to the bridge. [Boston.com]
Flagstaff, Arizona: In an effort to prevent wildfires, the U.S. Forest Service has closed 10 campgrounds and "miles of trails and roads" in the Coconino National Forest, "one of the earliest times in the spring" a forest closure has gone into effect. [Arizona Daily Sun]