As Hurricane Florence Takes Aim, N.C. Governor Says 'Gather Your Supplies Now'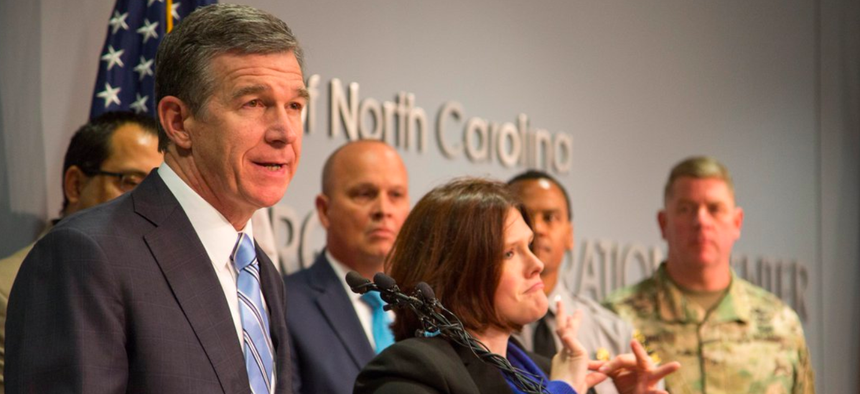 STATE AND LOCAL ROUNDUP | Texas anti-tax activist wants higher taxes … Casper, Wyo.'s massive sale tax error … and a frozen "blob" prompts an Alaska highway relocation.
Good morning, it's Monday, Sept. 10, 2018. Hurricane Florence leads Route Fifty's state and local government news roundup but scroll down for more stories from places like Fairbanks, Alaska; Casper, Wyoming; and Fort Smith, Arkansas.
STATE GOVERNMENT | With meteorologists forecasting that Hurricane Florence will gain strength as it approaches the coasts of North and South Carolina in the coming days, state emergency management teams, with their federal and local partners, are urging residents to start making preparations now. "Everyone in North Carolina needs to keep a close eye on Florence and take steps now to get ready for impacts later this week," Gov. Roy Cooper, who declared a state of emergency on Friday, said in a statement this weekend. "State emergency management, transportation, health experts and others are making sure North Carolina is prepared for the storm, and I urge the public to review your emergency plans and gather your supplies now." The risk isn't only from coastal flooding, storm surge and high winds. Florence is likely to cause major inland flooding, too. On Sunday, South Carolina Gov. Henry McMaster submitted a request for a federal disaster declaration ahead of the storm. [The News & Observer; @NCGovernor; @SCGovPress]
LOCAL GOVERNMENT | A long-time community activist who has fought for years to keep local taxes in Bedford, Texas extremely low is not only calling for average city taxes to increase by nearly 18 percent but says she'd increase it even more: "[N]ow we're 11 police and firemen short. We've got bills. Things are coming apart because the city's playing catchup," according to 85-year-old Dorothy McWhorter. [Star Telegram]
ALSO on Route Fifty: