Here Comes Gordon: Gulf Storm Expected to Make Landfall as Hurricane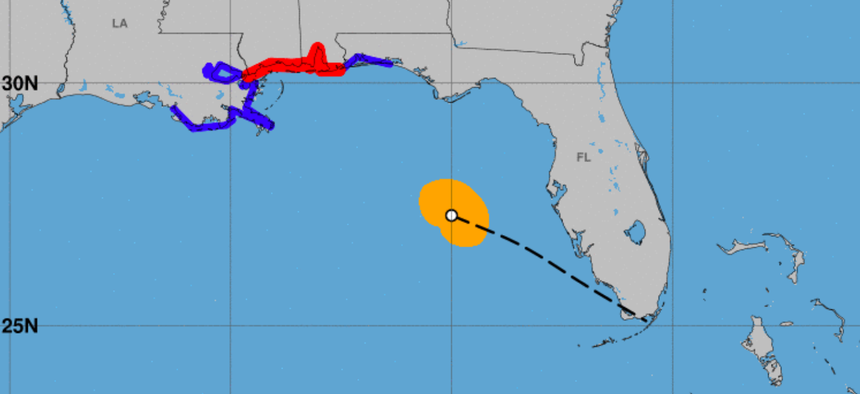 STATE AND LOCAL ROUNDUP | Kansas ruling on citizen-initiated grand jury ... Seattle stuck in streetcar purgatory … and U.S. ports fear proposed crane tariffs.
Good morning, it's Tuesday, Sept. 4, 2018. I hope you had a good Labor Day weekend. There's a lot going on this week in the world of state and local government. Leading Route Fifty's state and local roundup is public safety news, including Tropical Storm Gordon, now moving quickly through the eastern Gulf of Mexico. But scroll down for more news, from places like Terra Alta, West Virginia; Delray Beach, Florida; and Seattle, Washington ...
PUBLIC SAFETY | State and local governments in Alabama, Louisiana and Mississippi are preparing for Tropical Storm Gordon, which is moving quickly through the eastern Gulf of Mexico and is expected to make landfall as a minimal Category 1 hurricane on Tuesday evening along the north-central Gulf coast. Gordon is anticipated to bring heavy rainfall, storm surge and strong winds. Hurricane warnings are posted for the Alabama and Mississippi coasts. In Biloxi, Mississippi, the city ordered evacuations for local harbors. "Our Emergency Managers are being told to expect tides 2 to 3 feet above normal and a 6-foot storm surge," Biloxi Port Division Manager Larry Sablich said in a statement. "Ordering an evacuation was the prudent thing to do. We need to make sure boat owners know the potential for damage, and at the same time we're protecting the public harbors and marinas from damage. We're seeing good cooperation." New Orleans Mayor LaToya Cantrell declared a state of emergency, closing the city government on Tuesday for non-essential personnel. [City of Biloxi; City of New Orleans; @MSEMA; Sun Herald]
INFRASTRUCTURE | Seattle Mayor Jenny Durkan's administration on Friday released the summary of a long-awaited and delayed consultant's report looking into the Center City Connector streetcar project, which would connect two existing streetcar lines along First Avenue via Pioneer Square and Pike Place Market. Durkan paused the project earlier this year over cost concerns, ordering the consultant's review just as utility relocation work started. But Durkan hasn't decided whether to kill the project— which would force Seattle to forfeit $75 million in federal grant funding and "even endanger its ability to receive future grants"—or move forward. The KPMG review of the streetcar line is "positive about nearly everything except capital cost projections," now estimated at $252 million. If built, streetcars would travel in transit-only lanes along First Avenue, unlike many U.S. streetcar lines which operate in mixed traffic. [Crosscut; Seattle Transit Blog]
STATE GOVERNMENT | Kansas is one of six states that allows citizen-initiated grand juries, where petitions can be circulated and if they meet certain legal requirements, can jumpstart a legal inquiry. On Friday, the Kansas Supreme Court ruled that Douglas County must summon a grand jury to investigate Kansas Secretary of State Kris Kobach to see "whether Kobach or others in his office had engaged in 'destroying, obstructing, or failing to deliver online voter registration,' as well as possessing falsely made or altered registration books, preventing qualified electors from voting, and 'being grossly neglectful with respect to their election duties.'" Kobach, a Republican who recently defeated Gov. Jeff Kolyer in the GOP primary, has dismissed the allegations. [Lawrence Journal World; The Topeka Capital-Journal]
LOCAL GOVERNMENT | It's been five years since "1,000-year rain over eight days" brought major flooding to communities along Colorado's Front Range, including in Boulder County. Recovery costs have totalled $500 million in the county. There's also another $500 million in unmet post-flood needs, according to local municipalities. [Boulder Daily Camera]