Florida's New Governor Wants to Oust Another Local Official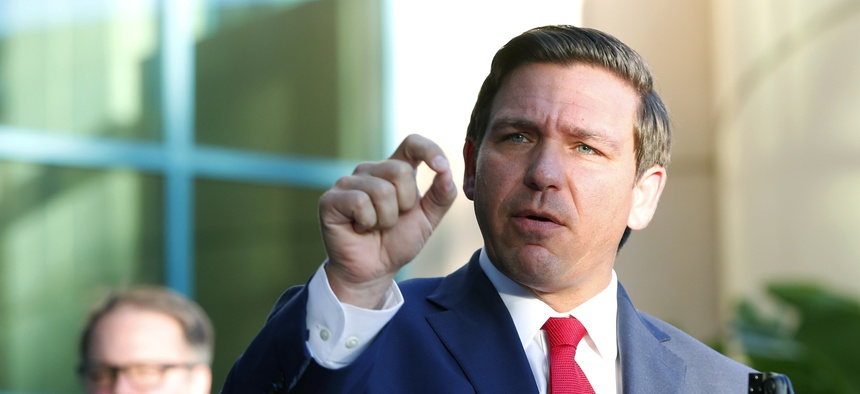 STATE AND LOCAL ROUNDUP | Albuquerque crime decrease … Baltimore's new online nudge … and "thorny" questions about marijuana legalization in New York.
Good morning, it's Monday, Jan. 14, 2019. Governors lead our state and local government news roundup but scroll down for more from places like Providence, Rhode Island; Miles City, Montana; and Santa Barbara, California. ... ALSO ON ROUTE FIFTY … Few Signs So Far Sports Wagering Will Be Huge Boon for State Budgets … 40 Startups to Work With 22 Governments on Civic Tech Challenges … Cuomo Proposes Statewide Plastic Bag Ban in New York … A Warning for Elected Officials on Social Media—Court Says Don't Block Critics …

Let's get to it ...
GOVERNORS | Florida Gov. Ron DeSantis wants to remove Robert Runcie, the superintendent of the Broward County public schools, from his position because of "some really egregious failures with the school district" that were highlighted in examinations of the mass shootings at Marjory Stoneman Douglas High School. But the new governor may not have the power to do so since Runcie was selected by the school board and wasn't elected to office. DeSantis has already suspended Broward County Sheriff Scott Israel and Okaloosa County Schools Superintendent Mary Beth Jackson, who was elected to her position. [Sun Sentinel] … Kansas Gov. Jeff Colyer, who is leaving office on Monday as Gov.-elect Laura Kelly takes the reins of the governorship, wrote in an Wichita Eagle op-ed saying that "Kansas has a brighter future because of the hard work done by so many over the past year, and we can't go back." [Wichita Eagle]
CITY HALLS | In his State of the City address on Saturday, Albuquerque Mayor Tim Keller "praised officers for their efforts which have led to the city's first decrease in crime in nearly a decade" but acknowledged that "there's more work that needs to be done and [he] wants to continue adding more police to the city's force." [KOB] … East Baton Rouge Parish Mayor-President Sharon Weston Broome launched a new health initiative designed to "encourage people to live healthier lifestyles by eating better and increasing their physical activity." [WBRZ] … After an acrimonious period of local relations, highlighted by a contentious mayoral recall election last year, things have "settled down" in Albion, Idaho, population 269. While Albion is debt free, it only has $27,000 in annual tax revenue, an amount that doesn't come close to meeting its growing infrastructure needs. "If we don't start doing some of it we're going to be in trouble," said Mayor Isaac Loveland. [Twin Falls Times-News / MagicValley.com]
EMERGENCY MANAGEMENT | Five of the 12 tsunami warning sirens in Kodiak, Alaska are not working. [Kodiak Daily Mirror] … Winter rains in California are forcing rivers out of their banks but come next year, a new flood control project on the Petaluma River will come with more floodplain storage. [Argus Courier / Petaluma360] … A new fire training center in Miles City, Montana will allow local firefighters in the eastern part of the state to "simulate live fires, helping improve firefighting skills and the treatment of burn victims" without having to trek across the state. [Billings Gazette]
PUBLIC WORKS | This week, city officials in Baltimore are planning to debut a new app that is designed as an "online nudge to tell you what and when to recycle." [Baltimore Brew] … Here's why public works and transportation officials in Boston and places around New England are having a relatively easy winter so far. [Boston.com] … Oregon is not on track to meeting its 2020 recycling goal of recovering 52 percent of items thrown into the trash. [KDVR]
HEALTH & HUMAN SERVICES | A consultant's report for the Maine Department of Health and Human Services "put forward 24 recommendations for improvement, as part of the first major review of children's behavioral and mental health services in Maine since 1997." [Bangor Daily News] … State lawmakers in Nevada are slated to take another look at "surprise emergency room billing" this legislative session with hospitals, physicians and insurers "hopeful they will be able to reach consensus this year." [The Nevada Independent] … In Santa Barbara County, California, public health officials are warning of the dangers of ingesting wild mushrooms that are appearing in the area with seasonal rainfall. [Edhat]
MARIJUANA | Rhode Island Gov. Gina Raimondo has proposed legalizing recreational marijuana in the Ocean State, saying that the "inevitable" prospect of being surrounded by states with legalized marijuana—Massachusetts has already legalized pot while Connecticut Gov. Ned Lamont has said it is one of his policy priorities. "I have resisted this for the four years I've been governor," the governor told The Providence Journal. "Now, however, things have changed, mainly because all of our neighbors are moving forward." [Providence Journal; Marijuana Moment] … Meanwhile in New York state, where marijuana legalization is on the legislative policy agenda in Albany—Gov. Andrew Cuomo is set to release his plan on Tuesday, there are some "thorny questions" about how to cannabis would be regulated. [Democrat & Chronicle; AP via Times-Union]