L.A. Metro Seeks Private Partner to Test Uber-Like, On-Demand Transit Service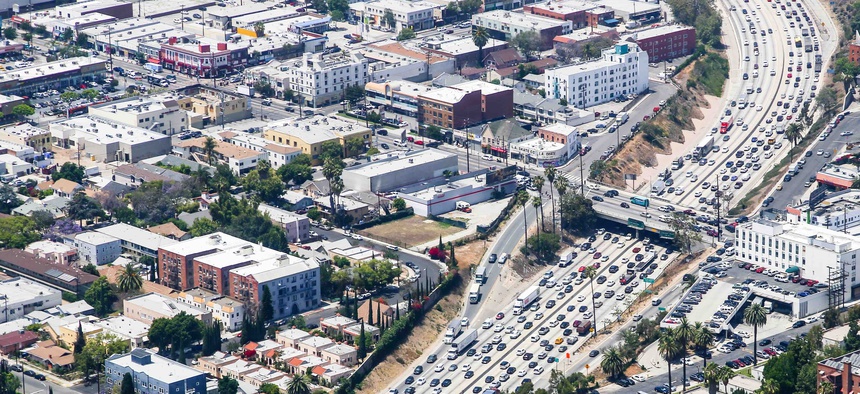 Navigation software will determine the path the "micro-transit" vehicles will take, based on factors like traffic conditions and requests for pick-ups and drop-offs.
The biggest public transit agency in the Los Angeles metro area plans to formally begin a search this week for a private firm it can work with to test shuttle-bus-like service that people can request on-demand, using their smartphones.
The Los Angeles County Metropolitan Transportation Authority, commonly called Metro, is set to release a request for proposals on Wednesday for a "micro-transit" pilot program—envisioned as similar to the app-based, ride-booking services that Lyft and Uber offer.
Instead of following a fixed bus route, navigation software would dictate the path the micro-transit vehicles take based on factors like traffic congestion and requests for pick-ups and drop-offs.
The test program is expected to begin next year. It is slated to involve no more than 30 vehicles, which will be smaller than city buses, but larger than cars, according to Metro officials.
"With this service you will be able to summon a vehicle, it will pick you up at a point that is nearby," Joshua Schank, Metro's chief innovation officer, said Monday during a call with reporters.
"The idea behind this service is that there are many people who need better public transit in Los Angeles that we cannot adequately serve with our existing bus network … or existing rail network, that perhaps would be better served by this dynamic service," he added.
Earlier this year, an on-demand shuttle bus service known as Bridj shut down, blaming difficulties securing a deal with a carmaker. Bridj had operated in Boston and Kansas City, Missouri. Chariot, a commuter van service Ford Motor Co. acquired last year, is active in Austin, Texas; New York City; the San Francisco Bay Area; and Seattle.
Juan Matute, associate director of the Institute of Transportation Studies at the University of California, Los Angeles, endorsed Metro's plans to experiment with micro-transit, but raised doubts that the service would eventually be adopted widely in Los Angeles.
"It isn't something that'll work on most routes," he said during an interview on Monday. "Especially those that are well served with frequent transit service now, that happens to be slow and unreliable because buses are running in L.A.'s notorious traffic congestion."
Micro-transit vehicles, Matute noted, would be forced to deal with those same jam-ups and slowdowns.
And while the on-demand service might save some people a two or three block walk, Matute said it's also possible riders will chafe at the detours required to pick-up additional passengers.
He also cautioned that micro-transit could potentially create "classes" of service, where people turn to it because they don't want to use existing transit and can afford higher fares.
Despite these sorts of pitfalls, Matute said that micro-transit "could be something that has a lot of promise in certain applications in Los Angeles"—such as corridors near rail lines and areas underserved by current bus routes. "I think it's something that's important for Metro to do, to learn from it and try something new," he said of the pilot.
An unsolicited proposal submitted to Metro sparked the pilot project, according to Schank. He declined to say who submitted it.
The agency plans to have Metro employees drive the vehicles, but it's unclear if they'd be part of a union. Metro anticipates that the price for the on-demand service will likely be more than a regular bus or rail fare, but less than the cost of using Lyft or Uber, or taking a taxi.
For people without smartphones, there will be an option to coordinate a ride by making a phone call, according to Schank.
There is nothing in the request for proposals that would prohibit a firm from proposing the use of self-driving vehicle technology. But Schank said he'd be surprised if a company proposed this as an option given that the technology is still emerging.
In terms of measuring whether Metro's test project is a success, he said the agency would look at factors like how many people are using the service and whether it is cost effective.
Schank noted that as a public transit agency Metro does not typically recover its full operating costs.
"If this recovers more of the operating cost, per-passenger than other services," he said, "I would consider that financially viable."
Although the agency is pushing ahead with the micro-transit initiative at a time when it has seen sagging ridership, Schank said the program is about more than attracting new customers.
"If we draw new customers based on this, that will be a win," he said. "If we improve our service for existing customers without increasing our costs, that's a win as well."