FirstNet 'Early Builders' Face Big Test During Texas Flood Disaster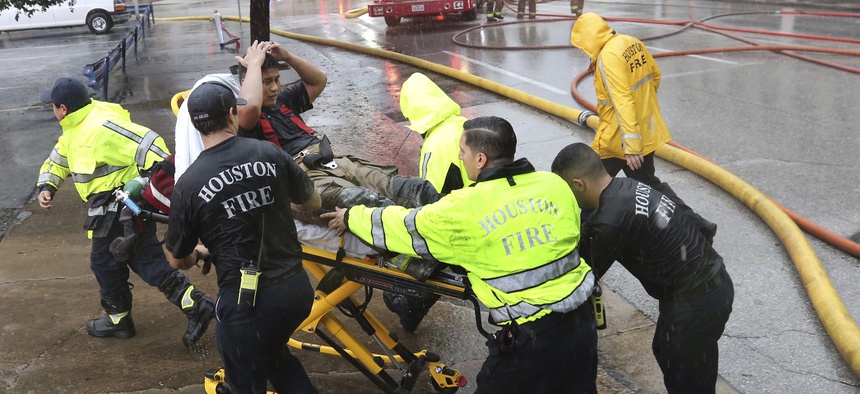 Harris County and the Texas state government are testing out the nationwide public safety communications network.
MEMPHIS — FirstNet, the nationwide public safety communications network that's currently being planned and built out, may be in the middle of an early real-world test: Hurricane Harvey and the ongoing flood disaster in Texas.
That was an observation that came during an update on FirstNet's implementation at the National Association of State Technology Directors annual meeting in Tennessee's second-largest largest city.
First responders in Harris County, which is home to Houston, as well as many emergency managers and public safety officials at the state level, are currently serving as a FirstNet testing ground.
FirstNet, whose full name is the First Responder Network Authority , is tasked with building and maintaining "the first high-speed, nationwide wireless broadband network dedicated to public safety." Five years after legislation in Congress authorized the creation of the network, FirstNet is moving from the planning phase to fruition as states review plans for its build-out in partnership with AT&T.
As one of five "early builders" for FirstNet around the nation, the Texas state government and Harris County's first responders are actively using communications equipment on FirstNet's spectrum. Funded through a mixture of federal grants and local dollars, the testing includes such issues as transitioning onto FirstNet and AT&T's core network, data analysis around usage, how the network should be utilized around major events, and training first responders in its use.
According to FirstNet Chief Technology Officer Jeff Bratcher, FirstNet and AT&T staff are embedded in emergency operations centers in the impacted region.
Bratcher told the audience he has spoken with Tom Sorley, Houston's deputy chief information officer and lead for public safety for the city's IT department. He characterized the region's emergency communications team "not having fun but getting through it."
Sorley currently serves as the chairman of FirstNet's Public Safety Advisory Committee, or PSAC. The PSAC is made up of state and local officials and emergency responders, and is responsible for advising the FirstNet organization and providing input on the planning, build-out, and future of the interoperable network.
AT&T's assistant vice president for FirstNet state outreach, Doug Clark, told Route Fifty that the AT&T network in the region is "near fully operational" and holding up well under the conditions. He described the core of the network as "minimally impacted" during the presentation.
In a statement, AT&T said: "We continue to evaluate the affects from Hurricane Harvey, but overall our networks in South Texas continue to perform well so far."
The statement goes on to say that wireless service has been impacted. The company has deployed portable cell sites and an emergency communications vehicle in South Texas—and explains that additional resources are on the way.
Bratcher and Clark reported that as FirstNet builds out it will have its own fleet of 72 deployable emergency communications vehicles across the nation, as well as options for local and state first responders to purchase their own.
Sixteen states have already committed to having FirstNet and its partner AT&T build out their interoperable public safety broadband networks. States that committed to joining the network have been promised the ability for their first responders to be able to preempt users across both the FirstNet bandwidth as well as all of AT&T's network. States choose whether to allow FirstNet and AT&T to build the network out in their state or to opt out, which requires them to build and maintain it on their own with a partner of their choosing.
If states choose to opt out, they are on the hook for developing, building, and maintaining a network that is interoperable with FirstNet's system for the next 25 years. This includes any upgrades or changes demanded by the FirstNet Authority to keep up with changing technology. States must decide whether to opt out by Sept. 17.
Texas has not yet decided whether to let FirstNet build the network or opt out and build one on its own. The current experience in the flood disaster zone may help them make that decision.