New Rule in Maine Would Block Food Stamp Benefits for Lottery Winners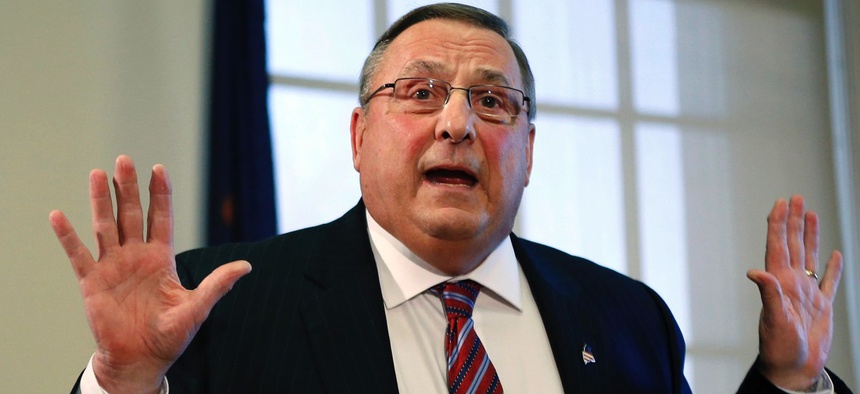 Gov. Paul LePage's administration announced the measure on Tuesday. It will target winners of $5,000 or more in one month.
Winners of lottery and gambling prizes in Maine would be barred from food stamp benefits under a new rule Gov. Paul LePage's administration has approved.
The rule allows for the immediate termination of the benefits for people who collect $5,000 or more in winnings during a single calendar month, Maine's Department of Health and Human Services said in an announcement Tuesday.
Last year, the department found that, between 2010 and 2014, there were 4,865 lotto tickets cashed in for $1,000 or more by 3,685 people receiving various types of public assistance.
Some of the aid the lottery winners received was through the Supplemental Nutrition Assistance Program, or SNAP, commonly referred to as food stamps.
"In no way, shape or form should taxpayers be asked to foot the bill for someone who is gambling and winning huge amounts of money," Maine Department of Health and Human Services Commissioner Mary Mayhew said in a statement Tuesday.
The federal government pays the cost of SNAP benefits and splits the expense of administering the program with states.
LePage, a Republican, sparred with the federal government over the food stamp program earlier this year.
He sent a letter in June to U.S. Department of Agriculture Secretary Tom Vilsack, threatening to end Maine's administration of the program if the state was not allowed to ban certain purchases, like candy and sugary drinks.
In January, the state's Department of Health and Human Services introduced tests, which assess the value of a person's assets when determining their eligibility for certain SNAP benefits.
Maine is not the only state where the intersection of lottery winnings and public benefits has come up in recent months.
North Carolina General Assembly lawmakers in June weighed a bill that targeted food stamp beneficiaries who failed to report lottery income. The bill passed in the House with strong GOP support. It was later referred to a Senate committee, but did not advance further.
The legislation called for the state's Lottery Commission to report information about winners of $2,250 or more in lotto cash prizes to North Carolina's Department of Health and Human Services, so the agency could check that list for food stamp recipients or applicants.