Pennsylvania Governor's Twitter Town Hall Focuses on Budget Cuts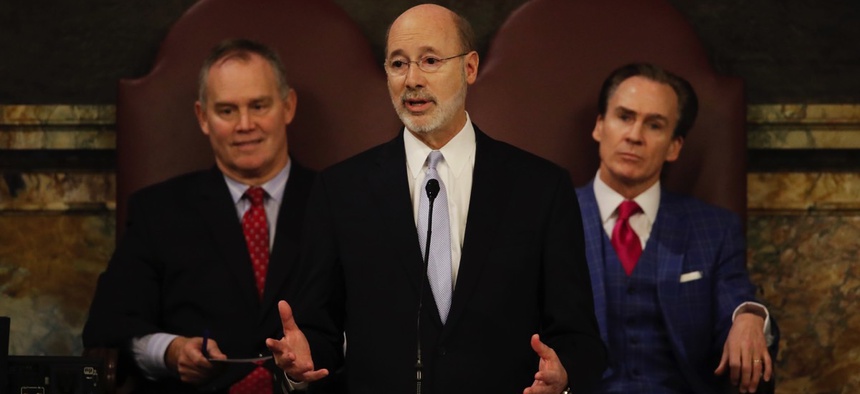 Gov. Tom Wolf addresses closing the "Delaware loophole" and responds to his critics on fiscal stewardship.
Pennsylvania Gov. Tom Wolf held a Twitter town hall on Friday afternoon to answer citizens' questions concerning his $32.3 billion 2017-18 budget proposal.
Participants wanted to know about any proposed tax increases, but Wolf said on Friday, as he did during a Tuesday address, that his budget was one of "$2.1 billion in cuts, savings, and efficiencies."
Wolf also said the budget would reduce the corporate tax rate while closing loopholes like the "Delaware loophole," where national chains' local outlets pay royalties to sister companies in other states, writing them off as business expenses, and deducting them from their income taxes.
Prior to the town hall, conservative political advocacy group Americans for Prosperity Pennsylvania called the Democratic governor out on Twitter for a budget that spends more—thus still failing to address the state's $3 billion deficit. Wolf took the time to respond:
He continued AFP's proposal would lead to long-term deficits, when sustainable changes were instead needed.
Wolf kicked off the Twitter town hall by fielding an inquiry about mitigating the consequences of the Affordable Care Act's repeal that congressional Republicans have promised, which he tweeted "would be a disaster w/o viable replacement." About 700,000 Pennsylvanians have health care because of Medicaid expansion, he said, encouraging residents to call their congressional representatives.
Central Elementary School in Allentown led off a series of questions asking about the budget's effect on education:
Wolf said his budget invests $209 million in education and expands access to pre-kindergarten. That includes a $25 million increase to special education.
The governor also mentioned he worked to get community colleges an extra $16.4 million over two years.
State infrastructure got a brief mention:
Concerning a question about Pennsylvania's pension crisis, Wolf said his budget had bipartisan proposals to fairly reform the system while saving billions and reducing risk. The plan: reduce pension liability by $3 billion by "reducing fees to Wall Street managers."
Wolf has yet to deliver on property tax relief for the middle class and seniors, arguing the burden can be reduced by increasing the state share of school funding. He followed that up with this promise:
In response to a question about how businesses would weather a minimum wage increase to $12 an hour, Wolf said the hike would boost consumers' "spending power"—benefitting the economy in the long run.
The governor also defended cuts to Human Services:
Other items Wolf touched on in passing during the town hall: Pennsylvania will continue studying the possibility of recreational marijuana looking at states like Colorado; the governor is committed to ensuring opioid addicts get the treatment they need; and he reaffirmed he would veto Senate Bill 3—which would change the 24-week abortion cutoff to 20 weeks—stating women have the right to make their own health choices.