Red-Light Camera Company Finalizes Legal Settlement With Chicago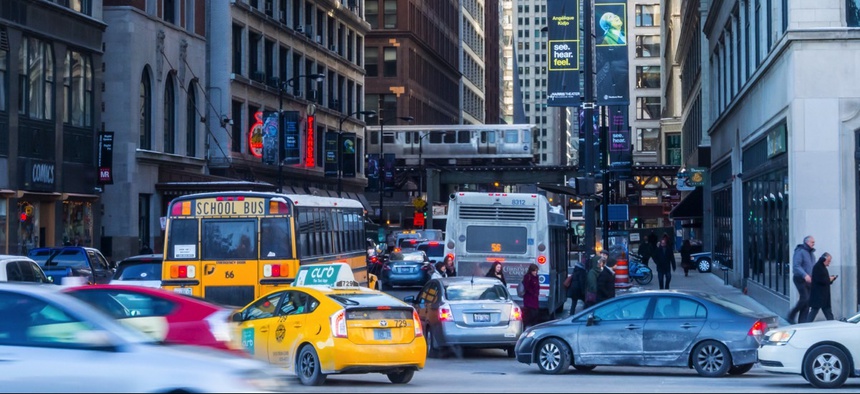 According to Mayor Rahm Emanuel, his city "will not stand by while a company takes advantage of our taxpayers, and I hope that this serves as a warning to other companies."
A red-light camera operator has agreed to pay Chicago $20 million to settle a lawsuit tied to a bribery scheme that left a former company executive and city official sentenced to prison.
The city in 2015 filed a civil lawsuit against Redflex Traffic Systems, Inc., and its Australian parent company, alleging the firm engaged in fraud and made false statements while pursuing a 2003 contract for the camera program and later as the traffic enforcement initiative expanded.
"The City of Chicago will not stand by while a company takes advantage of our taxpayers, and I hope that this serves as a warning to other companies," Mayor Rahm Emanuel said on Monday in a statement announcing the settlement.
Last August, Chicago's former assistant transportation commissioner, John Bills, was sentenced to 10 years in federal prison for misconduct involving the red-light camera program. A jury convicted him on counts of fraud, extortion, conspiracy to commit bribery and filing false tax returns.
Evidence at the trial showed Bills used his influence to boost Redflex's business with the city in the time period around 2003 to 2011. In exchange, the company provided him with cash, meals, golf outings, plane tickets, hotel rooms and other perks, according to the U.S. Attorney's Office for the Northern District of Illinois. Redflex's contracts with Chicago grew to about $124 million.
Prosecutors said Bills reaped around $680,000 in bribes and that money flowed to him through an acquaintance, Martin O'Malley, who Redflex hired as a contractor. O'Malley testified that he sometimes passed Bills money-stuffed envelopes during meals at Chicago restaurants.
In 2014, O'Malley pleaded guilty to a count of conspiracy to commit bribery. He was sentenced to six months in prison last September.
Karen Finley, a former Redflex CEO, pleaded guilty in 2015 to a count of conspiracy to commit bribery related to the Chicago red-light camera program. According to the U.S. Department of Justice, she directed cash and other benefits to Bills and O'Malley.
Finley was sentenced in November to two and a half years in federal prison and ordered to pay over $2 million in restitution.
The Chicago Tribune first reported allegations of the bribery scandal in 2012, and went on to expose other flaws with the program as well. Emanuel's administration moved in 2013 to end Redflex's role as the city's red-light camera vendor.
Over the years, the cameras have helped generate millions of dollars in revenue in Chicago. They are designed to document red-light violations, allowing for drivers to be ticketed.
Redflex also ran into trouble in Columbus, Ohio. A lobbyist there pleaded guilty to extorting cash from the company to pass it on to elected officials as part of an effort to get red-light camera contracts. Finley pleaded guilty to involvement that situation, too.
The federal government announced a non-prosecution agreement with Redflex in December. According to the Justice Department, the agreement was reached in part because of the company's cooperation in recent years as the corruption cases unfolded.
Chicago's settlement with the company calls for the $20 million to be paid in installments. The first $5 million is due within 45 days of the agreement's Feb. 3 effective date. Another $5 million is due before the end of 2017. And the rest of the money is owed between 2018 and 2023.
Redflex in a statement Monday characterized the settlement as a turning point in resolving its legal problems in the U.S. "Today marks a new beginning for Redflex," said Redflex Traffic Systems president and CEO Michael Finn.