'I Would Hope They Throw It Out and Start Over'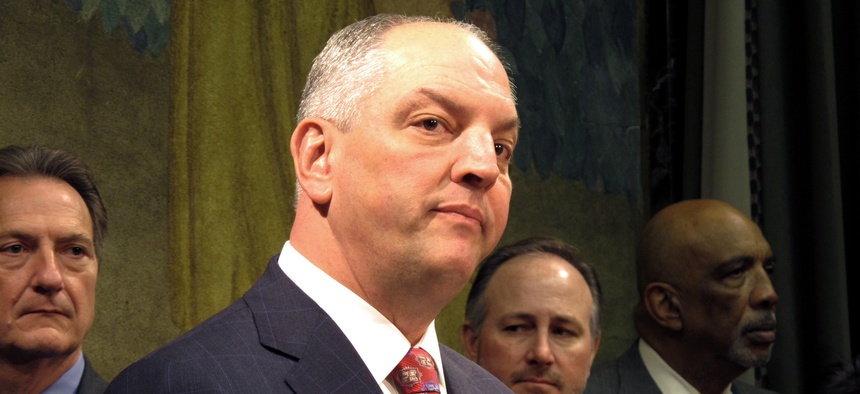 The Democratic governors of Louisiana and Montana express their distaste for the Senate bill to overhaul Obamacare.
As divisions among Republicans delayed a U.S. Senate vote on health care legislation that would roll back the Affordable Care Act, the Democratic governors of Louisiana and Montana warned on Wednesday that Medicaid provisions in the bill would hurt their states.
Govs. John Bel Edwards of Louisiana and Steve Bullock of Montana said the proposed changes to Medicaid would strain their state budgets and lead to higher uninsured rates among residents. Louisiana and Montana are two of the 31 states that expanded Medicaid income eligibility levels under the Affordable Care Act, also called Obamacare.
"The way Congress has been approaching it, from my perspective, has been unacceptable," Bullock said during a call with reporters as he discussed the health care legislation.
"Instead of gutting Medicaid," he said, lawmakers "should be focusing on what we can all agree on. We need to bring down costs and we need to bring stability to the marketplace."
Edwards said that in his view "there's not a lot of redeeming qualities about the bill."
"I would hope they throw it out and start over," he added.
Edwards and Bullock hold office in states that President Trump won in last year's presidential election and where Republicans hold majorities in the state legislatures.
Senate Majority Leader Mitch McConnell on Tuesday postponed a vote on the Senate legislation, delaying consideration of the measure until after the Fourth of July. McConnell said work was still underway to muster the 50 votes needed to pass the bill in the chamber.
Last month, the House passed a similar GOP-backed bill that seeks to revamp Obamacare.
Both bills feature significant changes to Medicaid, a program that provides low-income Americans access to health care.
The federal government and states share the program's costs, which were roughly $553 billion in the last federal fiscal year, excluding administrative expenses and U.S. territories, according to the The Henry J. Kaiser Family Foundation. The federal government picked up about 63 percent of that total.
Under the Senate health care bill, this cost sharing arrangement would be restructured and, according to estimates from the Congressional Budget Office, federal spending on Medicaid between 2017 and 2026 would decline by about $772 billion.
In 2021, the bill would begin phasing out higher federal payments that help states cover Medicaid expansion costs. The amount of federal money that flows to states for Medicaid in future years would also be capped per enrollee, whereas now it is open-ended.
Edwards said these changes would mean that Louisiana would receive about $14 billion less in federal Medicaid funding between 2020 and 2026. "When they talk about phasing out Medicaid expansion starting in 2021, for Louisiana it will end in 2021," he said. "Because at that point in time it will become unaffordable."
Louisiana expanded Medicaid last July. The governor said that in one year the state enrolled about 430,000 people in the program. If the expansion were to end, Edwards said the state's uninsured rate would "go back to well above 20 percent from the historic low that we're at."
"If we're going to do this just to pave the way for tax cuts for the wealthiest among us, we ought to say it, we ought to have the guts to say it," he added. "I think that's the wrong thing to do."
Montana expanded Medicaid in January 2016. Bullock said the state's uninsured rate was just over 7 percent last year, compared to around 20 percent in 2013.
He estimated that the changes to the Medicaid program in the Senate legislation would mean the state would lose about $5.3 billion in federal funding between 2020 and 2026. "That's more than a third of our federal Medicaid funding," he said.
"The ripple effects would potentially affect other state priorities," the Montana governor added.
Bullock also said that the Senate bill could harm the finances of rural hospitals.
Both governors characterized the process that's been used to develop the legislation as lacking in transparency. Bullock called it "secretive" and "undemocratic."
Edwards suggested that lawmakers should consider how to craft legislation that would help rein in health care costs. One possibility he mentioned was using the purchasing power of the Medicaid program to negotiate lower drug prices with pharmaceutical companies.
"That's the part of our Medicaid budget that grows the fastest and we have absolutely no control over it," he said.
The Louisiana governor described the current Senate bill as unworkable.
"I've actually had a few people tell me: 'Well, they know it's bad, they just figure that there's enough time between now and when it kicks in that they'll get it fixed,'" he said. "That's not a responsible way to legislate."