Meet West Virginia's New Drug Czar: Dr. Michael Brumage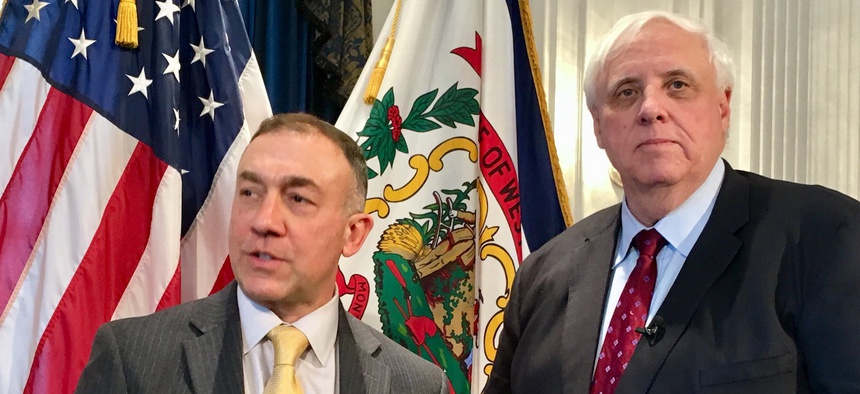 "The main thing I want to bring with me to the table is an all-hands approach," Brumage told Route Fifty. "This is not just about law enforcement and it's not just about public health."
Dr. Michael Brumage, the former executive director of the Kanawha-Charleston Health Department, will be taking over as the director of the West Virginia Department of Health and Human Resources Office of Drug Control Policy. The appointment was announced by Gov. Jim Justice on Monday.
The position Brumage will be taking on is a relatively new one. The post of West Virginia drug czar—along with the Office of Drug Control Policy—was created during last year's legislative session, and Jim Johnson, the only other person to hold the title stayed in the job just over four months.
"The main thing I want to bring with me to the table is an all-hands approach," Brumage told Route Fifty in a conversation on Tuesday. "This is not just about law enforcement and it's not just about public health."
"My biggest hope is that we can bring everybody who's concerned about this problem, who's willing to step up, to the table because it's really going to require such a broad approach," Brumage added.
His time as head of the Kanawha-Charleston Health Department—a job he has held since 2015—has given Brumage a first-hand look at the impacts of the opioid epidemic on his county, and the state as a whole. In that role, he helped establish one of the state's first publicly-run needle exchange clinics and secured grant funding to teach first responders mindfulness techniques as a way to help them cope with the emotional toll of responding to drug-related calls.
Brumage retired as a colonel from the U.S. Army in 2015 after serving for 25 years as an internal medicine physician and as a public health physician. His military background shines through when he talks his goals for his new job.
"I'm thinking of this as a battlefield," he said. "There's the immediate fight, the intermediate fight and the long-term fight."
In the long-term fight, Brumage hopes to bring his understanding of and background in adverse childhood experiences and trauma-informed care to bear to "take care of the families who are most affected by the opioid epidemic."
"It's only by reaching out and stopping the children of users from becoming users themselves that we can break that intergenerational cycle," Brumage said.
But, "in the short term," he added, "we're really looking at saving lives."