Michigan Daycare Center Reports High PFAS in Its Water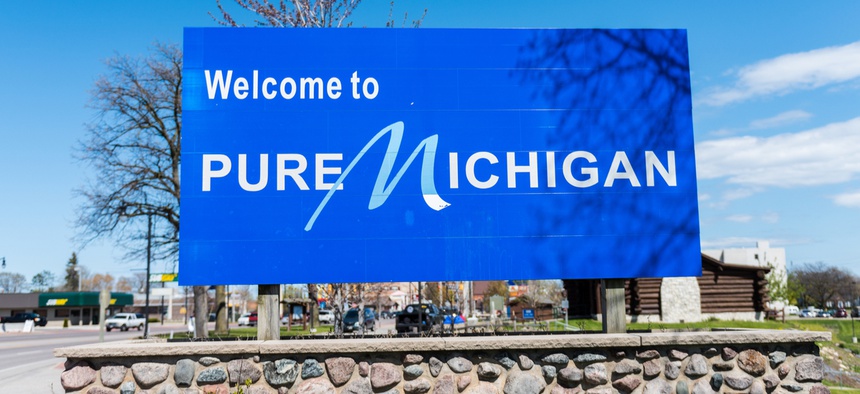 STATE AND LOCAL ROUNDUP | Trial runs for the dreaded L train shutdown in N.Y.C. … job losses in Trump counties … and Maine is not prepared as tick-borne diseases spread north.
Good morning, it's Tuesday, Aug. 7, 2018. For today's Route Fifty roundup of state and local government news, here's a mix of public health, infrastructure and economic development stories from places like Orleans Township, Michigan; Long Beach, California; Augusta Maine; Baltimore, Maryland and elsewhere.
PUBLIC HEALTH | The Michigan Department of Environmental Quality says the state plans to resample a well used by a Head Start preschool in Ionia County's Orleans Township where water-quality tests showed elevated levels per- and polyfluoroalkyl substances. EightCAP, Inc.—a private nonprofit organization that runs the Orleans Head Start preschool center at the facility in question in addition to program intake offices, meeting facilities and other staff offices—reported PFAS levels of of 182 parts-per-trillion. The Michigan PFAS Action Response Team has been proactively testing public water supplies and schools that use well water. The state has been using the U.S. Environmental Protection Agency's 70-ppt health advisory level as a measure for its tests for PFAS. [MLive; EightCAP; The Greenville Daily News]
Augusta, Maine: As disease-bearing ticks head north, weak government response threatens public health in Maine and elsewhere. [Center for Public Integrity]
Sacramento, California: Just as the Mendocino Complex fires—now the largest wildfire in California state history—and other blazes burn in California, air quality remains a major concern in many jurisdictions. An air quality alert is in effect through Tuesday in and around Sacramento, where there's "elevated ground-level ozone concentrations as well as smoke from multiple fires" across Northern California. Agencies like the Sacramento Metropolitan Air Quality Management District have urged people to avoid outdoor activity until the smoke clears from the region. [Los Angeles Times; @AQMD]
ECONOMIC DEVELOPMENT | As you drive through the Woodlawn neighborhood in Birmingham, Alabama, "you will see some deterioration in housing and business. But see, in my mind, I wouldn't see that as a negative," said Perry Macon, pastor at the First Baptist Church of Woodlawn. "I'd see that as an opportunity to grow. An opportunity to develop," Macon added. Don't miss Route Fifty's feature on two Alabama cities—Birmingham and Huntsville—and the Opportunity Zone economic development program, part of the federal tax overhaul signed into law by President Trump. [Route Fifty]
Washington, D.C.: Looking at the winners and losers of the nation's startup economy, established tech hubs continue to lead, but startup hubs are emerging in new, smaller places. The catch: Startup financing overall is on the wane. [CityLab]
Monaca, Pennsylvania: The Associated Press crunched jobs data by examining results of the 2016 presidential election and found that "35.4 percent of Trump counties have shed jobs in the past year, compared with just 19.2 percent of Clinton counties. … As more money pools in such corporate hubs as Houston, San Francisco or Seattle, prosperity spills over less and less to smaller towns and cities in America's interior." [AP via Oakland Press]
Grand Rapids, Michigan: According to new research from the Michigan League for Public Policy: "While only accounting for 7 percent of the state's overall population, immigrants own 20 percent of the state's 'Main Street' small businesses—defined as "small-scale, less capital-intensive, and more locally-oriented businesses." [MiBiz]
INFRASTRUCTURE | Officials in New York City on Monday got a taste of the dreaded long-term round-the-clock closure of the 14th Street-Canarsie subway line connecting Manhattan and Brooklyn by taking a special tour of the detour route replacement buses will use to shuttle commuters across the Williamsburg Bridge instead. The planned 15-month shutdown to repair and rehabilitate the Canarsie Tubes under the East River starts next April, but between now and then, subway riders who use the crowded L train line will also face 15 weekends of closures for prep work. While many subway riders impacted by the long-term closure will shift to other train lines, about 17 percent of the L train's 225,000 daily riders are forecasted to use the shuttle buses, which will battle traffic in Manhattan. "Enforcement on the Williamsburg Bridge is going to be really important. How it's enforced is going to be a big challenge," City Councilmember Stephen Levin told Gothamist. "That remains a huge concern." With its "anatomy of a broken bus lane," Streetsblog documents some of the enforcement challenges with a bus lane recently extended along Fulton Street in Brooklyn but "are blocked so much they're practically useless for riders on the B25 and B26" lines. Even with with ticketing and towing, old parking habits can be hard to break. [Gothamist; Streetsblog]