Despite Foggy Details, State and Local Leaders See Promise in Trump's Infrastructure Push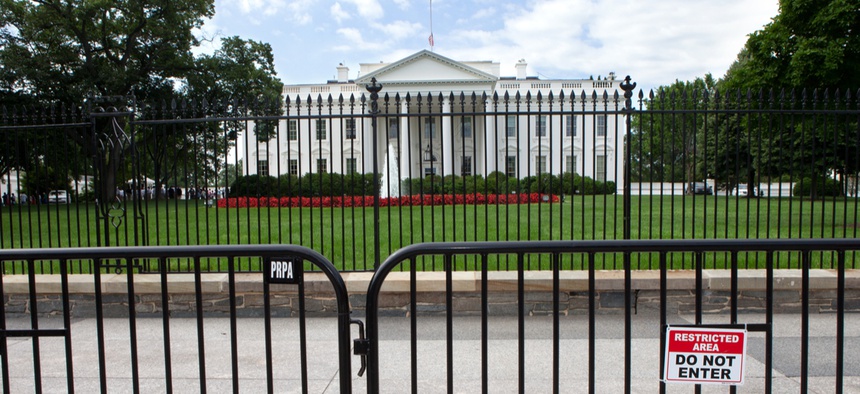 Senior White House officials met Wednesday with state and local government representatives to discuss the president's pending public works package.
WASHINGTON — After meeting with senior White House officials in the nation's capital on Wednesday for an update on the president's forthcoming infrastructure package, state and local leaders from around the U.S. spoke approvingly of the Trump administration's emphasis on public works.
But with President Trump over seven months into his term, there was also a desire among some who attended the meeting for more specifics about the plan. And with fall approaching, and the congressional agenda jammed with other priorities, the window for lawmakers to pass a major infrastructure bill before the end of the year is becoming increasingly narrow.
"It's great that the administration is focusing on infrastructure," Bill Panos, director of the Wyoming Department of Transportation, told Route Fifty after the meeting. He credited the White House with fostering a dialog in recent months with states and localities about the topic.
"They really want state and local governments to start helping them understand exactly how things are performing, how the federal government is performing" Panos added.
Those at Wednesday's event included Transportation Secretary Elaine Chao, White House budget director Mick Mulvaney and DJ Gribbin, a special adviser to Trump on infrastructure.
A White House spokesperson said about 150 state, local and tribal leaders were scheduled to attend.
Administration officials indicated during the meeting that the White House is aiming to roll out an infrastructure plan of some sort before the end of September, according to Panos and two other attendees. But whether it will be in the form of legislation, or in some other format, was not apparent, according to Aubrey Layne, Virginia's secretary of transportation.
Layne said by phone after the meeting that he didn't hear the word "bill" mentioned.
"I heard they're going to have their policies in September, but it was unclear to me if that actually meant that they're going to drop a bill," he added. "I'm not expecting much to happen this year."
Shailen Bhatt, executive director of Colorado's Department of Transportation, said he was optimistic that an infrastructure package would come together either as standalone legislation, or as a catalyst for another legislative priority on Capitol Hill, like revamping the tax code.
But he acknowledged that whether this will happen before the year ends is an open question.
On top of the tax overhaul that Trump and congressional Republicans hope to tackle, lawmakers will have to pass spending legislation in the weeks ahead to keep the government running. They also face a deadline to raise the nation's borrowing limit, or "debt ceiling."
Layne said he did not hear many new details Wednesday that he did not already know about the administration's infrastructure plans. He said he's rooting for the White House to succeed when it comes to pushing ahead with the public works package. But he is also eager for more specific information about it that can help to drive planning and procurement processes in Virginia.
"It was pretty clear to me that it's going to be more competitive to get the money…and that they're going to try to leverage the federal dollars through competition, or some type of incentive," Layne said. "That's great. I'd like to know what the rules are though."
"There's been a lot of talk about infrastructure and, quite frankly, a lot of hype and yet I haven't seen a lot of substance," he added.
Lydia Mihalik, who is now in her second four-year term as mayor of Findlay, Ohio, also attended the meeting.
She voiced appreciation that the White House had contacted her twice in recent months for input. "They're willing to listen," she said of the Trump administration.
Mihalik added: "I can't remember the last time when someone from Washington has actually reached out and said: 'what ideas do you have that can help make this process better?'"
Findlay is located in northwestern Ohio, about 80 miles from Columbus, and has about 41,400 residents.
The mayor said that rather than accessing greater federal funding for public works, she was more interested in streamlining permitting processes for projects so that they take less time to finish. Findlay, she said, does not rely heavily on federal dollars to pay for infrastructure.
She said an executive order Trump signed earlier this month that is intended to speed up permitting and environmental reviews was a sign that the administration had heard "the cries for help" from communities faced with lengthy approval processes for major projects.
Some environmental groups criticized the order, saying it would lead to risky projects and limit community input.
Findlay is seeking to complete a large flood mitigation project, according to Mihalik. She noted that it is uncertain whether the federal government will play a role in funding or financing the project, but that the Army Corps of Engineers would definitely be involved in permitting.
Trump administration officials have indicated that the president's pending infrastructure proposal will call for $200 billion in direct federal funding over a decade, money which would be combined with state, local and private sector investments to reach a goal of $1 trillion.
Bhatt noted that the $200 billion, as it has been described so far, would be spread across a range of projects, not just roads and transit, but also waterworks, airports and seaports, for instance.
"I think what I have heard today is an honest realization by folks, and it's better to have honest conversation, that realistically there isn't going to be a huge infusion of money coming," he said.
Some discussions with White House officials, Bhatt added, have focused on ways federal funding could be the "last money into a project" that "gets it over the top," after other dollars have been secured. That's opposed to the feds providing the bulk of the money up front.
He was skeptical the package the Trump administration is developing would do much to reverse the trend of states and localities shouldering increased infrastructure costs, with less federal aid.
Bhatt characterized the current state of federal infrastructure funding this way: "It's a new era of: 'we want to help those who help themselves.'"