Powerful Tornado Kills at Least 22 in Alabama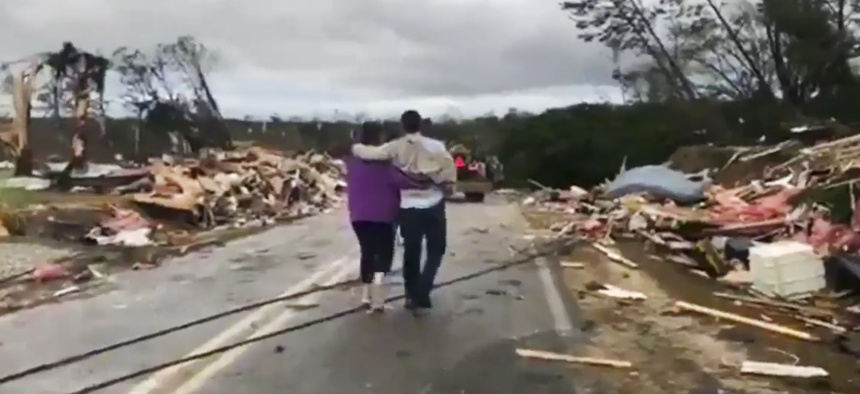 STATE AND LOCAL ROUNDUP | Openly gay mayor brutally attacked … Sunday liquor sales OK'd by W.Va. governor … and vote nears on Tucson's e-scooter pilot.
Good morning, it's Monday, March 3, 2019. Leading Route Fifty's state and local government news roundup is transportation but scroll down for more from places like Matanuska-Susinta Borough, Alaska; Lincoln, Nebraska; and Atlantic City, New Jersey. … ALSO ON ROUTE FIFTY … Finding the Flaws in the Federal Broadband Maps … A Light-Rail Project Hits a Higher-Ed Roadblock … A Startup Wants to Turn Your City's Trash Into a Heap of Big Data ...
Let's get to it …
EMERGENCY MANAGEMENT | At least 22 people were killed and more are missing in Lee County, Alabama on Sunday after a destructive tornado "followed a path several miles long and appeared up to a fourth of a mile wide" with the worst damage concentrated near the city of Beauregard. [NBC News; AL.com] … In Sonoma County, California, officials are setting up a local assistance center to assist residents impacted by recent flooding which will include representatives from state agencies including the Division of Motor Vehicles, California Department of Insurance and Employment Development Department. [KRON]

TRANSPORTATION & MOBILITY | An overturned tractor trailer on Interstate 85 in Rowan County, North Carolina on Sunday left many motorists stranded in a massive traffic jam which prompted the North Carolina Department of Transportation to haul portable toilets to the scene to provide relief. [WSOC] … If City Council members in Tucson, Arizona grant their approval on Tuesday, a pilot program will launch this summer that will bring up to 1,500 dockless e-scooters to city streets. [Arizona Daily Star / Tucson.com] … California's high-speed rail project in the Central Valley "will probably run out of money before it can fulfill Gov. Gavin Newsom's modest plan to build a high-speed operating segment between Bakersfield and Merced" according to a Los Angeles Times analysis. [Los Angeles Times] … The Pennsylvania Department of Transportation on Friday started offering driver's licenses that are compliant with the federal REAL ID Act. [The Inquirer / Philly.com]
CITY HALLS | An openly gay mayor in Oklahoma was brutally attacked on Saturday at a convenience store by a man the mayor said had taunted him earlier with homophobic slurs. Achille Mayor David Northcutt, covered in blood after a case of beer was thrown at his head, said in an interview with a local TV station, said: "A lifetime experience that I yet to this point had not had and hoped I never would have, but I have today." [KXII] … Mayor Jim Matherly of Fairbanks, Alaska vetoed a measure recently approved by City Council members to extend anti-discrimination protections to members of the LGBT community. [KTUU] … Abilene, Texas is the first city in the state to house all of its homeless veterans. [News4SA] … If Mayor John Suthers of Colorado Springs, Colorado runs for re-election and wins, among the priorities for a second term include "continued improvement to the city's streets, boosting the city's police force, attracting more affordable housing and aggressively enforcing camping bans to curtail the city's homeless population." [Colorado Springs Gazette]
GOVERNORS | West Virginia Gov. Jim Justice has signed legislation that will permit liquor sales on Sunday. [Herald Dispatch] … Local government leaders in Alaska continue to fume over Gov. Mike Dunleavy's proposed state budget cuts to municipalities. In a special meeting of the Matanuska-Susinta Borough Assembly, Assemblymember Dan Mayfield said: "In my opinion the governor has kind of declared war on municipalities and the folks who are the most vulnerable in our society. It's a classic example of ideology taking priority over practicality." [Frontiersman] … Nebraska Pete Ricketts is pushing two measures that would lower property taxes in the state. [BH News Service via Star Herald] … New Mexico Gov. Michelle Lujan Grisham has endorsed legislation that would repeal the state's ban on abortion, a ban that was rendered obsolete by the 1973 U.S. Supreme Court decision in Roe v. Wade. [Santa Fe New Mexican]
LAW ENFORCEMENT | Sacramento Mayor Darrell Steinberg is calling for changes to California's use-of-force standards for law enforcement officers following District Attorney Anne Marie Schubert's decision to not prosecute officers involved in the incident where Stephon Clark was gunned down in his grandmother's backyard. Clark was not carrying a weapon. [KOVR] … A federal judge has thrown out a defamation lawsuit two Seattle police officers filed against City Council member Kshama Sawant over comments she made in 2016 following the officer-involved shooting of Che Taylor where Sawant characterized the incident as a racially motivated "brutal murder." In her ruling, handed down Friday, U.S. District Judge Marsha Pechman "concluded that officers Scott Miller and Michael Spaulding could not show that Sawant was talking about them specifically when she condemned the shooting, even though they had been identified in the media as the officers involved." [The Seattle Times]
PUBLIC HEALTH | There are two new confirmed cases of measles in Clark County, Washington over the weekend, bringing the number of cases to 70. [The Columbian] … The health department in Atlantic City, New Jersey is hardly a department due to budget cuts, "down to just one employee and 20 percent of its 2014 funding." [The Press of Atlantic City]