Trump's Unproven Voter Fraud Claims Put Secretaries of State in Spotlight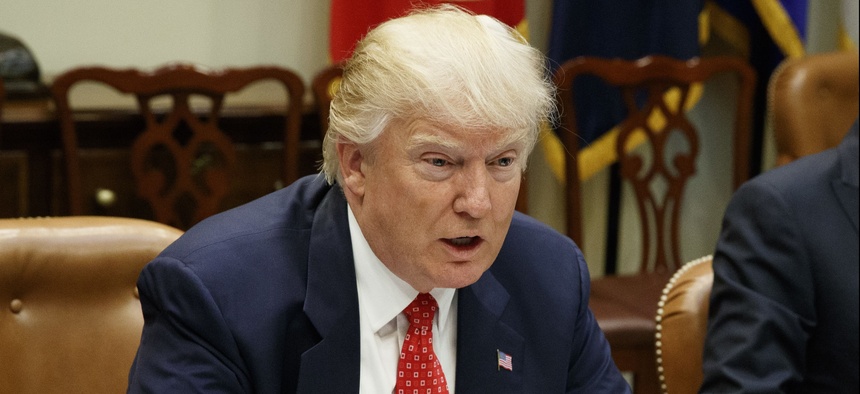 When top state election officials gathered in D.C. last week, details about the president's proposed voter fraud inquiry were unclear.
WASHINGTON — Secretaries of state were still awaiting specifics late last week about how the Trump administration's proposed effort to examine voter fraud in the U.S. will take shape.
"They have not consulted with us," said Denise Merrill, Connecticut's secretary of state and president of the National Association of Secretaries of State. "We have sent a letter suggesting that we believe that massive voter fraud is not true in our states, that we know of," she added during an interview last Friday at the association's winter conference.
Nationwide at least 40 secretaries of state serve as their state's top election official. This aspect of their work has drawn unusual attention in recent months as President Trump has claimed without proof that millions of people voted illegally in the November presidential election.
The president has made these statements even as experts and past research on voter fraud in the U.S. suggest that—while it does occur—it is a relatively rare phenomenon. Examples of voter fraud include a person voting more than once, in more than one state, in a jurisdiction where they do not live, or someone who is not a legal U.S. resident casting a ballot.
A resolution California Secretary of State Alex Padilla drafted that called Trump's voter fraud claims "without merit" was not endorsed at last week's conference by the National Association of Secretaries of State membership, which include 33 Republicans and 21 Democrats.
Earlier this month, Trump said he would establish a commission, led by Vice President Mike Pence, to look into illegal voting. Asked during a Wednesday press briefing if Trump still believes the issue is a problem, White House press secretary Sean Spicer replied: "Yeah, and Vice President Pence will lead a task force on this."
"The vice president is starting to gather names and individuals to be part of it," Spicer said.
'Impossible to Know Exactly'
Among the secretaries who attended the National Association of Secretaries of State conference was Kris Kobach of Kansas.
Kobach said in January that he advised Trump on voter fraud. And White House adviser Stephen Miller has pointed to him as someone who could provide evidence to back up Trump's allegations illegitimate voting took place in last year's election.
Last week, Kobach defended his controversial claims that widespread voter fraud may be occurring in U.S. elections. "The numbers are certainly substantial and they could certainly be in excess of a million," Kobach told Route Fifty, referring to fraudulent votes cast.
Kobach, a Republican, has backed stringent voting eligibility requirements in Kansas, which he says help to prevent voter fraud. Critics say these measures have suppressed turnout, especially among young people and minority groups.
The secretary declined to comment last week on whether he would have a role in the Trump administration's voter fraud inquiry. But, as he sees it, one goal of the effort should be to "perhaps attempt to assess how big the problem is."
"It's impossible to know exactly what the number is," Kobach said of votes cast illegally. "But it is possible to know approximately." He added: "We're going to need more study."
'Not Much More Than Zero'
David Becker is executive director and co-founder of the nonprofit Center for Election Innovation and Research and a previous director of the elections program at The Pew Charitable Trusts.
"It isn't like this issue hasn't been studied," he said of voter fraud. "This issue has been studied repeatedly over the last decade."
He noted the U.S. Department of Justice under then-President George W. Bush looked intensively for voter fraud. "They found a handful of cases." he said. The U.S. Election Assistance Commission has issued a report saying voter fraud is very uncommon, he added. Both Democratic and Republican secretaries of state, Becker said, have done their own investigations.
"There is unanimity in every study that's looked at this," Becker said during an interview last week. "It happens more than zero. But not much more than zero."
The Brennan Center for Justice at the New York University School of Law recently highlighted about 30 examples of studies, court opinions and government investigations that indicate voter fraud is rare.
Kobach pushed back against the argument that fraud happens so infrequently, or at low enough levels, that it is unlikely to affect the outcomes of elections.
"The relevant question is: 'Do you have substantial number of close elections?' he said. The answer, he said, is "yes," particularly at the local level. "You don't need 1,000 votes to steal an election, or to affect the outcome of an election, when the margin of victory is only 10 votes."
Becker said it would be hard for him to speculate on whether the sort of inquiry Trump has proposed could be useful because "nothing's happened yet." But he added: "I do wonder whether this is something that is worthy of the taxpayer money and resources being spent to solve a problem that looks like it doesn't exist and we already know how much it exists."
Instead, Becker said, a more effective way for the federal government to assist states with elections might be to provide funding for expenses like new voting technology.
Merrill echoed this view.
"It's the least funded area of government, ironically, because it's probably one of the most important," Merrill said of elections. "Most of the costs are borne by the local jurisdictions." When some localities are more well off than others financially, she added: "That creates inequities."
Elections Agency Could Get Axed
Becker also questioned why, at a time of heightened concern about election integrity, a proposal to eliminate the Election Assistance Commission has emerged in Congress. He called the commission "the one federal agency that has been a resource to the states."
Established under the Help America Vote Act of 2002, the independent, bipartisan agency is charged with responsibilities like adopting voluntary voting system guidelines for states and certifying voting systems.
Rep. Gregg Harper, a Mississippi Republican, introduced a bill in January that would terminate the agency. The legislation was approved by the Committee on House Administration earlier this month in a 6-3 party-line vote. Republican lawmakers backed the bill despite opposition from dozens of groups, including the League of Women Voters and the NAACP.
Merrill, a Democrat, said the agency's certification of standards for voting equipment is especially helpful for states. That said, the official position of the National Association of Secretaries of State on the Election Assistance Commission, based on a resolution adopted in 2005 and last renewed in 2015, is that Congress should not reauthorize or fund the agency.
The resolution, as Merrill explained it, evolved from concerns the commission could possibly infringe on states' rights. She noted, however, that even states that are "the strongest states' rights states" are looking to have some way to test and certify equipment.
'We Don't See Much of That'
Other secretaries who attended the National Association of Secretaries of State conference expressed an openness to working with the new administration to look into voter fraud, even though they did not see the issue as a significant problem in their states.
"I would certainly, if they decide to do that, would be a willing participant," said Georgia Secretary of State Brian Kemp, a Republican.
"I'm not one of these people that believes that voter fraud doesn't exist. Because it does," he added. "Thankfully our state has a lot of protections, so we don't see much of that."
Florida Secretary of State Ken Detzner, a Republican, said he wanted to learn more about what the White House commission might look like.
But he added: "Anytime there's an opportunity for state and federal representatives to get together to talk about how to improve the process, is a positive."
Becker said he thinks with the current debate surrounding voter fraud and elections there are "a lot of people who are probably acting in a way that isn't necessarily all about just the integrity of the election."
"It's really about a particular outcome that they think benefits them or their party," he said.
Even so, Becker noted an upside to the dialogue now taking place.
"One of the good things about this conversation continuing well after the election," he said, "is that it does give us an opportunity to educate voters that we live in a country that has remarkably sound processes in place for election integrity."